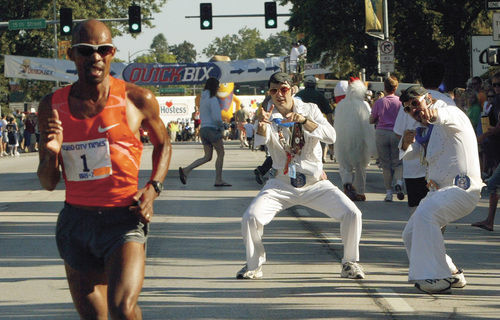 Come Saturday, the streets of downtown Davenport will be filled with runners pushing themselves up and then down the Brady Street Hill — perhaps to exhaustion — in the 45th annual Quad-City Times Bix 7.
But what happens to your body when you run? What kind of forces act on you? How's running different from walking?
We asked Candi Gardner, Genesis Health System orthopedic clinical specialist and teacher of running classes and seminars, for answers.
"What we've found in research of the body when we run, there are a lot of forces that go through the body and our bodies are really good at adapting to stress and force as long as overload doesn't occur," Gardner said.
Overload happens when a runner runs too fast or has strength or range of motion deficits. Poor running mechanics can also cause a body to start to compensate.
Ideally, runners need to keep their bodies symmetrical for the period of time they're running.
You have free articles remaining.
Forces that act on the body include ground-reaction forces, like when your foot hits the ground. "Peak ground reaction forces can increase up to three times our body weight when we run, and that's why it's essential to maintain current running form and have the correct strength and mobility so that the joints and muscles can adapt to those increased reaction forces," Gardner said.
Overstriding can increase the level of force placed on the body while running. Gardner said hitting with a heel out in front in relation to their center of mass can cause a peak breaking force, which stresses the body, too. "So we talk a lot about hitting on the mid foot, hitting close to that center of mass so that we help dissipate those breaking forces and those ground reaction forces," she said. Increasing the cadence count is good; a slower cadence count of getting the foot off the ground has a higher injury rate because your body doesn't dissipate those forces quick enough.
While running uphill may be tough, Gardner says it's actually easier on the body than running downhill. "What we find is running uphill is going to stress your cardiovascular system and it's going to stress the muscle strength itself, but it actually facilitates more of that mid-foot strike," she said. It's hard to over stride while running uphill.
When running downhill, it becomes easier for runners to get into peak breaking forces based on where the foot lands. Running down Brady Street Hill in particular becomes more difficult as running mechanics break down as the runner tires out. "The key muscles that are responsible for controlling the pelvis, for controlling the knee alignment are very fatigued by that point," Gardner said. "That can put a lot of stress on the body."
Walking differs from running in that there's less of a "float phase" where one foot is off the ground. That way, the body only has to absorb one times the amount of body weight. Gardner said with running, there's an increased float phase with more single-leg stance time and more body weight absorbed.
How does running differ from other activities like weight lifting? "True lifting," including leg day, involves doing everything with two legs where running is a single-leg activity over time. "So it challenges the body more from a control perspective to make sure they have that true dynamic stability so that they're not introducing out of place motions," Gardner said. 
And don't forget the arms. Gardner says they're essential to good mechanics; arms should be light and tight and symmetrical rather than crossing the body. Crossing the body causes out-of-plane movements down the chain, causing the lower extremities to move into planes they're not supposed to.