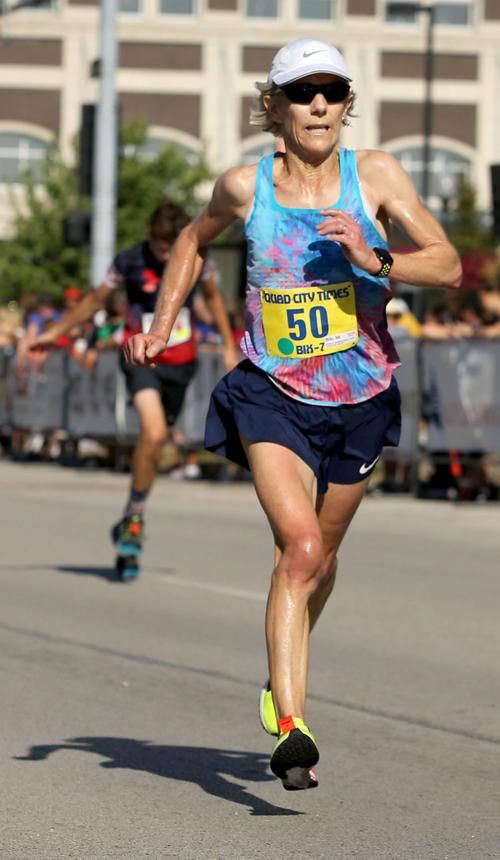 Joan Benoit Samuelson remained on the run Saturday even after another record-setting run at the Quad-City Times Bix 7.
With her own Beach to Beacon 10K scheduled for next Saturday in Maine, Samuelson flew out of the Quad-Cities almost as quickly as the Olympic gold medalist made her way around seven-mile out-and-back course through the streets of Davenport.
Before doing so, she also added to her own Bix 7 legacy.
The now 60-year old finished in 45 minutes, 50 seconds, winning the master's title in the Bix 7 women's division for a record 15th time over runner-up Mary Toohill of Davenport, who finished in 48:16.
Samuelson's time also shattered the previous Bix 7 age group record for 60 and over, a mark of 51:42 set by Andriette Wickstrom of Storm Lake, Iowa in 2015.
"Out on this course, with the bands and the enthusiasm from the crowd all the way out and back, this race is always a great experience,'' Samuelson said.
"It just feels like home. Bix is always a special race for me and no matter what time I run, it's always going to be a good day and it didn't disappoint. This day in particular, it was great weather, a perfect day to run and soak in all of the support from the community.''
Samuelson's time was good for 30th place overall in the women's field, a position she has held or bettered in each of the 31 times Samuelson has participated in the Bix 7.
Preparing for a marathon this fall, Samuelson said she exercised a little caution on the hills throughout the course Saturday, a byproduct of what she labeled a "little mechanical problem'' she is working through right now.
"I just have to watch it and put the brakes on a bit, but I'll work through it,'' Samuelson said. "It's one of those things.''
Samuelson has dealt with a few of "those things'' throughout her storied career and as she moves into a new age group, she appreciates the opportunity to compete even more.
"As you get older, you relish every chance to be out there and appreciate all of the work that people go to as they put together a race like this,'' Samuelson said. "It felt great today to be out there with all of the other runners, enjoying the day and the competition. I never take it for granted.''