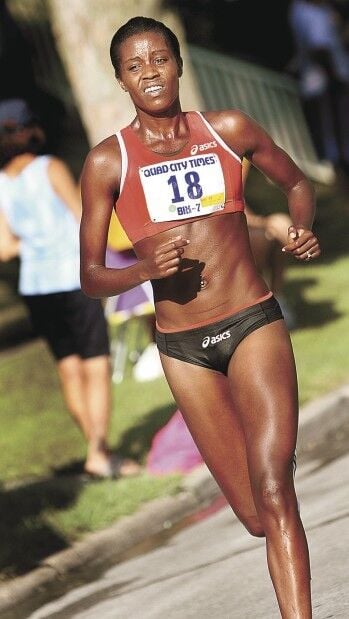 As she prepares for Saturday's Quad-City Times Bix 7, Diane Nukuri finds herself experiencing a bit of a running renaissance.
The three-time Olympian, who will be inducted in the University of Iowa Athletics Hall of Fame in September, will take on the seven-mile course through the streets of Davenport and finds herself running times she last recorded three or four years ago.
She ran a strong fourth-place time at the Peachtree Road Race in Atlanta on Independence Day and followed that with a ninth-place effort at the USA Track and Field 6K Championships in Akron, Ohio, on Saturday.
Building off of previous performances this year, Nukuri is feeling good, running strong and competing with a rejuvenated spirit.
"I'm 36 now, closing in on 37, and I was at a point in my career where things weren't always going my way. I had some health things, an Achilles, a hamstring, things I really hadn't dealt with much before, and I started to question where things were headed,'' Nukuri said.
She admits to being a little nervous about all of that.
But, recent success has Nukuri cherishing every opportunity.
"I feel like my old self again,'' Nukuri said. "I feel like I'm back in a familiar groove, feeling good as I train and compete.''
Her performance at the Peachtree was indicative of how Nukuri feels about her work so far during the current year.
"It was a good day for me,'' she said. "I felt like I ran a strong race against a good field of competitors. I was able to go out and run the race that I wanted to run.''
Nukuri said the situation she faced over the past couple of years tested her patience.
"Going back to when I was in college 10-plus years ago now, I never really had to deal with any real injury situations, a few little things, but these were some things I needed to take care of,'' Nukuri said. "The biggest thing to it all was being patient, being kind to my body and being smart about it all.''
In some ways, the COVID-19 pandemic that canceled many of the in-person competitive opportunities for elite athletes in 2020 may have helped Nukuri.
She was still able to continue to train in Flagstaff, Ariz., where she has lived and worked out for the past seven years.
And, equally important, it provided her with a chance to work through some of the injuries that had slowed her in recent years.
That helped energize Nukuri for a return to competition this year as the road race calendar has returned to a more familiar look.
"While we all remain extremely competitive, I think there is a little more friendliness out there right now. After being apart for a year, we're enjoying seeing each other again,'' Nukuri said. "It's a different feel, but we are all still out there doing what we can to win and have success.''
There has been a different feel along race routes so far this year as well.
"The crowds along the courses have been a little smaller. It's been a little quieter along the courses than it has been in the past at some of the races so you have to create your own energy,'' Nukuri said.
"I think we're all grateful for the opportunity to be back out competing, doing what we love to do.''
For Nukuri, that includes a return to the Bix 7.
It's a race the native of Burundi has run five times since concluding her collegiate career in 2008, earning all-American honors three times in her two years there after transferring from Butler County Community College in Kansas.
"Bix is a race I like to do,'' Nukuri said. "It's a race that always seems to fit well in my schedule as I train for a marathon. It's a race that's not too long, not too short, just right for my training.''
And mostly, it is a race that feels like home.
"Competing at Iowa, I remember what July was like and it seems like every time I run Bix, I run into people I knew in college and it is a highlight of my year,'' Nukuri said. "It's a big event for the community and the way they embrace it. I just love it and will run it every time I can.''
Nukuri likes the challenge the Bix 7 presents.
She says that challenge begins long before she begins the climb up the Brady Street hill just beyond the start of the seven-mile race.
"Everything for me begins with hoping that you feel good that morning,'' Nukuri said. "Bix is a race where you have to be feeling right and ready from the start. It is one of the toughest courses I've run on, but I think that is why I like it.''
It's that challenge that brings so many competitors back.
"You must stay engaged and stay focused throughout the race. You have to run a strong race, given the hills, the out-and-back course. The support there along the course is always so great. It fuels you,'' Nukuri said.
Feeling like her old self, she welcomes a chance to take it all in again on Saturday morning.
"It's something I'm really looking forward to,'' Nukuri said. "I've been looking forward to it all year, getting back to Bix again.''