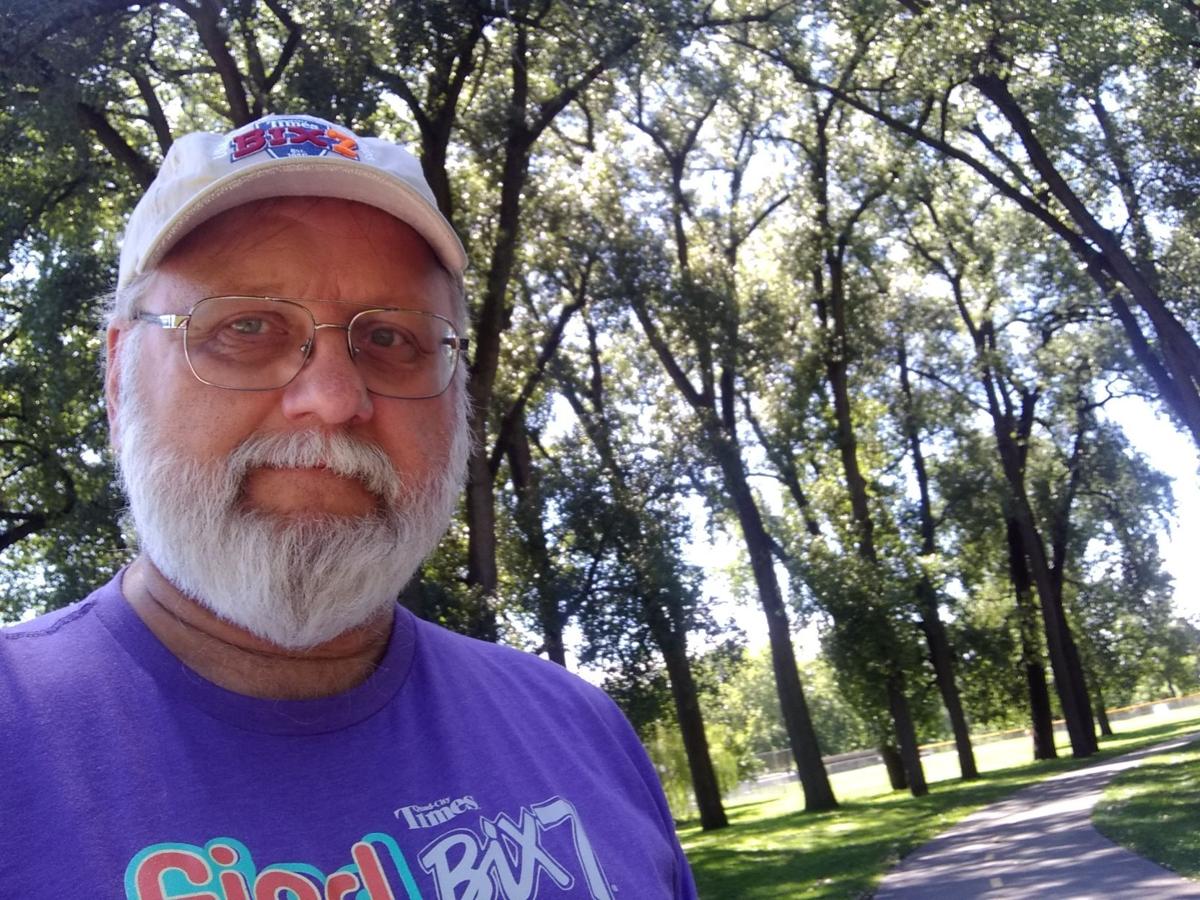 For years, I've had the perfect excuse.
Someone would spot me wearing one of the 108 Quad-City Times Bix 7 shirts that I own — that's an estimate — and, overlooking the fact that I look about as much like a runner as I do an Olympic gymnast, invariably ask "Do you run the Bix?"
I've delivered the answer at least 10 times for every one of those Bix shirts clogging the closet.
"No, I'd really like to but I have to be at the finish line to interview the person who wins the race," I always say with a grateful grin. "I can't run the race and cover it, too."
Part of that answer is actually true.
But this year I was stripped clean of all excuses.
Because of the coronavirus pandemic, the Bix 7 was held this year on a virtual basis, which meant anyone could run the race at any time at any place. Entrants were given a 25-day window in which to do their Bix and you didn't need to battle that Brady Street hill. You could pick out a flatter piece of property and do it in cooler conditions if you could find anything like that at this time of year.
The actual race, which was supposed to be Saturday, didn't happen. There were no Kenyans to be interviewed.
So I did it. I only did the Quick Bix, the 2-mile alternative. I didn't want to get too carried away. But I did it.
I actually did the Quick Bix one other time. I entered the 2-miler when it debuted in 1999 and ran — we use that word loosely — with my 14-year-old son, who beat me to the finish line with ease. I noted at the time that my running style didn't exactly resemble Edwin Moses. It was more like Grandma Moses.
And that was 21 years ago. I haven't gotten any faster. Or fitter.
This time, I made no pretense at running. My Bix amounted to a leisurely stroll along the Duck Creek Parkway Trail between Junge Park and Northwest Park.
I figured there would be plenty of shade in that stretch and it would be relatively easy.
Wearing my girly purple shirt for this year's race, with the phrase "Find your happy pace" emblazoned across the front, I did my two miles on one of those afternoons when the temperature dipped into the mid 80s.
About a quarter mile into it, that right calf muscle that has been yelping at me for a few years was in full howl. The left instep, prone to gout flare-ups, was sizzling. Both knees and both ankles, frayed by years of jumping up and down on asphalt basketball courts, were screaming. The sweat was pouring out of me.
Dozens of bicyclists, all politely shouting "passing on the left," breezed by me. A runner pushing a stroller rolled past. A lady walking a small dog passed me. I pressed on.
I finished it off in a blistering 57 minutes, 6 seconds, mitigated considerably by the fact that I twice took advantage of the benches stationed along the course to quiet the complaints coming from my lower extremities.
That's right. My "happy pace" was roughly 2 mph.
I don't think I'll enter that time on the Bix website with one of those new-tech timing apps like Strava or iSmoothRun. Not unless they've devised a new one called iSnailCrawl.
The experience only reinforced my admiration for the people who do the Bix 7 year after year, tromping up and down those hills in the July heat and crossing the finish line looking like they just conquered the world.
Some of those folks are even older than I am and I'm sure they also have barking body parts — it's part of being a sexagenarian — but they persevere and derive a unique sense of joyful accomplishment from it.
I'm already looking forward to the 47th annual Bix 7 next July 24, when my happy place will be a seat in the VIP tent waiting for the first Kenyan to arrive.
This virtual race concept was a decent substitute, but there is nothing quite like the actual Bix 7.
There's nothing like standing in those starting chutes at 8 a.m. with 15,000 other sweaty people, a helicopter buzzing overhead, a pace car and accompanying motorcycles revving their engines, Jack Carey crooning God Bless the USA, and everyone bouncing and anticipating that charge up that daunting hill.
I'm looking forward to getting back the adrenaline buzz that comes with all of that.
And I'm looking forward getting my excuse back, too.