Runners' feet pounding. Cheers from friends, family and strangers on the sidelines. Encouragement from loudspeakers up and down Fourth Street. And the thing connecting it all at the Quad-City Times Bix 7 — music. 
Music boomed from speakers, streamed from microphones and spun out from instruments into the air. From 4th Street to Brady Street to Kirkwood Boulevard and back again, there was music. 
Playing music for the Bix is what brought The 309 back together. The four-man rock cover band played gigs from 2016 to 2019, then went on hiatus. Justin Behn said during the COVID-19 pandemic they missed playing together and decided the Bix was the perfect event to reunite.
"We're all good buds, and this was the right event to get us back into it," Behn said.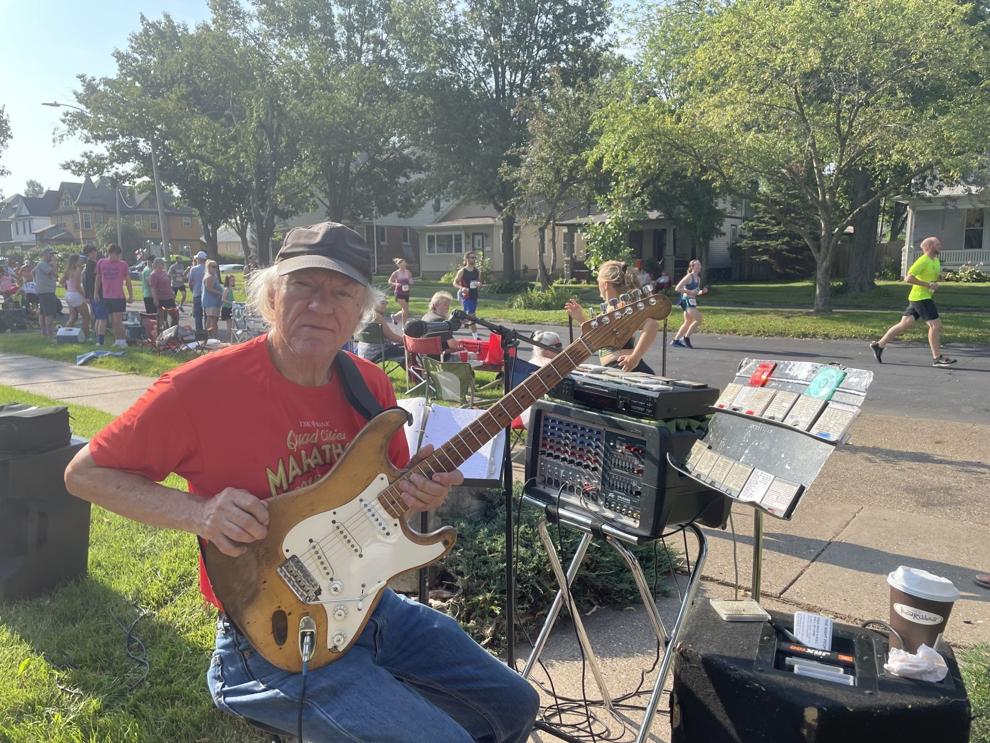 For Rob Dahms, musician and Iowa Rock and Roll Hall of Fame member, the Bix has signaled the return to full-time work. He's played the Bix for 12 or 13 years, playing guitar and singing along to hits like "Tequila." He started playing in 1964, and had to prove himself to professional musicians by playing "Scotch and Soda."
He's never run the Bix, joking that he'd collapse after the first block. It's fun for him to watch all the runners though, and play music that keeps them pumped up. 
"We've had lots of good times," he said. 
When Charlie and Holly Mathews noticed me walking up, they joked that I'd found them just in time for their worst cover — "How Do you Like me Now?!" by Toby Keith. 
The husband and wife have played music in the Quad-Cities for 10 years, and this is their fifth Bix. When asked what life was like during the pandemic, Holly mimed snoring. 
Charlie said it felt amazing to have the Bix back, and he'd feel that way even if he wasn't playing. 
"The people give you so much back, it makes it ever so much better," Holly said. 
When joggers and walkers making up the tail of the race made their way past the Quad City Ukulele Club, they slowed down to clap or boogie to the oldies tunes the group strummed. The club has played the Bix since its founding in 2012, and member Phil Vernon said they're excited to get back to playing for crowds after the pandemic.
"Folsom Prison Blues" was a crowd hit, Vernon said, and plenty of people gave a cheer when they heard "Wagon Wheel." 
"They're all great," Vernon said.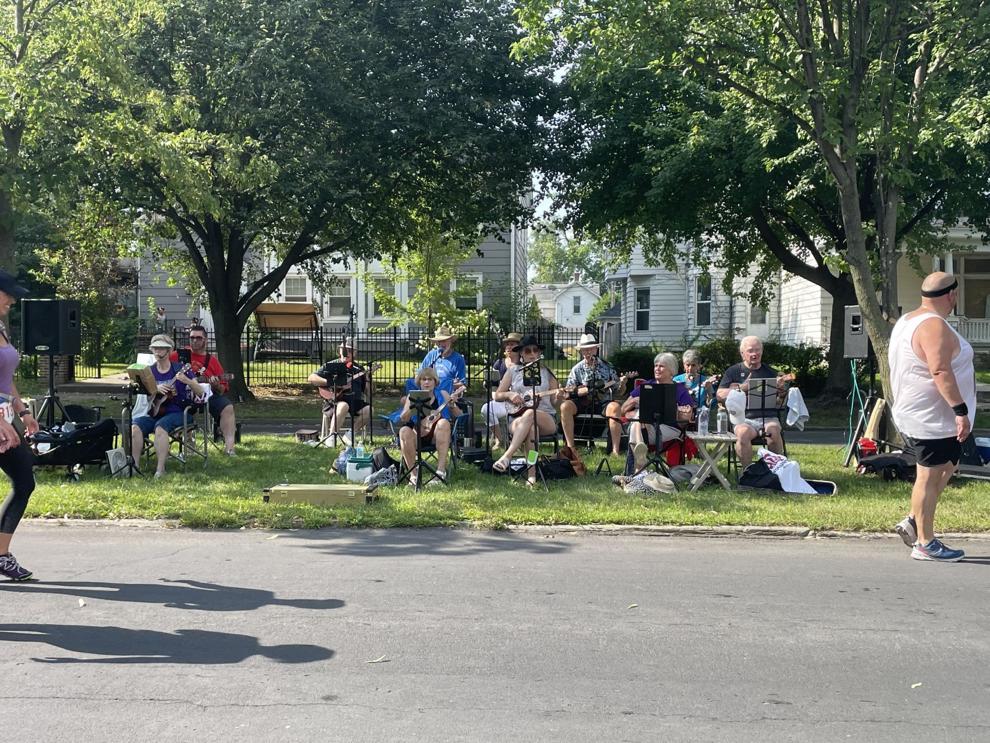 The group has a front-row seat to runners' costumes and gags, and among the most noteworthy were a plague doctor, Batman and characters from Little Red Riding Hood.
As they talked more people went by, giving a cheer and well-wishes to the musicians, and they got back to serenading the Bix and it slowly drew to a close.