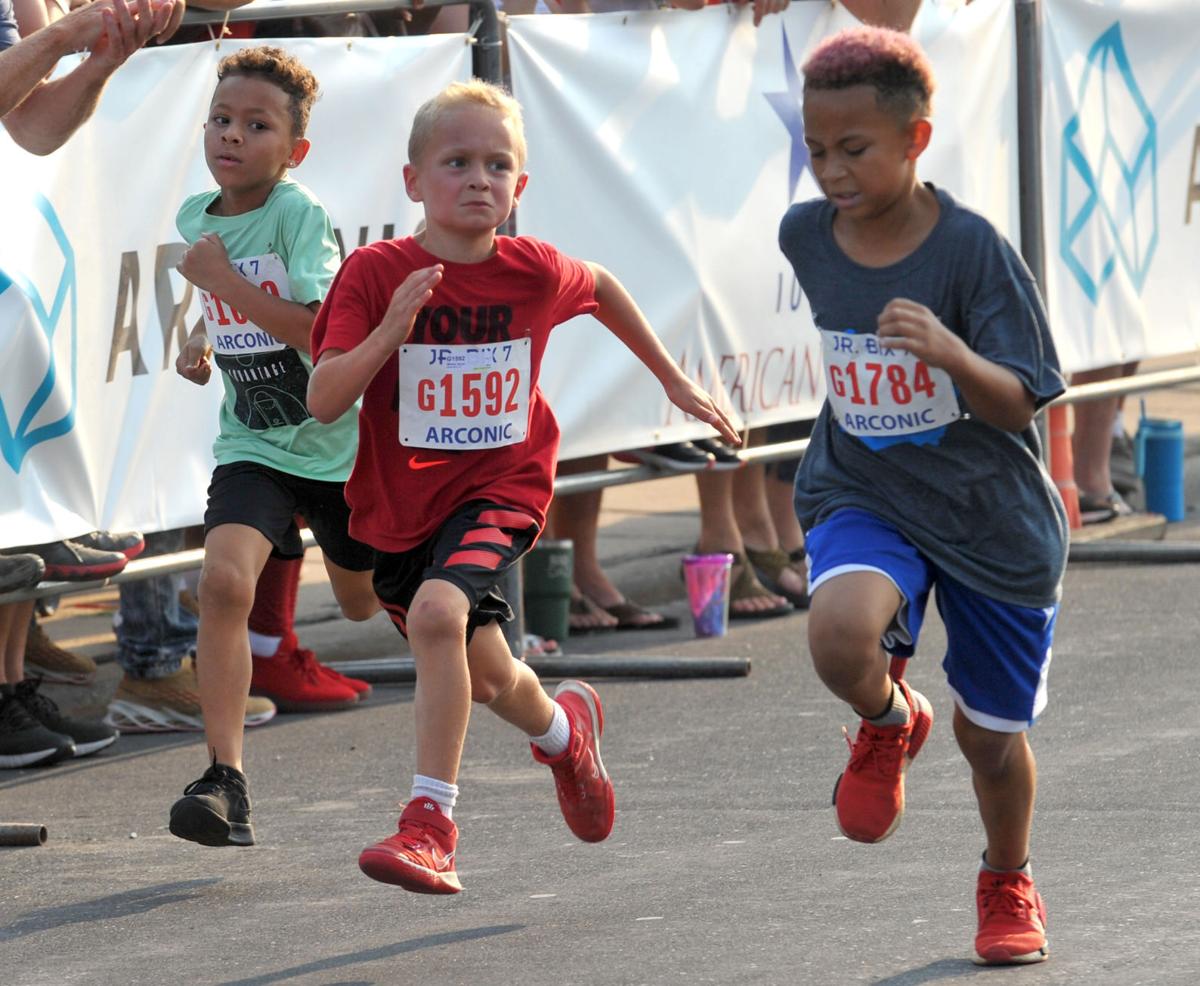 Mark Houston was standing at the finish line of the Arconic Jr. Bix on Friday, with phone in hand, grabbing as many photos and videos of the three young family children running the race.
Malea Houston, 6, and Jahmere Harris, 7, already had run their races. Houston was waiting on Jakia Harris, 8 to cross the finish line.
Just as everyone else standing in Friday's heat, Mark Houston was sweating, but joy was written on his face.
All that matters is that the children had a good time, he said.
"We needed something this year," Houston said, referring to the COVID-19 pandemic that caused the Jr. Bix and the Quad-City Times Bix 7 to be run virtually in 2020.
"It was very depressing last year, and I had a bad year last year," he said, adding that it was a bad year for millions of people. "But this is a good year. We started off slowly, but we're picking up fast, thank God. God has been good."
While many of the children enjoyed the running, Tahj Lee, 9, said it was his second time doing it, and while he enjoys it, he is a cerebral sort.
"He's more into flying airplanes," Lee's grandmother, Diane Mosely, said.
While some people have athletic dreams, Tahj's dream is to take to the air.
"I want to fly the 747," he said.
"He's more of a studious person," Mosley said. "He has his books to make things as he's very creative. But we try to get him to exercise, too."
Mosley said her family had been a part of the Jr. Bix for at least a decade.
"Our oldest is 20, and he did the Jr. Bix for years, so we've been out here for many, many years, probably 10 or 11," she said. "Of course the after party is fun."
Along the line of spectators, Caleb Gregg, 10, held a sign to cheer on his sister, Lydia, 7, who was running her first race.
Their mother, Christy Gregg, a physical education teacher at Woodland Middle School in Grayslake, Illinois, said Lydia had been a spectator for her brother before.
"She saw her older brother do it so she wanted to do it," Gregg said.
Caleb did not run in the Jr. Bix this year. Instead, he and his mother are running Saturday in the Prairie Farms Quick Bix, the 2-mile run.
Caleb smiled as he explained why he's running the Quick Bix instead of the Junior Bix.
"My dad put a treat behind it," Caleb said. "He said I could get one item or a toy, and I said I would like a Nerf gun."
"We call it an incentive," Gregg said with a chuckle, adding that her husband, Dave, will run the 7-mile race.
A total of 1,194 children signed up for this year's Jr. Bix. It was a hot night to run. The race began at 6 p.m. when, according to the National Weather Service, Davenport, statistics, the temperature was 86 degrees with a dew-point temperature of 73, which made it feel like 93 degrees.
Arconic spokesman John Riches was happy with the breeze that was blowing.
"We had a little spotty cloud cover earlier, which was nice until it burned off," he said, emphasizing the word burned in his statement.
Looking around at the families having a good time, Riches said, "It's great to see the kids back on 4th Street."
"We (Arconic) started this race in 1998 as part of our 50th anniversary in the community," he said. At that time, Arconic was known as Alcoa. "It was all for giving back at that time. It's really been a gift that's kept on giving."