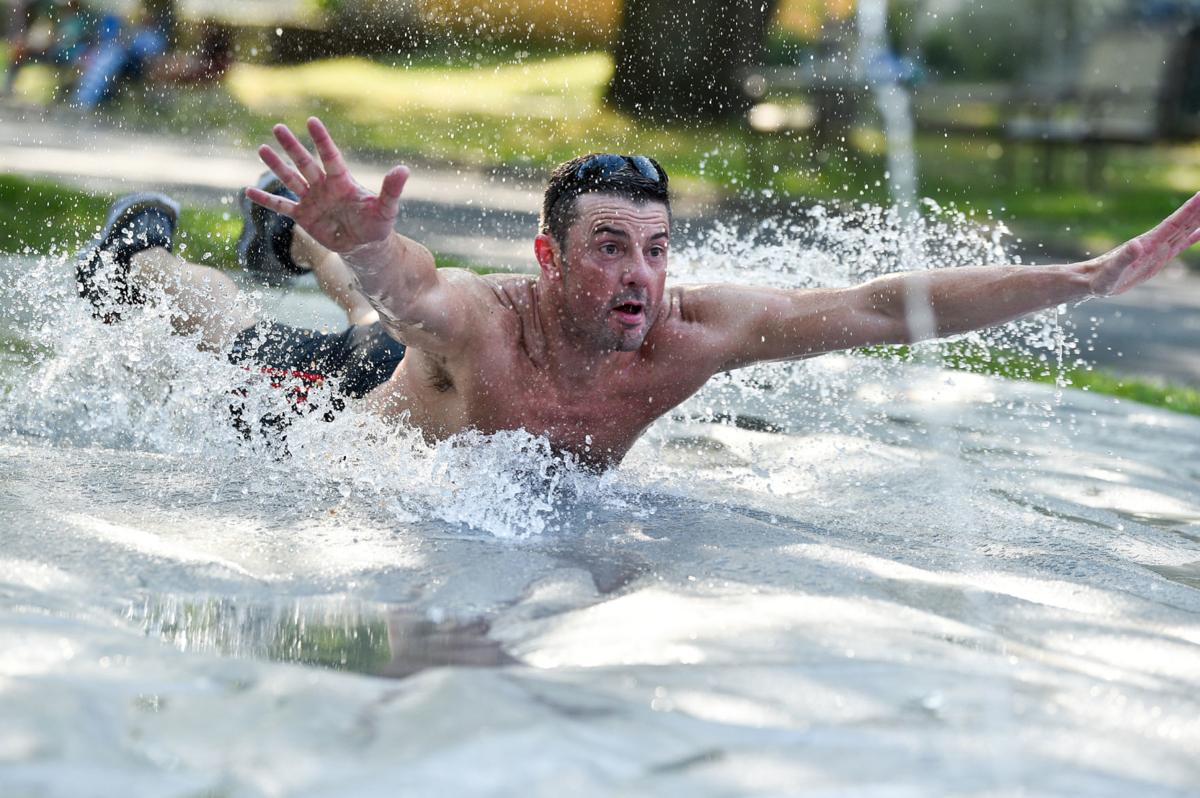 Scenes from the 2019 Quad-City Times Bix 7 race:
Scenes from the 2019 Quad-City Times Bix 7 race
Former Quad-City Times Bix 7 runners are now volunteers
Ron Jacobsmeier and Sue Rudiger of Dubuque were "volunteered" to work the Quad-City Times Bix 7 race by her brother, a member of the race committee. At their second Bix 7 race they stood at Hillcrest and McClellan calling out the running time on a loudspeaker with a stopwatch in hand. Jacobsmeier said, "we're former runners and this is fun to watch."
A car bar opens on McClellan Boulevard at the start of the Quad-City Times Bix 7
As the Quad-City Times Bix 7 race began Saturday morning, Tom Olson of Bettendorf was at the same spot he's been on race day for the last 30 years: the corner of McClellan Boulevard. and Fernwood Avenue. His 1953 MG-TD car was outfitted as a bar, with vodka, orange juice, a Bloody Mary mix, and bourbon.
His friends gathered early, before the runners raced by, laughing at Olson's quips, one of which was their concerns about the gnats. "The Cuban cigars help keep 'em away," he said, with a puff of smoke.
Homecoming doubles as a birthday celebration
Kim Korch comes home to Davenport every year for the Quad-City Times Bix 7. Her mother is close friends with the people who run the Wendy's firetruck that sits at the race's halfway point. 
This year, they celebrated Kim's 50th birthday with a big "Happy Birthday" sign on the truck.
"This is where we hand out bananas and grapes and I throw Jell-O shots to the runners," said Korch. The Jell-O shots are plastic cups of watermelon Jolly Rancher jello with watermelon vodka.
The cheerleader of McClellan Boulevard
Steve Bergman is the chief cheerleader at Nancy and Dennis Robeson's house part at 323 McClellan Boulevard, where a "shower" of water is provided for the runners of the Quad-City Times Bix 7.
He applauds those walking the final crest of the boulevard at 9 a.m. The speakers play the song "Highway to Hell."
Bergman said, "There are more partiers at the end of the race," but he admits he can barely last as long as the runners.
Beat the Elite runner among those in medical tent
The wheelchairs from the Genesis medical tent were deployed almost non-stop during Saturday's running of the Quad-City Times Bix 7 — even though the race-time temperature was fairly mild.
Mallory Asbe, the 24-year-old Isle Casino Beat the Elite runner, was among the two dozen people who were treated in the medical tent, just past the finish line.
Asbe and two other runners then were transferred to Genesis Medical Center, East Rusholme, hospital spokesman Craig Cooper said. Her condition was not immediately available, but volunteers said Asbe was able to speak to them, and a hospital spokesman said she was expected to be released Saturday afternoon.
Medic EMS also had ambulances along the course, and their crews also treated runners. Medic officials said at 11 a.m. they weren't sure how many of those they treated also were transported to the hospital.
But at least 23 runners were treated in the Genesis tent by doctors, nurses and respiratory therapy volunteers — many of whom have been returning to the event for decades.
Most of those who became ill or overheated were able to leave the tent on their own after being rehydrated; their core body temperatures lowered with ice baths.
Asbe began to struggle before the finish line, sending race officials to her side. Race Director Ed Froehlich, in his final year with the Bix, shouted for a wheelchair. She was helped across the finish line by medical volunteers and race officials, including incoming Race Director Michelle Juehring.
Several people from Genesis already were standing by, having spotted the pale coloring and rubbery legs that frequently are warning signs of a runner in trouble.
Also a frequent occurrence: Even as they are being wheeled to the medical tent, runners check their watches for their finishing times.
Kirkwood Boulevard partiers eat, hand out ice during Quad-City Times Bix 7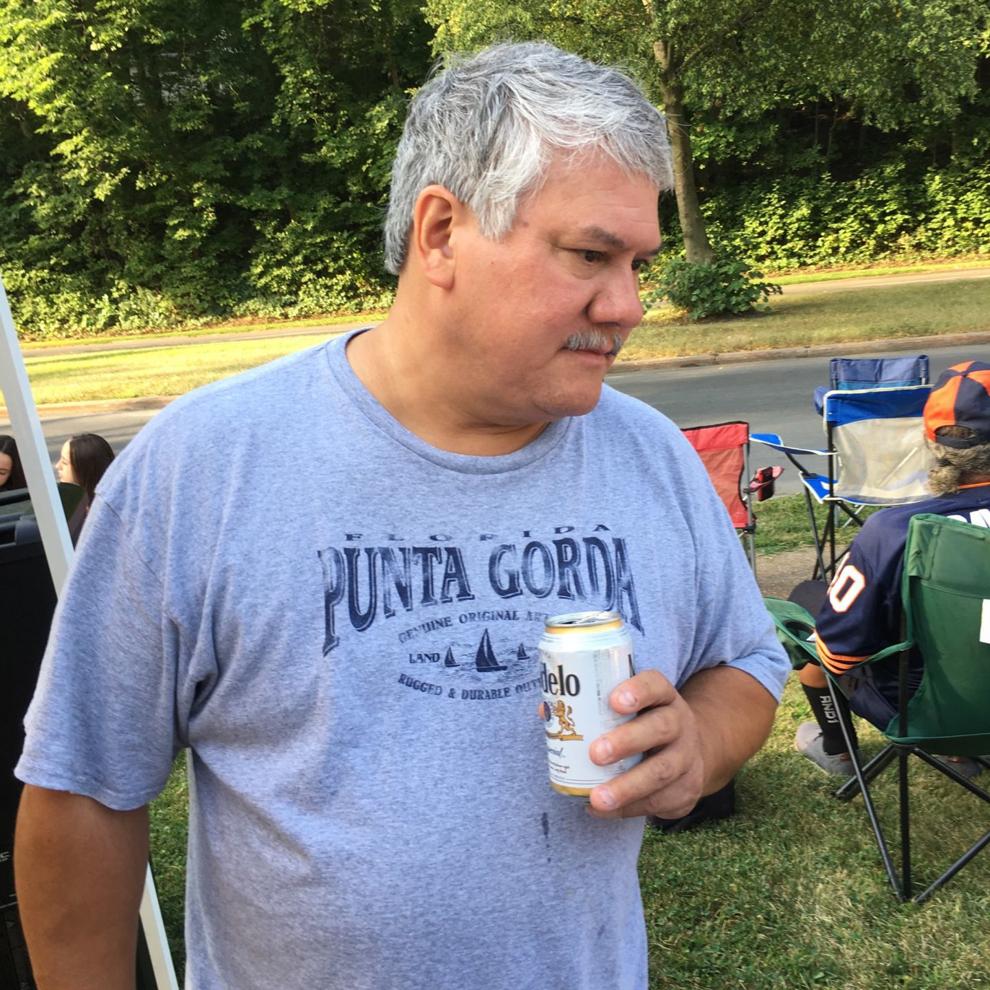 Mike Castel was 9 years old and playing with his Hot Wheels in the driveway of his Kirkwood Boulevard home one July day in 1975 when he saw a runner go by.
He didn't think anything of it. But soon he saw another runner go by. And then another. Hey, he thought, there's something going on.
That was Castel's introduction to the Quad-City Times Bix 7 and on Saturday he presided over one of the largest Bix parties on Kirkwood, drawing at least 75 friends and family who cheered, noshed on great food and filled baggies of ice to hand out to tired runners.
Castel started hosting parties in a big way in 1994, the 20th anniversary, with a 1970s theme. Guests wore '70s clothes and rocked to the tunes of Chicago, Steely Dan and the Jackson Five.
Castel's mother, Marina Castel, makes most of the food, beginning about Wednesday. The smorgasbord spread in the house this year included corned beef, potatoes, beans, eggs, biscuits and gravy, cheesy casseroles, tortillas, brownies, homemade chocolate chip cookies, milk and juice.
"I have so much food I can't stand it," she said, sitting on a lawn chair, filling baggies with ice. "I'm never, ever short. I'm always begging people to take some extra home.
"One year there was someone here we didn't know. Everyone said, 'Who was that person?' But that's OK. She was dancing, having a good time."
As for the bags of ice, the elite runners don't take them, but those at the back, are really grateful, Castel said.
"They put it on their heads or use it to wet their mouths. It's a lifesaver. We were the first ones to ever do it. People thank us. Because (that first year) was a miserable Bix."
Music blaring out Saturday from Castels' pop-up tent was heavy on upbeat, you-can-do-it songs such as "Eye of the Tiger" and the theme from "Rocky," and Castel danced in the street with cheers of "You guys are doing great, trust me."
Castel respects the difficulty of the Bix, having run it five times himself.
His first race was in 1983 when he was 16.
"I was in really good shape, and I did it in about 50 minutes," he said. "The hardest part was right here," he said, gesturing to the l-o-n-g upward slope of Kirkwood. "The sun was on my back, and I thought I was carrying a thousand pounds. It was no joke. The Bix is no joke."
The party has grown by word of mouth. The fun is "the energy, the camaraderie," Castel said. "Everybody says it's my party. It isn't.
"My motto is, 'Don't even ask to come back next year .... just be here."
Among the partiers was childhood friend Dave Beal, another Kirkwood resident who remembers the first Bix. "We said, 'What the heck's going on? It's crazy.'"
And still crazy after all these years.
Two friends run the Prairie Farms Quick Bix while pregnant
The Quad-City Times Bix 7 brings people back every year for the fun atmosphere and good music, in addition to the running.
Jenna Bell, Abbey Knox and Carrie Schlindwein completed the Prairie Farms Quick Bix then headed over to the post-race party to eat, drink and enjoy each others company.
Schlindwein ran her first Quick Bix, with Knox and Bell running their third. 
Bell has run the full Quad-City Times Bix 7 eight times and the Prairie Farms Quick Bix three times. 
The good weather and atmosphere made it easier to complete the race, Schlindwein said. 
And Knox and Bell are both pregnant for this Bix 7, making the event even more special.
How did that affect their times? "It was a little slower," Knox said.  
A pair of friends from Muscatine run their first Prairie Farms Quick Bix
Morgan Herlein and Bri Kuhlers of Muscatine ran their first Prairie Farms Quick Bix Saturday morning. 
Herlein credits the energy and excitement of the spectators for making the race easier. 
"We didn't train for the race. We're proud we did it without training," Kuhlers said. 
All the other runners and the excitement push you to keep going and finish, Herlein said. 
The pair look forward to running the full seven miles next year in their first Quad-City Times Bix 7. 
Quad-City Times Bix 7: Would you run 7 miles for free beer?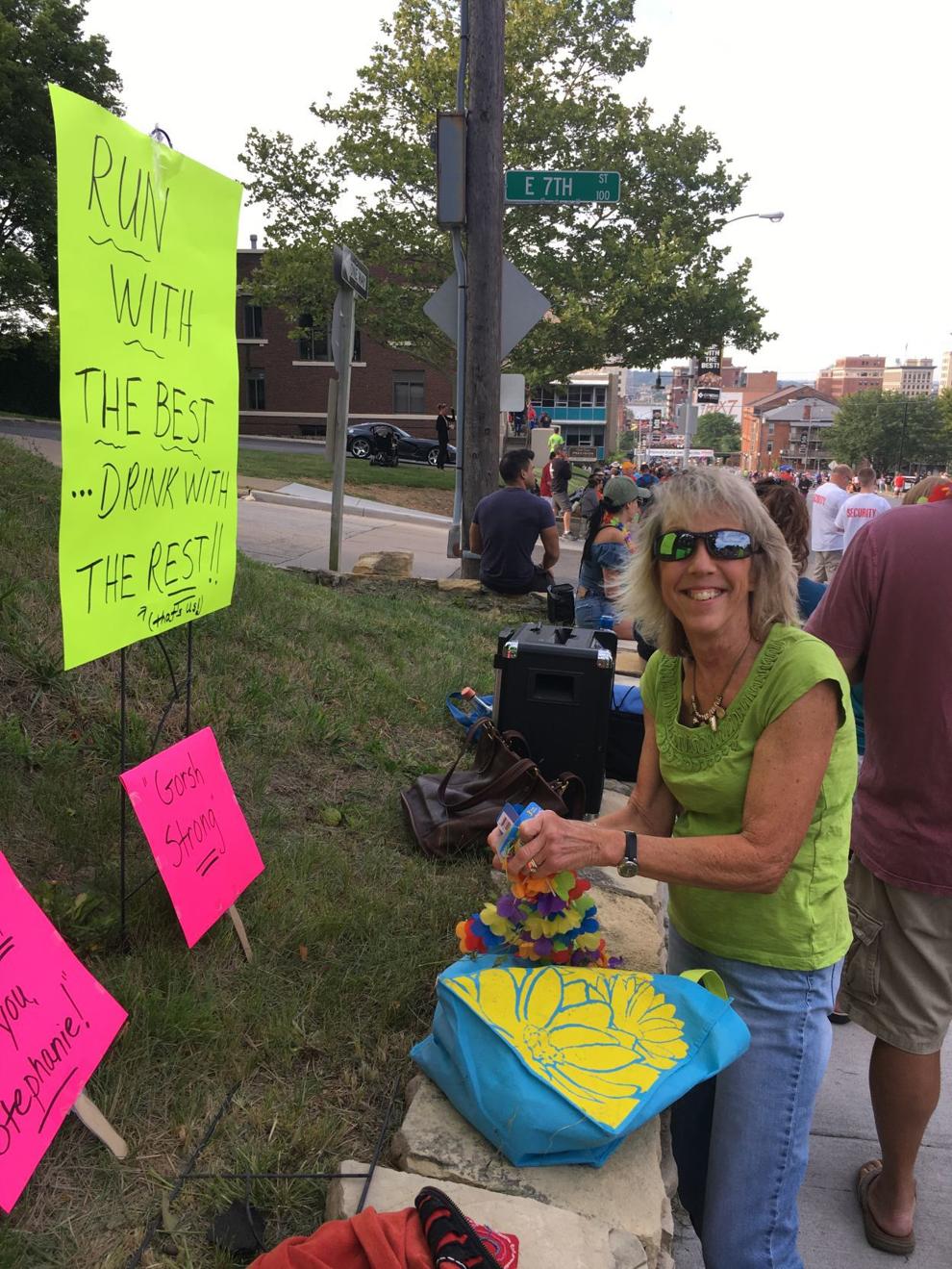 "If I didn't show up, there wouldn't be a party," said Sue Bronzino, of the race watch party she and her husband, Paul, have hosted on the corner of Brady and 7th streets for about 30 years. 
Bronzino said she's run the race twice, the first time when she was 30 years old, after "maybe two weeks" of training. 
"The festivities are more fun," she said. 
Now, the Bronzinos and their extended family and friends are the "7th and Brady Street Gang." 
In recent years, they've started handing out cans of beer to runners on their way back down Brady Street hill. Last year, they said it turned into a competition to see who could give away cans the fastest. 
"These guys are still running for time," Heather Jacks said while looking out at the runners. She said it usually isn't hard to pick targets. "You just know. These people aren't ready for beer yet." 
Just a little further up the hill, the Bronzinos have some competition. Palmer students advertised "Free keg stands for runners." A group of Elvis impersonators took advantage of that offer on their way up the hill. 
Quad-City Times Bix 7 walker is back on the track -- (new) hip, hip hooray
Susan Murphy of Davenport is back walking the Quad-City Times Bix 7 again after getting two new hips two years ago.
"Omigod, I have a new life after great medicine and a wonderful surgeon," she said.
"Before that I couldn't walk a half-block."  She was supported by two friends, Jane Schmidt of Delmer, Iowa, a first-timer in the Bix7, and Grace Lee of East Brunswick, New Jersey. They were bringing up the rear, having passed the starting line at 8:10 a.m. and were passed by the lead runners at about the mile and a half marker on Kirkwood Boulevard.  "We usually only walk casually after dinner," Grace said.
Only the Bix-ginning: Where do people go after the Quad-City Times Bix 7?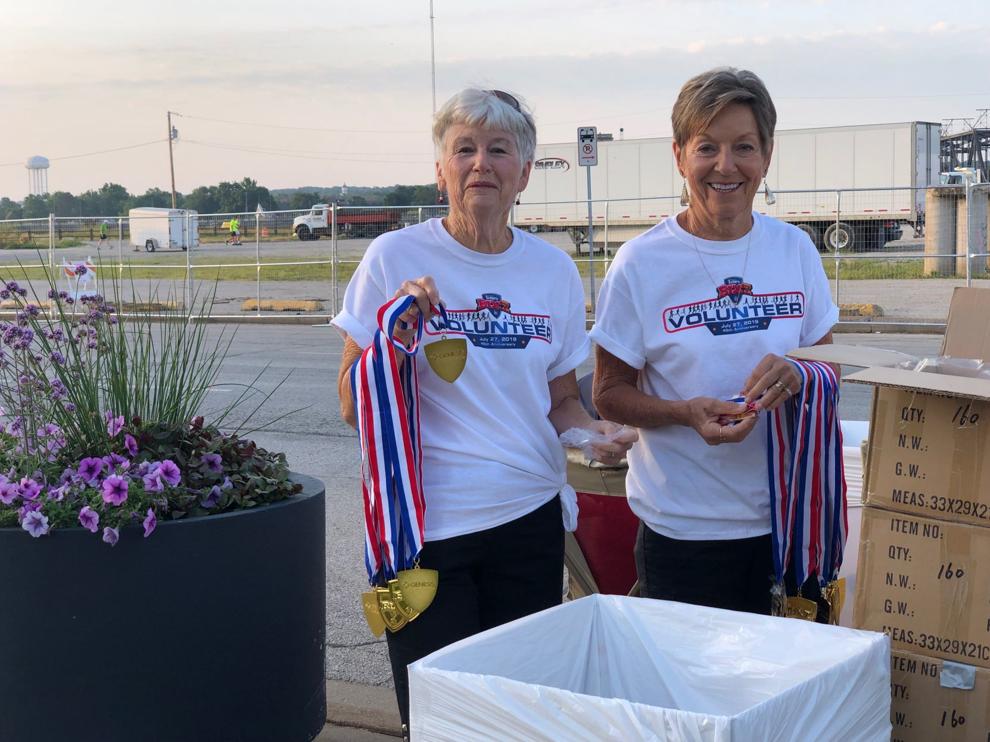 Hundreds, if not thousands, of couches will be filled with snoozing post-Bix volunteers and spectators Saturday afternoon.
Throughout the Quad-Cities, volunteers thronged the streets in pre-dawn hours and just as the sun rose to prepare for the 45th Quad-City Times Bix 7. By 6:30 a.m., hundreds of volunteers were on hand near the finish line, helping set up thousands of red plastic cups and scores of food tables in the Quad-City Times parking lot to wait for thousands of runners to arrive.
Nancy Moler, LeClaire, and Judy Seitz, Bettendorf, were part of a crew who unpacked the 45th anniversary medals to hand out to runners. The medals are awarded every five years. Seitz planned to head to a friend's Davenport home for a post-race party. Moler planned to go to lunch.
Longtime Quad-City Times columnist Bill Wundram and his wife, Helen, got up early to enjoy the VIP tent, but they didn't plan to stick around long after the race. "I'm gong to go home and go to bed," BIll Wundram said.
Carol Foster, of Davenport, started coordinating breakfast at the VIP tent at 5:30 a.m. "I'll probably go home and have a nap," Foster said.
Mike Puente, who has been involved with the Bix 7 for years, didn't plan to slow down. "I'm going downtown (to the Street Fest,)" he said. He and his crew of volunteers helped provide security at the RiverCenter for the Running Wild Sports & Fitness Expo. "I'm going to buy my volunteers beers. I've got to take care of them!"
McClellan Boulevard offers a prime spot to watch the Quad-City Times Bix 7
John and Rhea Oakes of East Moline claim they have the perfect spot for the Quad-City Times Bix 7— on the grassy median strip of McClellan Boulevard.
"We're in the shade and a band is playing up the hill!" Rhea said.
They brought granddaughter Harper Smith to her first Bix 7 and waited for daughter, Chelsea Smith, and daughter-in-law, Anita Smith, to run by. The Smiths passed out (welcomed) popsicles to the runners.
Tim Solbrig continues the tradition of painting the Quad-City Times Bix 7 race logo
For more than 30 years the family and friends of Bettendorf High School art teacher Tim Solbrig have gathered at 10 p.m. at the corner of Brady and West 4th Streets to paint the Quad-City Times Bix 7 logo at the starting line of the race, this year celebrating its 45th running.
For years the Solbrigs dragged along brushes and latex paints. Last year was different as the Iowa DOT demanded the logo be removed from the state highway as soon as possible after the race is completed.
Nothing has changed from last year as Solbrig and his family and friends all worked with cans of colored spray chalk to make the logo.
Also this year, a template was used instead of having Solbrig draw out the design on the blacktopped street.
While the demands of painting the logo may have changed, Tim Solbrig said the desire to do the job and do it well has not. "Same time next year," they all said as they wrapped up the job.
For the Solbrigs, the painting of the Bix 7 race logo long ago became a family tradition. In that same time, the Solbrigs and their friends making the logo on the eve of the race have also become a Bix tradition.
Finding a workaround for felled trees at the Bix 7
Darned that emerald ash borer.
The invasive pest that kills ash trees felled two trees along Davenport's Kirkwood Boulevard that Sean Toncao had used for years to anchor his water sprinkler.
So, this year he had to improvise by attaching one portion of the sprinkler hose to the turret of his dad's Queen Anne-style home, then running it above Kirkwood to a different, still-standing tree on the other side.
The hose sprinkles runners as they pass near LeClaire Street. The water also makes a "slip and slide" out of a 30-foot by 12-foot plastic tarp Troncao anchors to the grassy boulevard. He waxes the tarp the day before and by the time the water hits it, it's plenty slick, he said.
Troncao also uses a boom truck to hoist a huge American flag across Kirkwood, flanked by two 9-11 remembrance flags.
Music with running or walking themes, including "Running Down a Dream" and "Walk This Way" was provided by "Klinger" of the Dwyer & Michaels radio show.
Non-elite runners bring serious fun to the Quad-City Times Bix 7
After the elite runners, then the serious runners, mount Brady Street hill, the mass of recreational runners brings a healthy dose of interesting. 
Many of the runners, especially the younger ones, have their phones out, ready to film their (shaky) ascent. Kids running with their moms are pulled aside for pictures, either with Quad-City Times Bix 7 signs or friends and family waiting for them on the sidewalk. 
At least a few beach balls made it about a third of the way up the hill before runners stopped batting them around. 
By the time the walkers start up, runners are replaced with characters in costumes, including Daenerys Targaryen and Khal Drogo from "Game of Thrones."
Most elaborate, though, were the dozen or so Palmer College of Chiropractic students, a mainstay of the Bix, who were each dressed as a single vertebra. Together, they formed a spine slithering up the hill, shifting from side to side of the road. Just past 7th Street, some of their classmates were offering free keg stands to runners, but the spine kept moving. 
Saturday's Bix 7 quiet for law enforcement
Saturday's Quad-City Times Bix 7 was a mostly calm morning for local law enforcement.
Davenport Police Lt. Shawn Voigts, who rode a motorcycle alongside Isle Casino Beat the Elite runner Mallory Asbe during the race, said there were a couple of falls and some runners with medical issues, but for the most part, there were no big issues along the course. 
Davenport officers and volunteers, Scott County Sheriff's deputies, and members of the Quad-City Bomb Squad were on the course throughout the day to help keep things running smoothly.
They patrolled the area on foot, bicycle, motorcycle, and utility ATVs. Some officers also had dogs with them.
Voigts said 14 vehicles were towed ahead of the race, down from 21 last year. 
Campaigner wants 'Scott for president' – again
Molly Edwards drove out to the Quad-Cities this weekend on a campaign to "re-elect Scott." 
It's a running joke. Edwards, an attorney with the county prosecutor's office from Cedar Falls, posted up at the turnaround point of the Quad-City Times Bix 7 with a pair of signs to cheer on three of her friends who ran in the Saturday race. Last year, she came with a "Scott for president" sign, and she wanted to continue that inside joke again this year.
Edwards came to Saturday's race with another funny message. On the flip side of her "Re-elect Scott" sign was a call-out to her friends Cody and Tori: "Codi & Tori sitting in a tree R-U-N-N-I-N-G."
"Cody and Tori are my high school friends and Scott is married to one of my work friends," Edwards said.
A native of Davenport, Edwards says she just came out to encourage her runner friends and didn't really have much in the way of plans afterward.
"Probably go down to the Bix Fest," she said.
McGees look forward to Bix No. 30
The first year Veronica McGee's husband, Rich, ran the Quad-City Times Bix 7, it was on a whim. He was a runner anyway, and her sister-in-law had given him a tag. 
This race was his 29th, and he wants to make it to 30. 
"He's pretty competitive," Veronica McGee said as she waited for him to run by. She used to run the Bix too, and now they have kids and nieces and nephews competing.  
Retired now, McGee worked at a youth home in Ames for 25 years, where he started a running group for the troubled youth. If they stayed out of trouble, he would bring them into town to spend the night and run the Bix together. 
"For some of them, it was the first time they stayed in a hotel," Veronica McGee said. 
Even now, they'll occasionally run into some of those — now grown-up — kids who remember Rich McGee.
"It does make me tear up a little to think about it," Veronica McGee said.
Ankle injury doesn't stop three-time Bix 7 runner
While training to run for the Quad-City Times Bix 7, Aaron Hagens of Davenport injured his ankle two weeks before race time. 
To prepare for the hilly course, Hagens was training with friends for his third Bix 7, and in the three days leading up to his injury, he ran 40 miles. "It was a bad idea," Hagens said. 
Though he had to stop training to let his ankle heal, he still felt good about how the race went and ran the full seven miles Saturday morning. 
Hagens had his friends to cheer him on and keep him going during the race, he said. 
Before the race, Hagens received a text from his father that read: "Good luck, I want to see you in the top 100." 
Bloody Marys are Spring Street specialty on Bix 7 race day
With the motto, "If you're going to drink all day, you have to start in the morning," Ryan Teel sets up what he believes to be the best bloody Mary bar on the race course, beginning at 7 a.m.
Teel first opened shop nine years ago after a race associate stopped by to tell him that his home and yard on Kirkwood Boulevard near Spring Street would be the perfect place for a band.
Teel took it from there, even though, as he says, "it's early in the morning."
He buys about five 1.75 liter bottles of vodka and usually goes through them all. Celery sticks and dill pickle and celery spears sub for swizzle sticks.
This year Teel also hired a band called the Heavies, a Dubuque group that plays everything from classic rock to a little country.
PHOTOS: 2019 Quad-City Times Bix 7 Post Race Party
072819-BIX7-POST-KS-001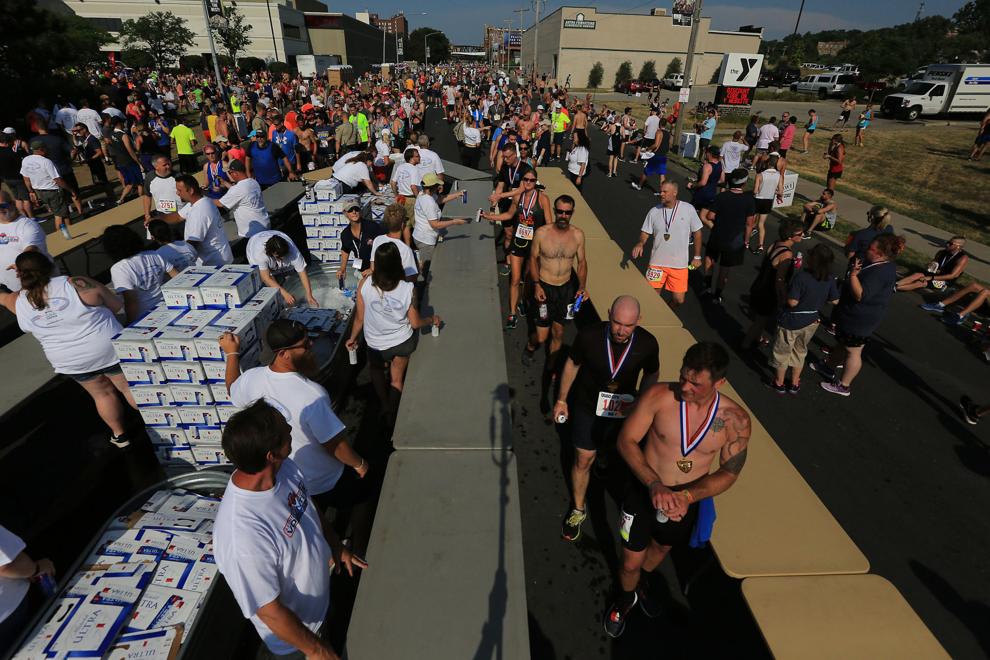 072819-BIX7-POST-KS-002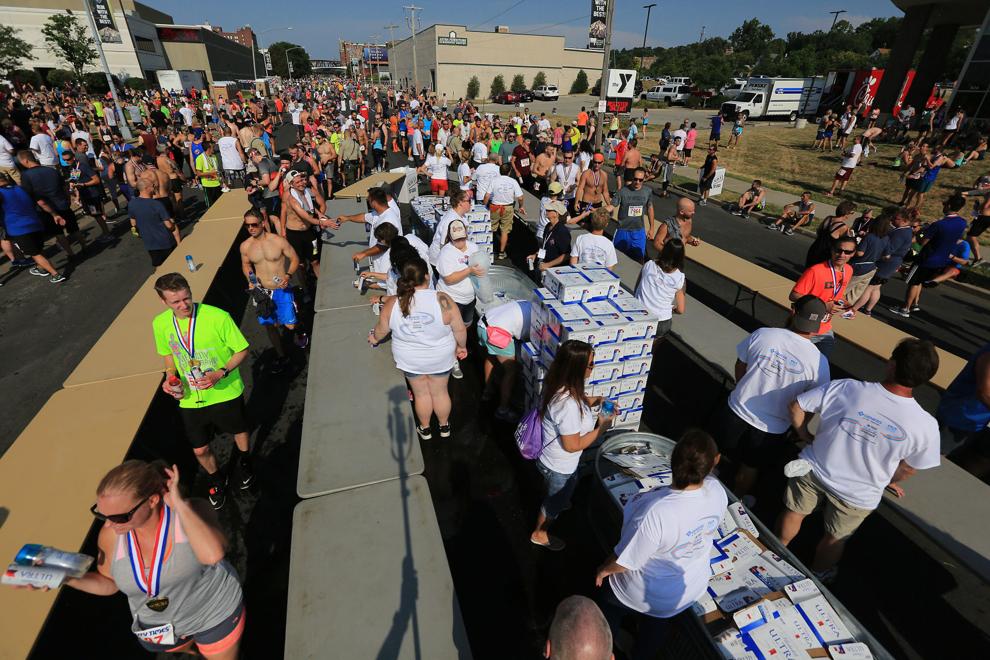 072819-BIX7-POST-KS-003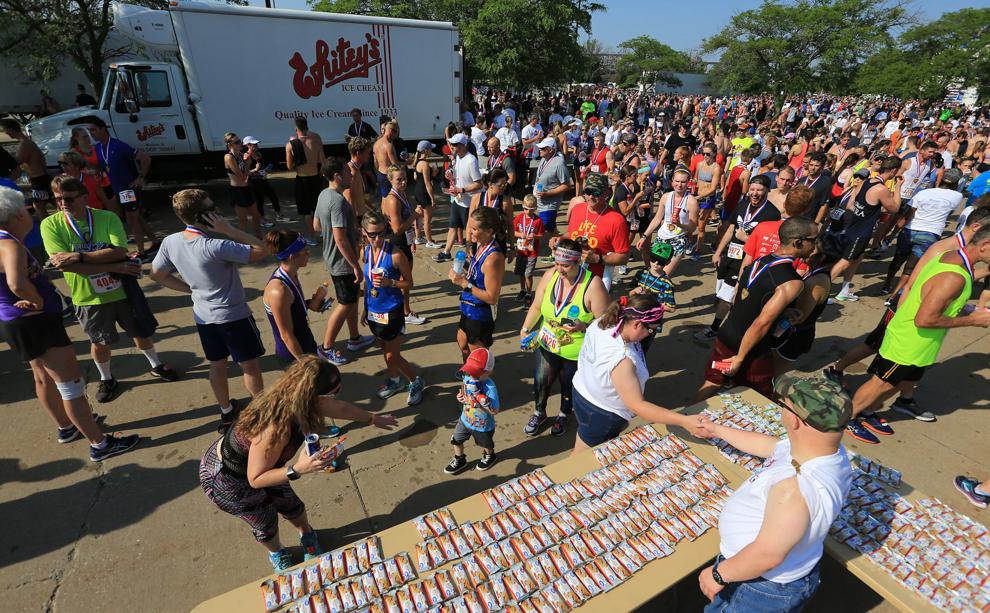 072819-BIX7-POST-KS-004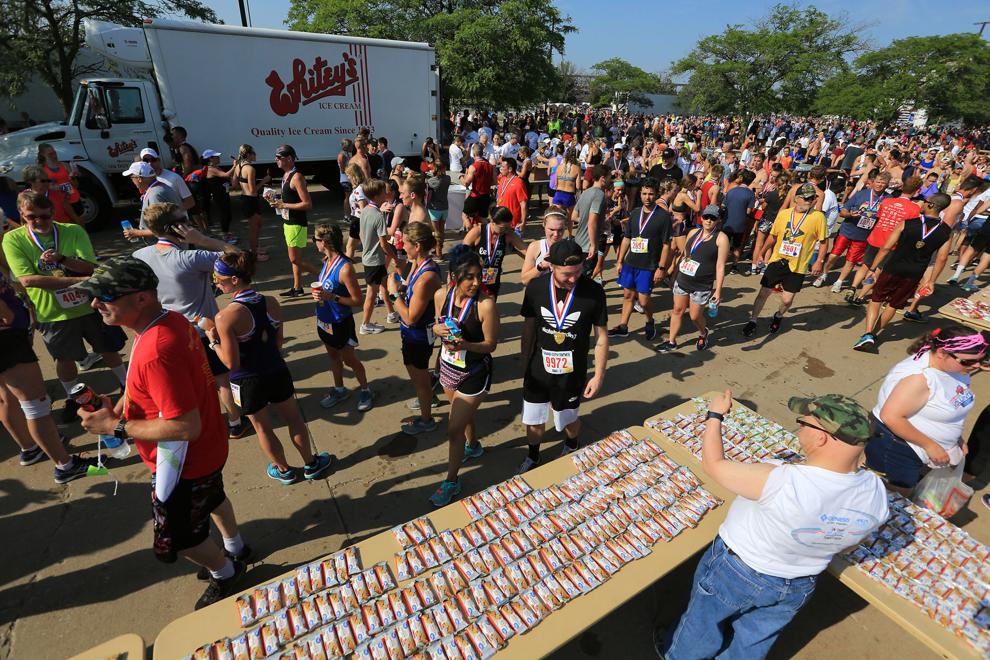 072819-BIX7-POST-KS-005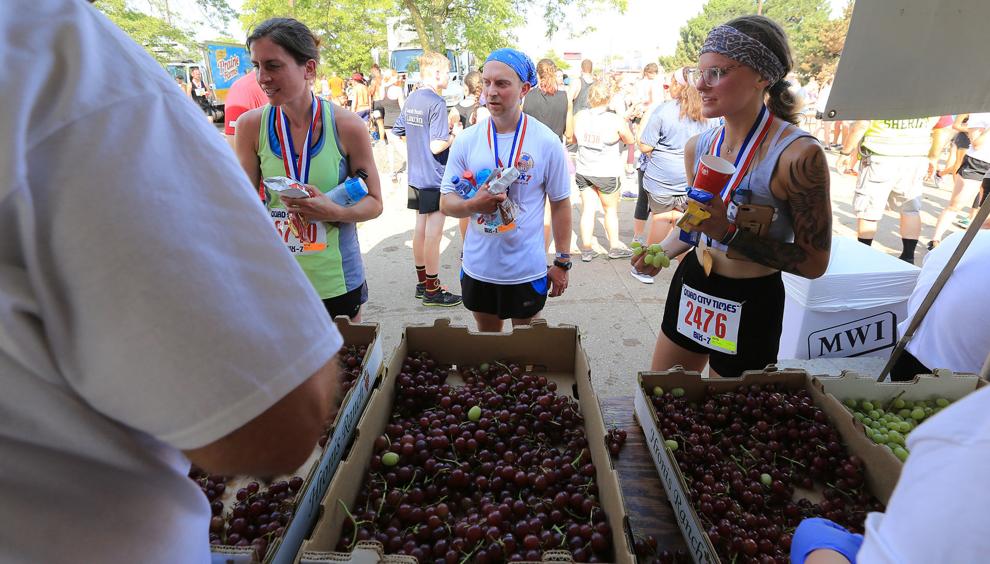 072819-BIX7-POST-KS-006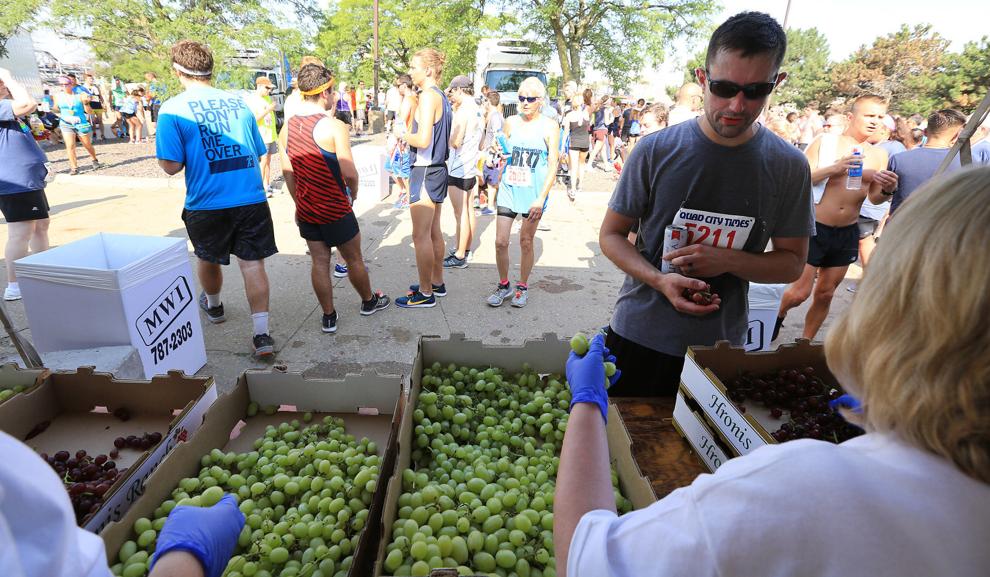 072819-BIX7-POST-KS-007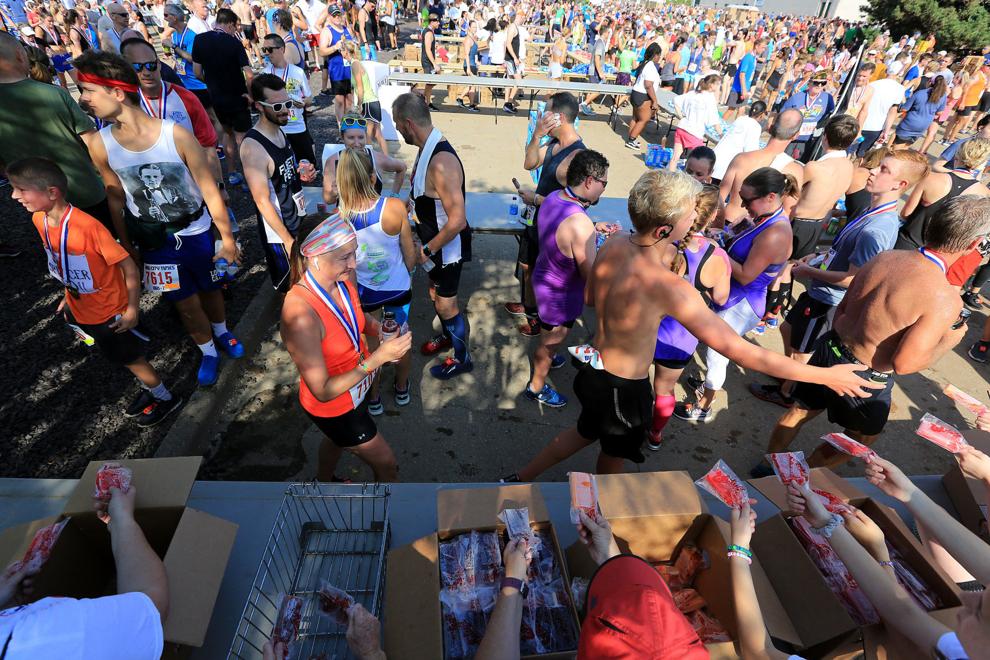 072819-BIX7-POST-KS-008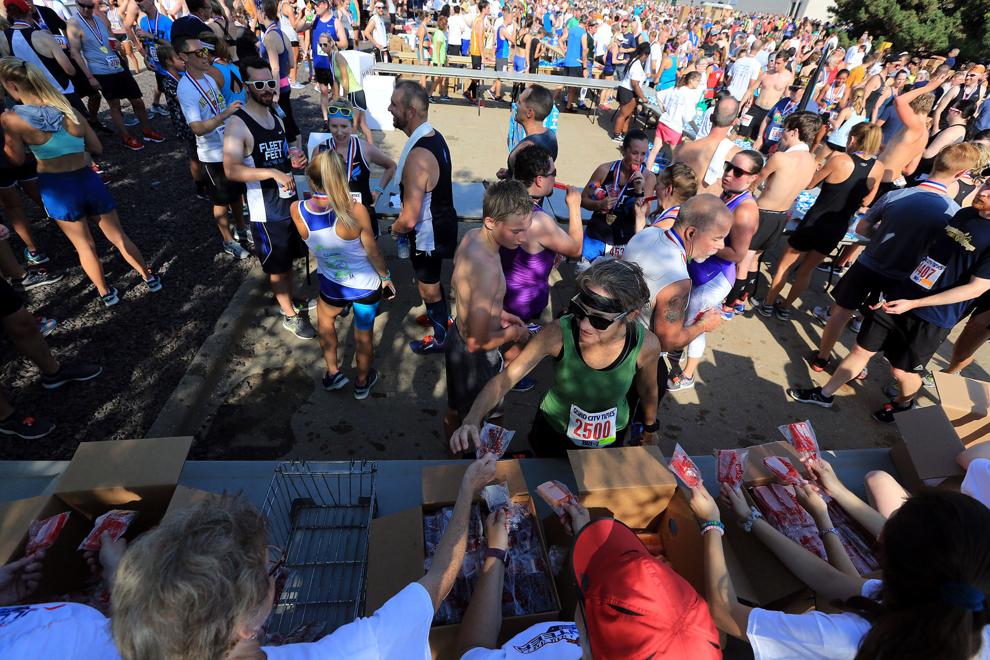 072819-BIX7-POST-KS-009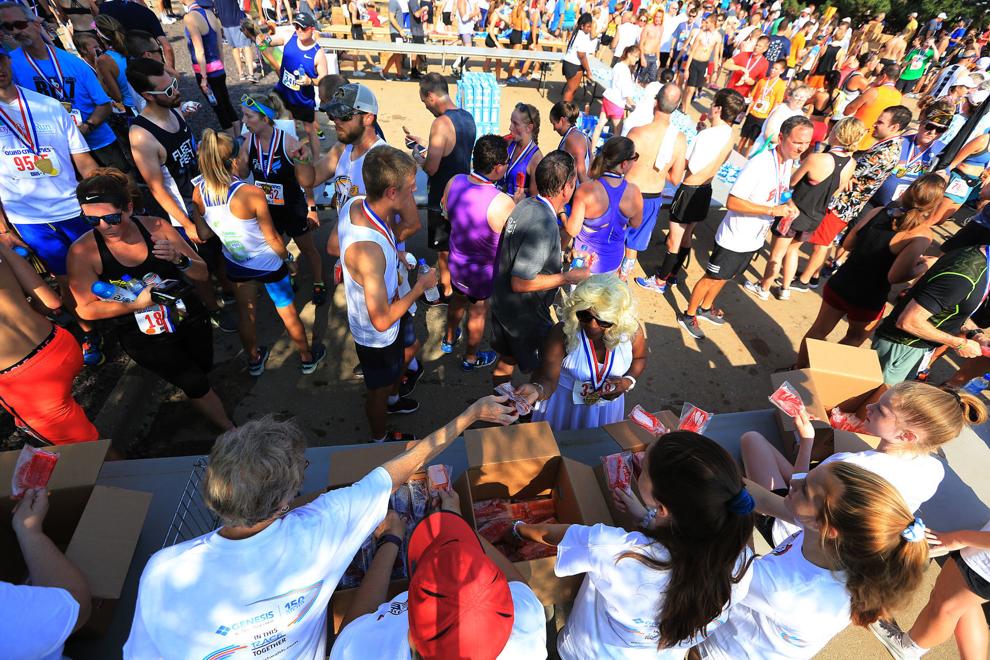 072819-BIX7-POST-KS-010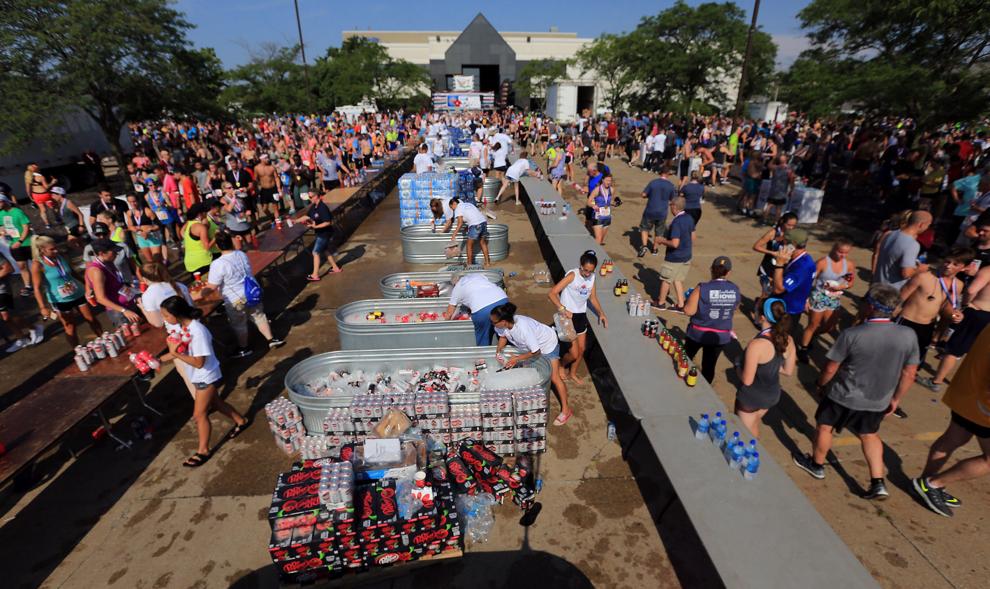 072819-BIX7-POST-KS-011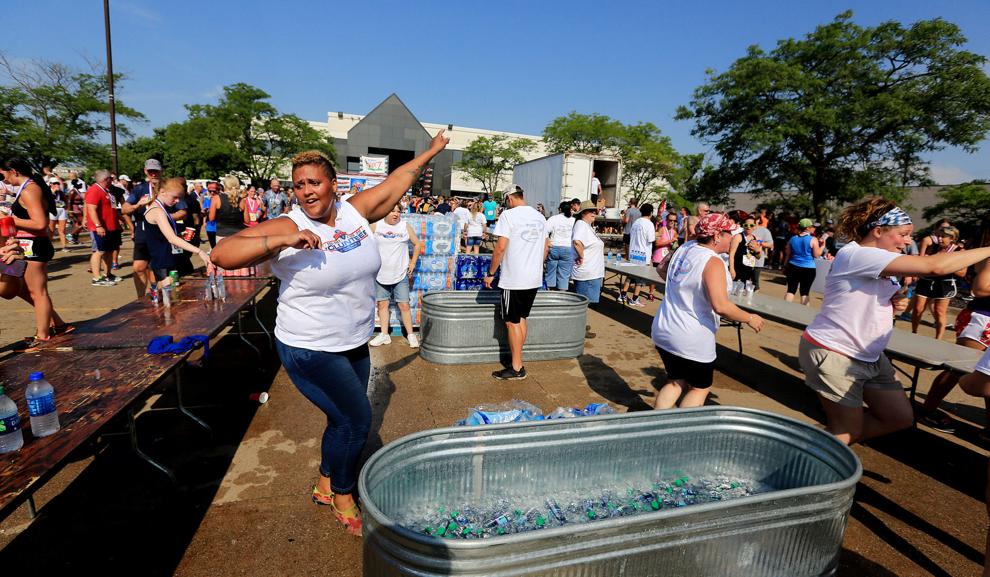 072819-BIX7-POST-KS-012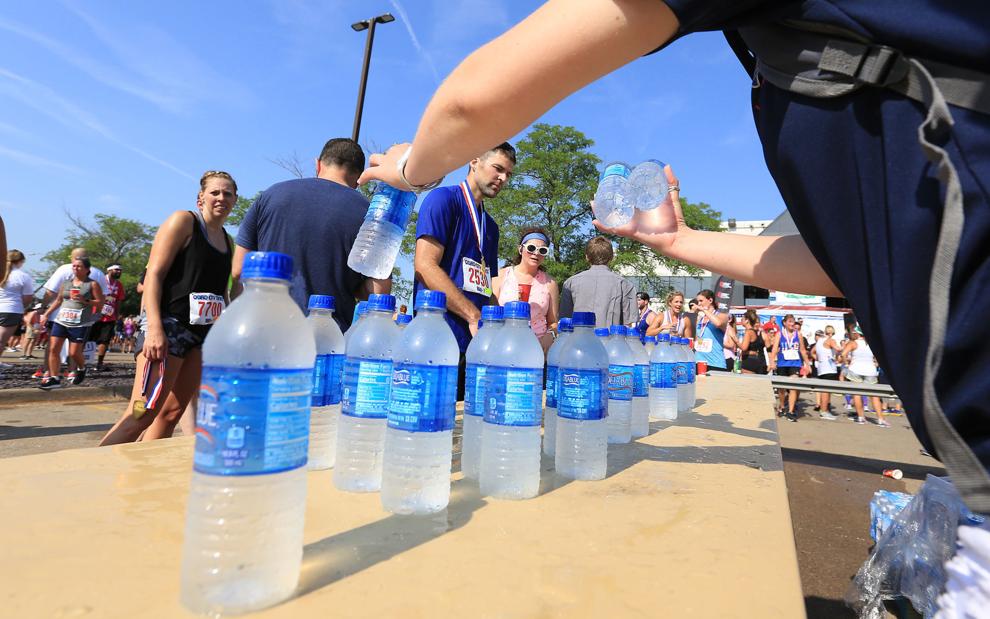 072819-BIX7-POST-KS-013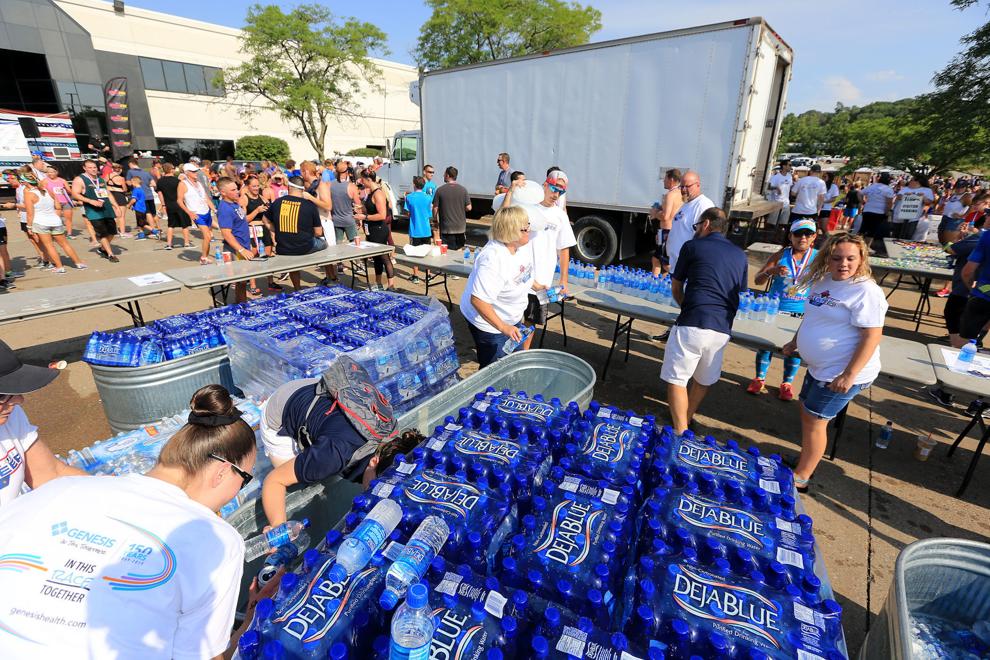 072819-BIX7-POST-KS-014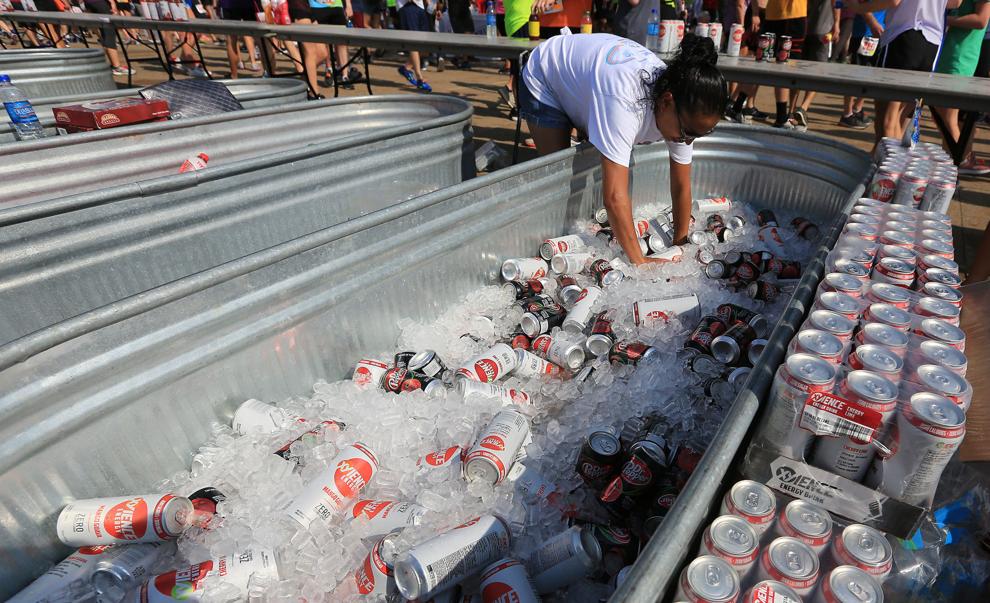 072819-BIX7-POST-KS-016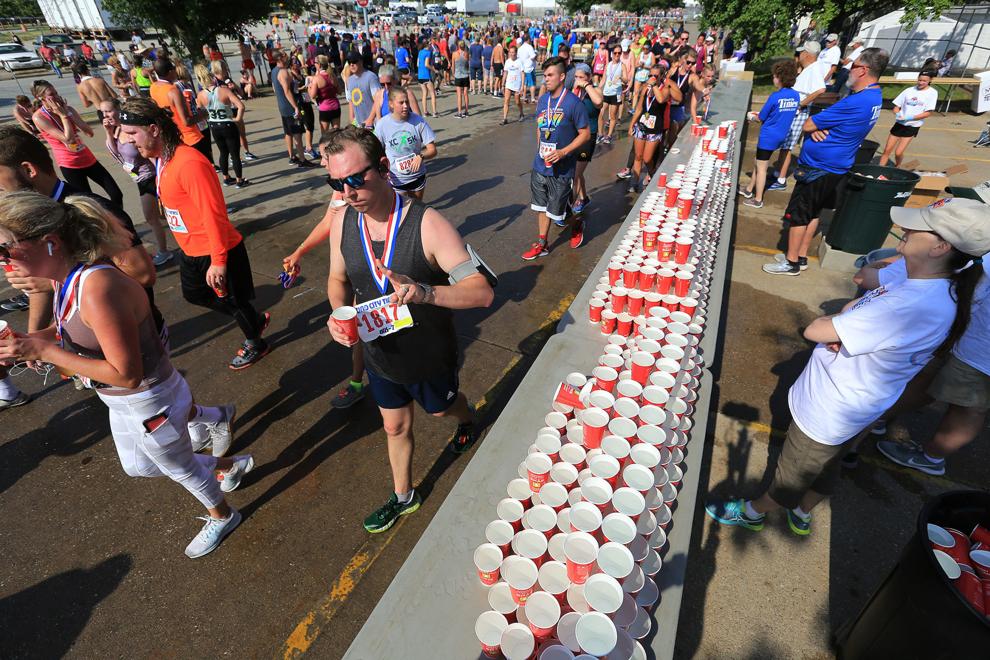 072819-BIX7-POST-KS-017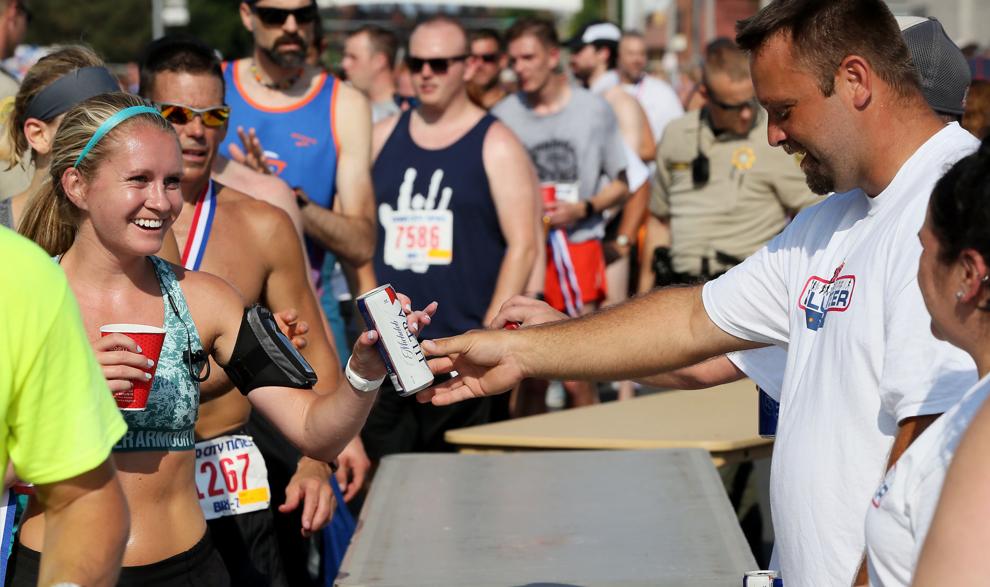 072819-BIX7-POST-KS-018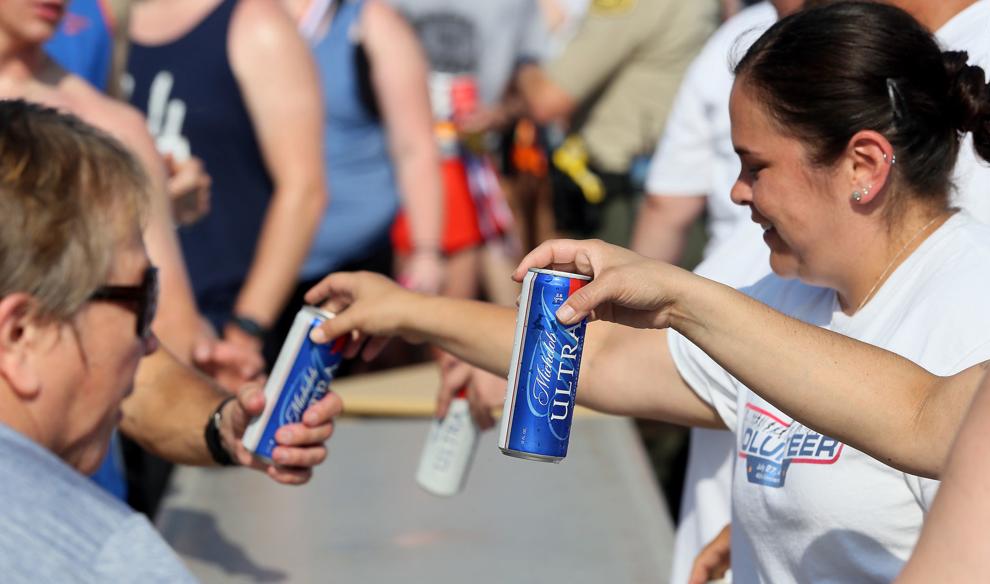 072819-BIX7-POST-KS-020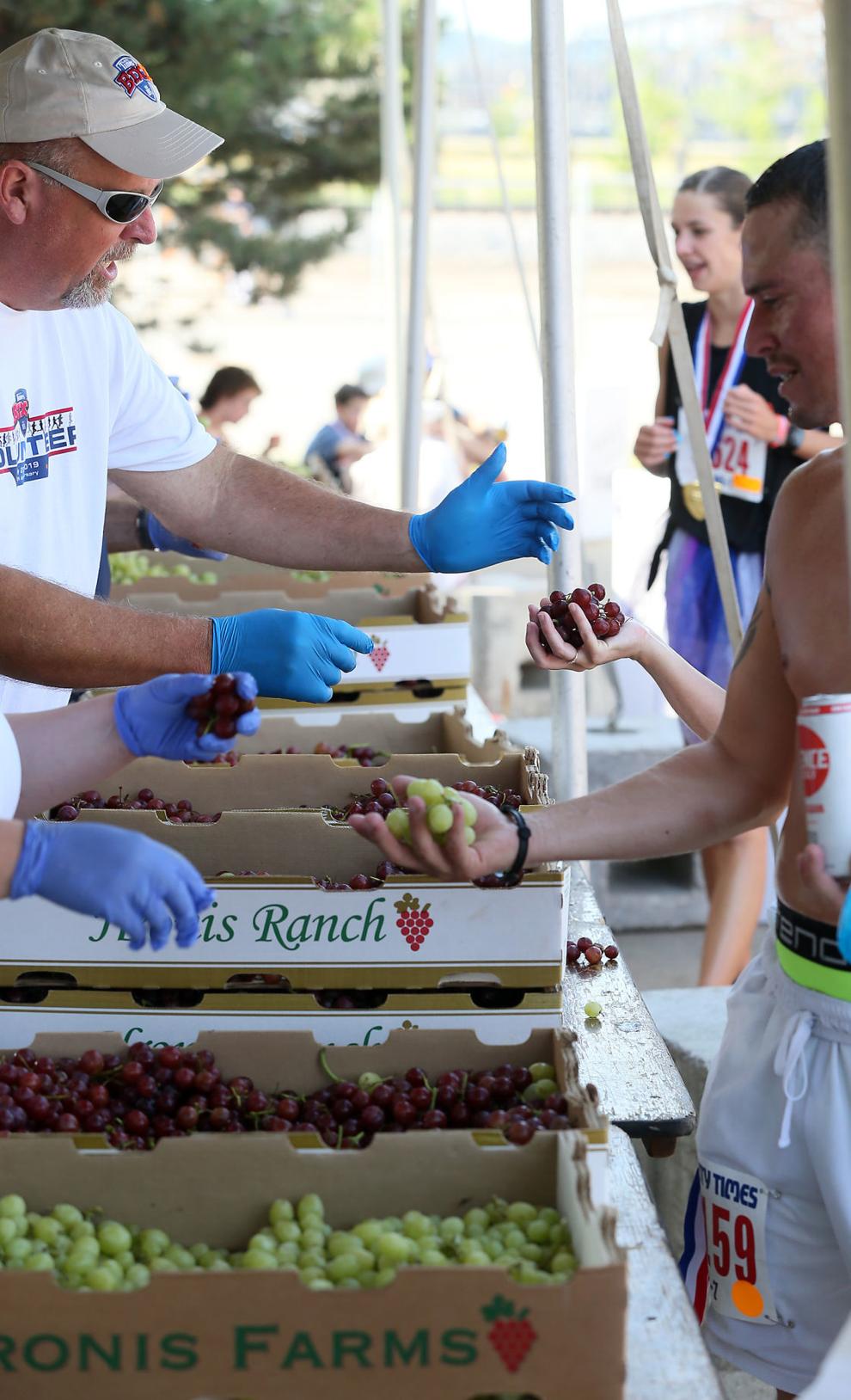 072819-BIX7-POST-KS-021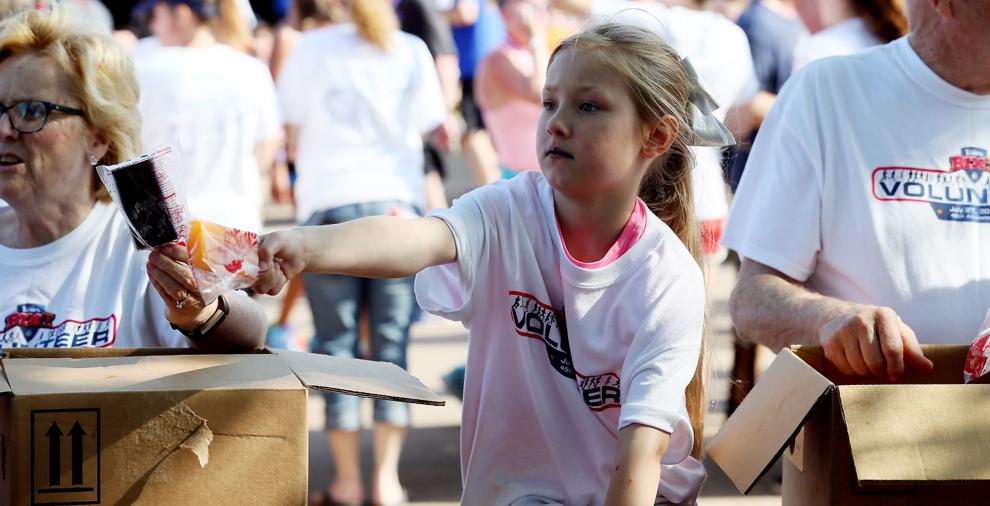 072819-BIX7-POST-KS-022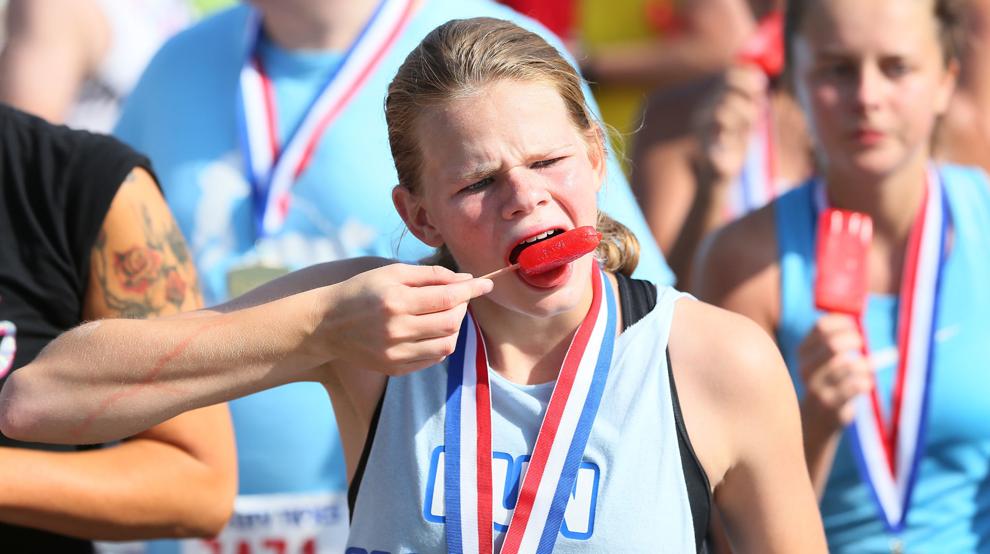 072819-BIX7-POST-KS-023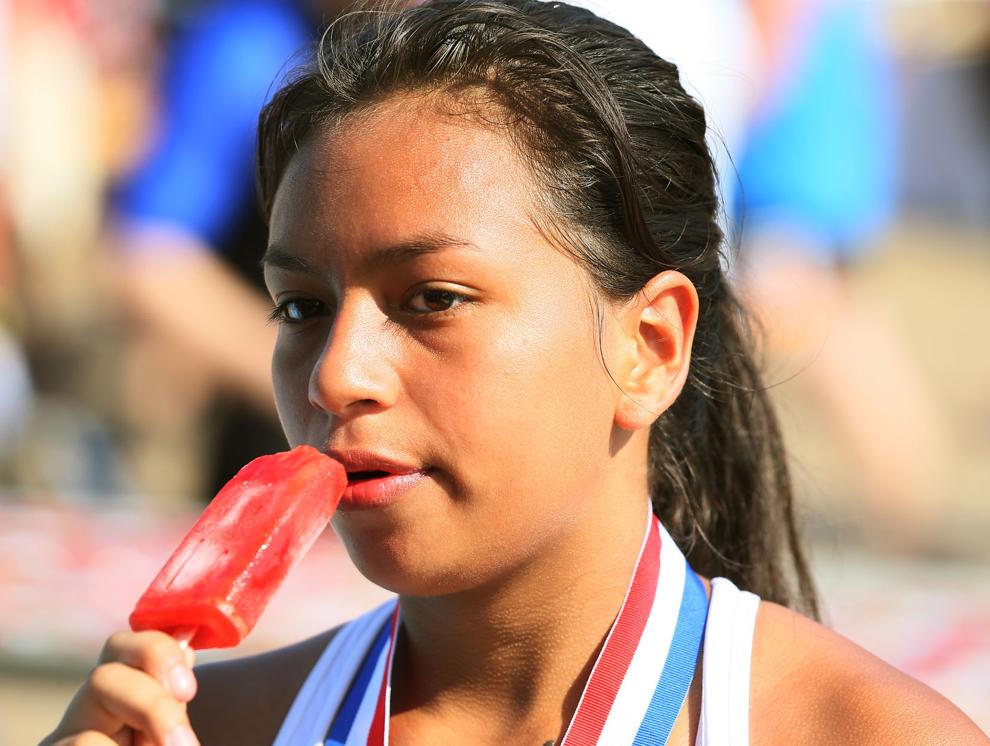 072819-BIX7-POST-KS-024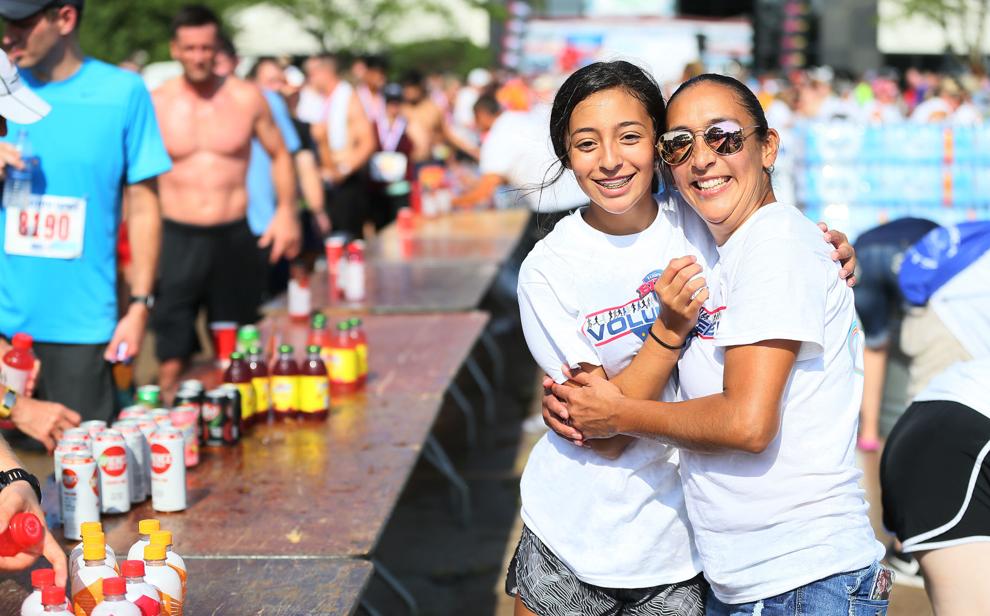 072819-BIX7-POST-KS-025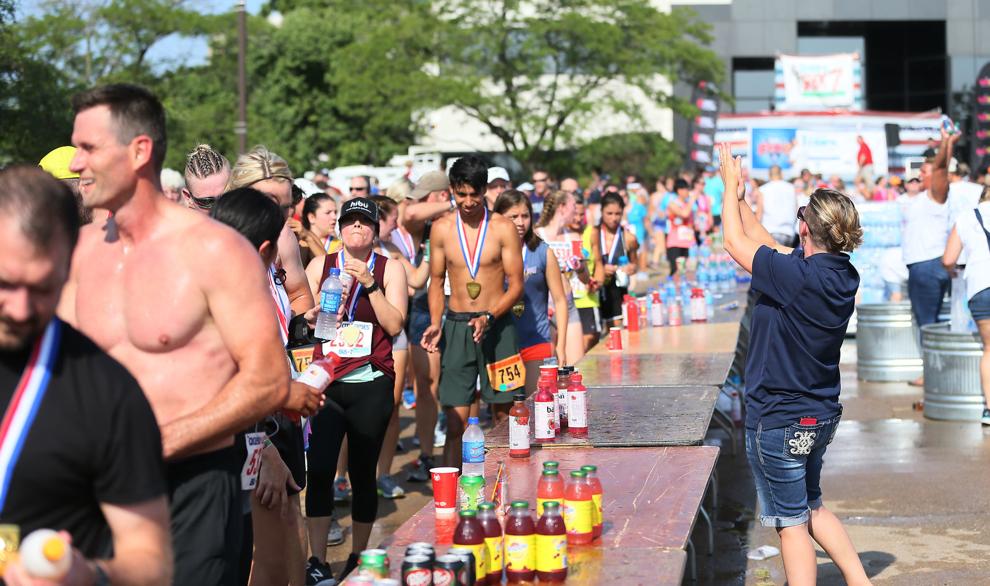 072819-BIX7-POST-KS-026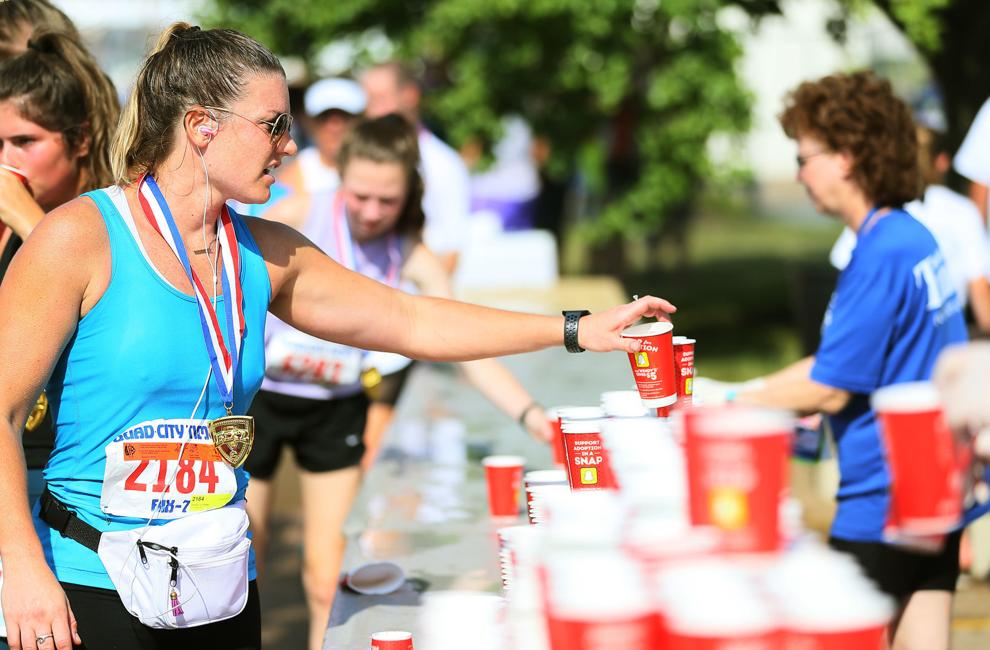 072819-BIX7-POST-KS-027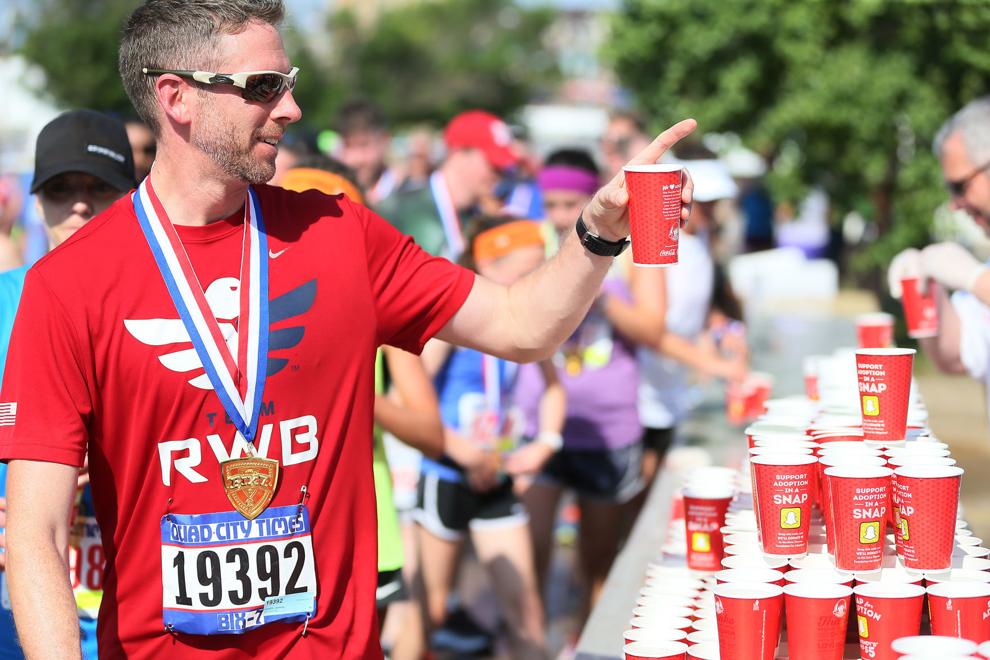 072819-BIX7-POST-KS-028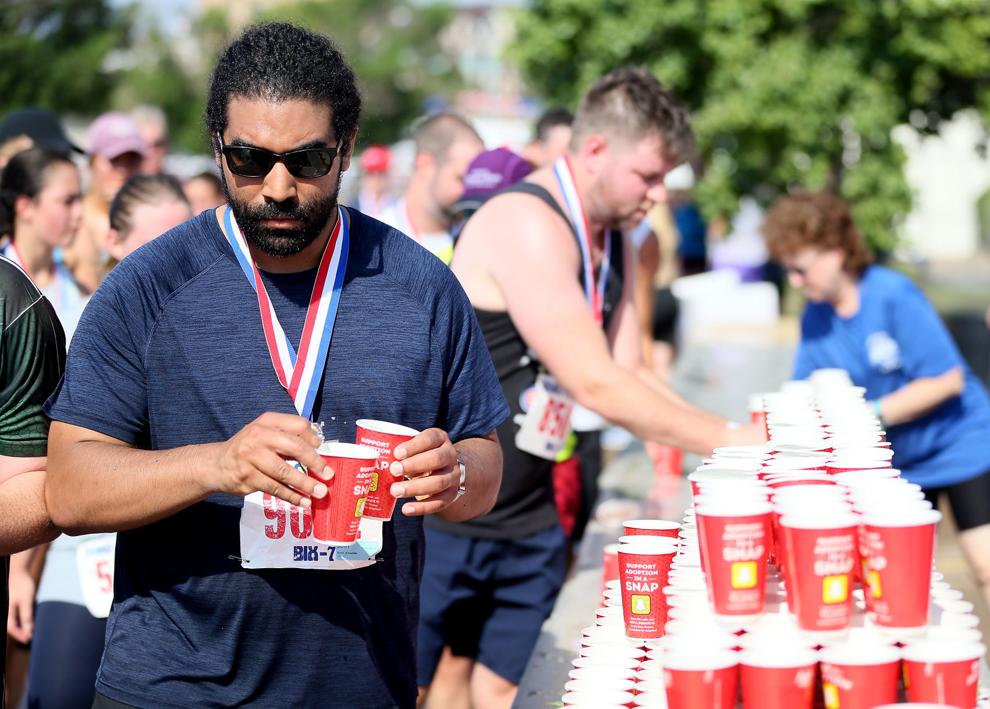 072819-BIX7-POST-KS-029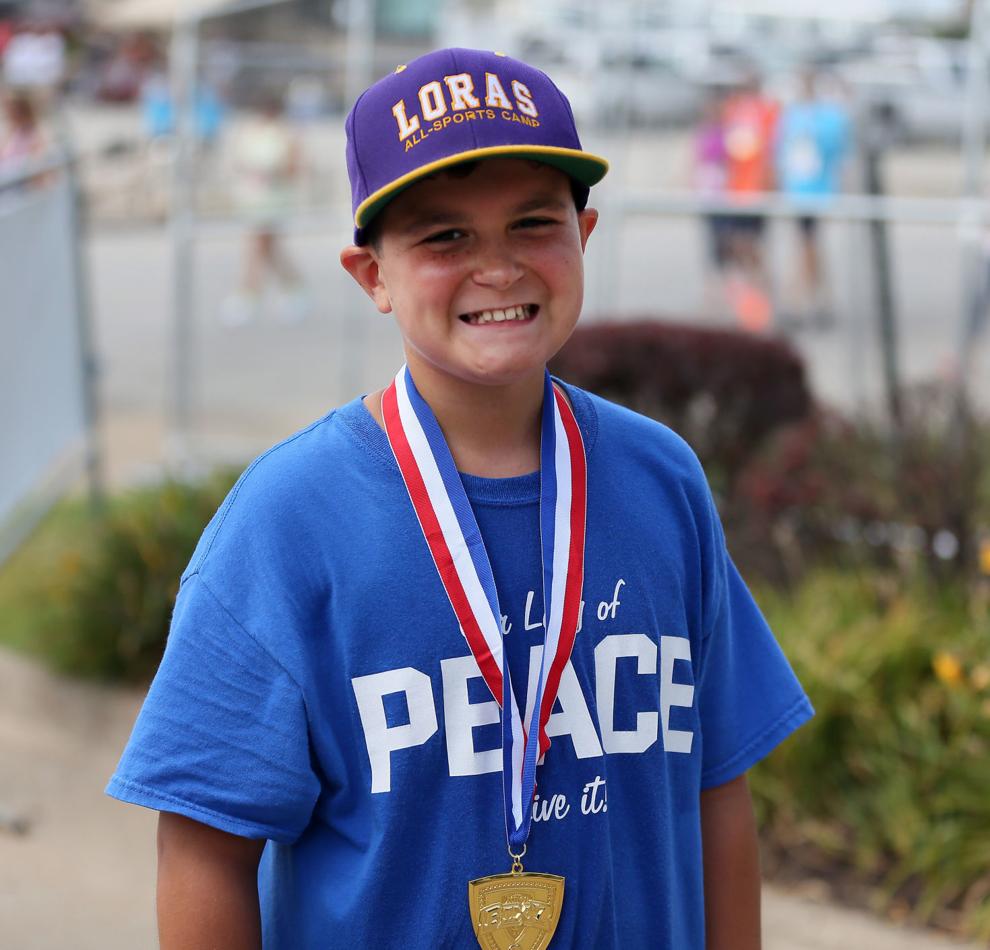 Costumes create comedy on the Quad-City Times Bix 7 course
Wedded bliss can keep you running for decades.
At least that held true Saturday for Sara and Alan Cross, and Adina and Paul Pursley, all from Iowa City. They won the group costume contest at the Quad-City Times Bix 7, as the wives wore wedding-day attire. 
Also among the contestants were John and Morgan Kruse, husband and wife from Dubuque, who dressed as "Game of Thrones" characters. Coming in a close second were sisters Tonia Rogers and DeAnna Rogers Walter, both of Davenport, each dressed like Wonder Woman.
"We wanted to support America and females being amazing," Rogers said.
Audience applause from the crowd gathered in the Quad-City Times parking lot determined the winners of each component of the contest, which included a group competition and an individual component.
Keaton Ziemet, 16, of DeWitt, won as an individual with his Marty McFly (a character from the "Back to the Future" movies) getup. "It was really hot running," he said, adding that his costume, which included a denim jacket, was just put together on Friday.
After long winter and spring, Quad-City businesses welcome Bix runners
Historically, the Quad-City Bix 7 ushers in a massive crowd for local businesses. After a crippling winter and devastating flooding in the spring, that crowd was welcomed by the downtown. 
Redband Coffee Co., 329 E. 4th Street
After a slow year due to flooding, manager Benjamin Ward said the crowd at Redband had been "exceptional." 
"We've just been pumping it out," he said. 
The day started slow, but once the race ended, Ward said a lot of the runners started to come in, and they had been maintaining a line through the lobby. 
"This is the slowest it's been," he said around 11:30 a.m. "... You can tell people are heading back out of downtown."
That said, he was expecting another wave right before 2 p.m., as the bar crowd starts to descend upon the downtown. 
Raccoon Motel, Armored Garden, Daiquiri Factory, corner of Pershing Avenue and 3rd Street
The outdoor patio of Raccoon Motel and the "backyard" of Armored Garden were swarmed with people, but West Vaden, Daiquiri Factory manager, said the crowd was still "pretty steady." 
This year was the second the Rock Island-based bar partnered with Dan Bush, a partner in both Armored Garden and Raccoon Motel, to have a stall set up for drinks. 
"During the race, there were more people lined up," Vaden said. "Overall, it's been a little bit slower [than last year]." 
LoPiez, 429 E. 3rd Street
Because of the pizza joint's proximity to the medical tent, co-owner Andrew Lopez said they didn't even bother with extending hours for race day. 
While Lopez was frustrated with the parking situation -- the roads immediately around the shop close for the race -- he said business was expected to really pick up around 4 or 5 p.m., and they were offering a "streamlined" menu in preparation, with margaritas, slices and small pizzas. 
Rubys Beers, Bikes, Brats, 429 E. 3rd Street
Rubys was so busy, bartenders couldn't stop to talk, other than to say that their Facebook page had details about the "Big RuBix Fest" they were hosting. 
Big Grove Brewery, out of Iowa City, was hosting a "tap takeover," with five lines on special and giveaways. 
Sam Tracy, sales for Big Grove, said it had been "crazy busy" for most of the day. 
"I can't really check in with the bartenders to see if they need anything from me," he said. "It's been really great." 
United Township drum line sets the beat at the turnaround
As the Quad-City Times Bix 7 racers crossed the midpoint on McClellan Boulevard on Saturday morning, drummers from the United Township High School in East Moline kept the beat.
Runners heard marching tunes from the high school drummers, who recently completed their competitive season. Band Director Joe Angelo held the rhythm with a pair of drumsticks behind them. Angelo, the director of the drum line for his fourth season, said the group was playing better than they ever have under his leadership.
"They're very clean this year," Angelo said of the band. He says the Bix 7 gives them a chance to keep practicing over the summer.
Post-race party perks worth a wait
As things at the Quad City Times Bix 7 post-race party get into full swing, the line for Chick-fil-A sandwiches gets longer. 
The Bix is renowned in the running community for its generous after-party, sponsored by Walmart, because it features the popular chicken sandwiches, along with beer, Whitey's ice cream and other goodies. 
At one point the line for the sandwiches stretched to the Quad-City Times building and looped around the booth with tired runners eager to refuel. 
Workers stacked case after case of steaming hot sandwiches as runners filtered through.
Jessica Yackley of Davenport said she the first time she got a Chick-fil-A sandwich she had no wait, but the second time she waited in line for 20 minutes. 
Although the lines were long, there weren't many people getting impatient and leaving the line, Abbey Strajack said. 
Asked if her sandwich was worth the wait, Yackley said, "Heck yeah, it was worth the wait for free Chick-fil-A!"
Longtime station director takes a water break
Mickey Davis decided to take it easy this year.
It's the first time since the mid-1980s, when she first took charge of the water station at the turnaround point along the Quad-City Times Bix 7 race. She came out on Saturday donning a volunteer shirt by the water stations, though.
"It's just after all those years, I decided it's time to pass the torch on," said Davis, an 84-year old Bettendorfer who's lived in the community since 1942.
"At 84, it's time not to be in charge," she added with a smile.
Running the water station takes quite a bit of effort, Davis said. Responsibilities include ensuring the volunteers are all coordinated, all the tables are set up along the path and tens of thousands of water cups are filled and waiting.
The biggest job though, she said, is the cleanup afterward. Runners typically toss the paper cups they drink from on the ground, leaving a sea of garbage for the volunteers to clean with rakes.
The group Davis led was in charge of cleanup from River Drive to Jersey Ridge Road. The concerted effort usually means the spot is cleaned up in no time at all.
"It's amazing," she said, adding: "It's a lot of work from start to finish."
"Everybody goes home and takes a nap," she added.
Davis says she's enjoyed her time as a volunteer for the Bix 7. She likes doing something for the community and seeing the same group of people each year.
"It's kind of like a family reunion," she said.
Photos: 2019 Quad-City Times Bix 7 at McClellan Boulevard
072819-BIX7-JG-01.jpg
072819-BIX7-JG-02.jpg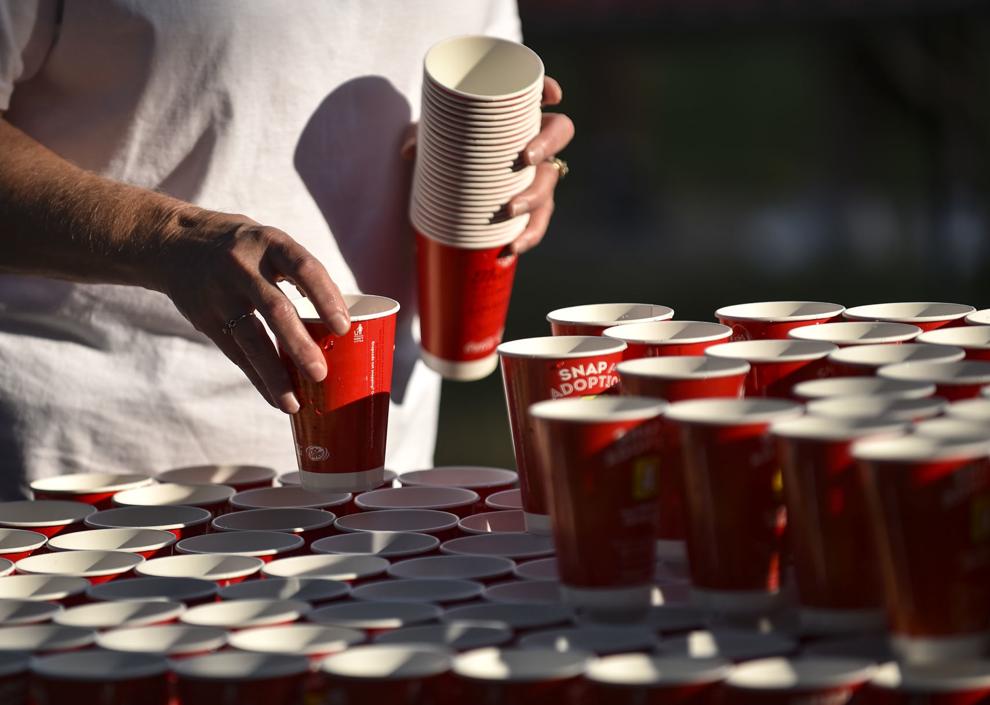 072819-BIX7-JG-03.jpg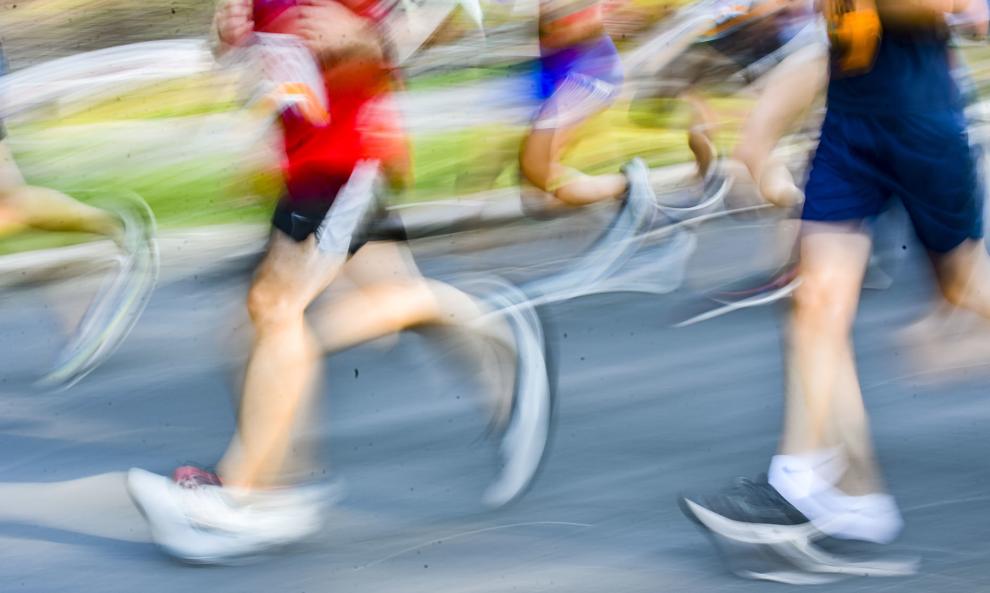 072819-BIX7-JG-04.jpg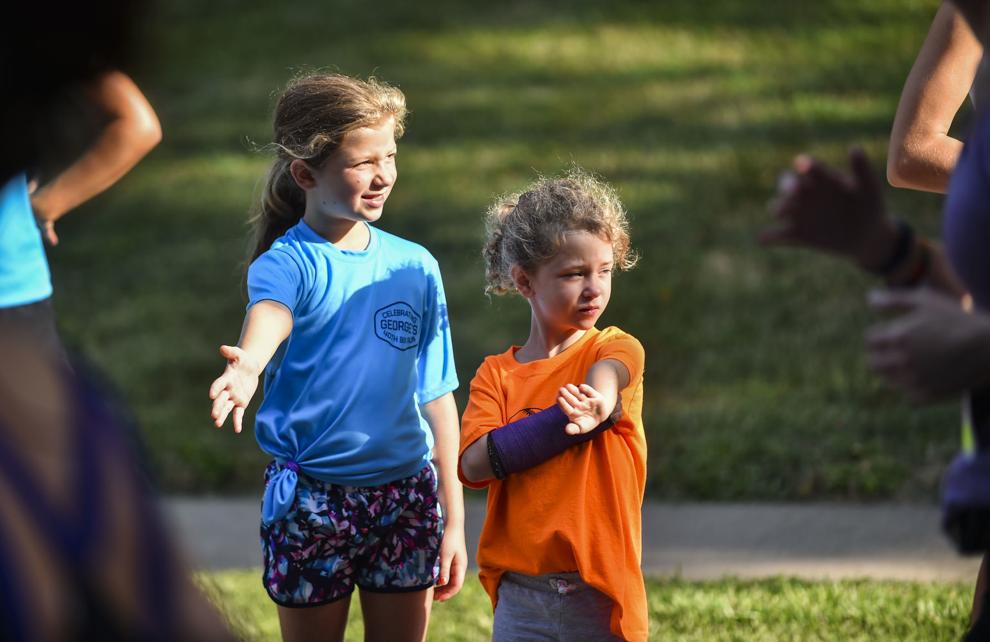 072819-BIX7-JG-05.jpg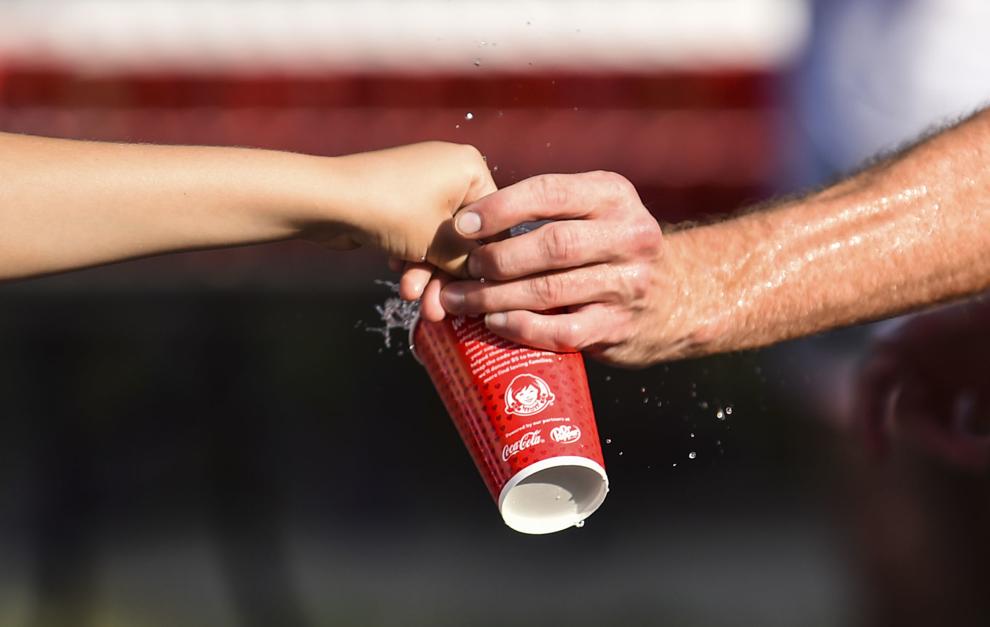 072819-BIX7-JG-06.jpg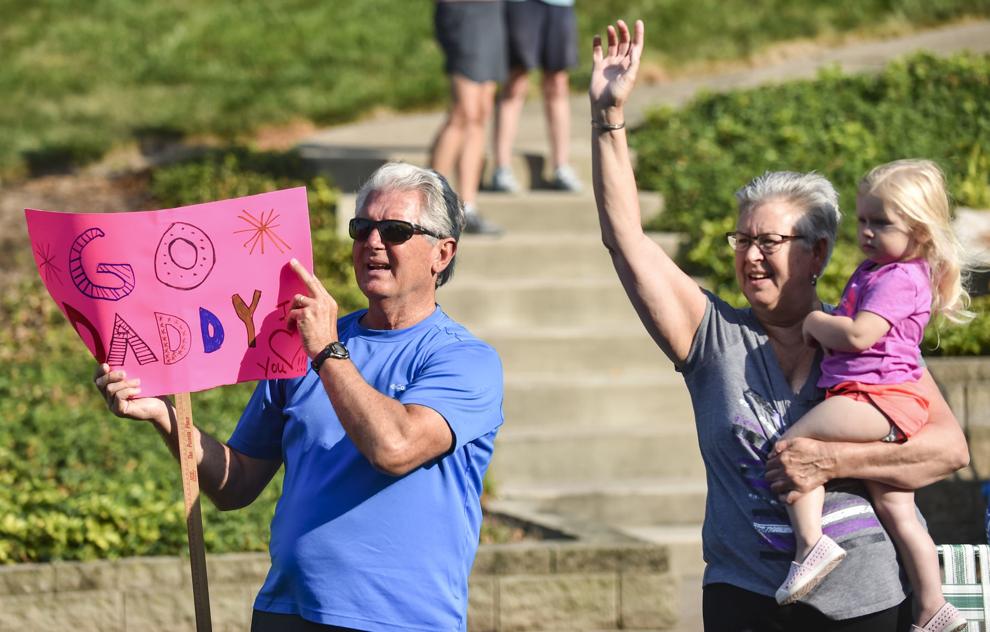 072819-BIX7-JG-07.jpg
072819-BIX7-JG-08.jpg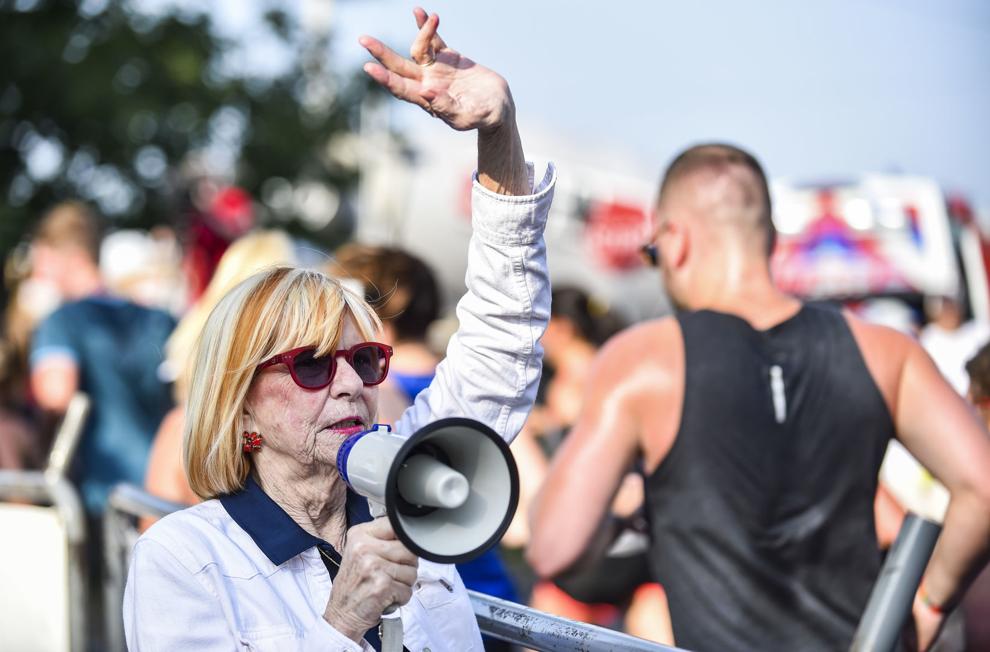 072819-BIX7-JG-09.jpg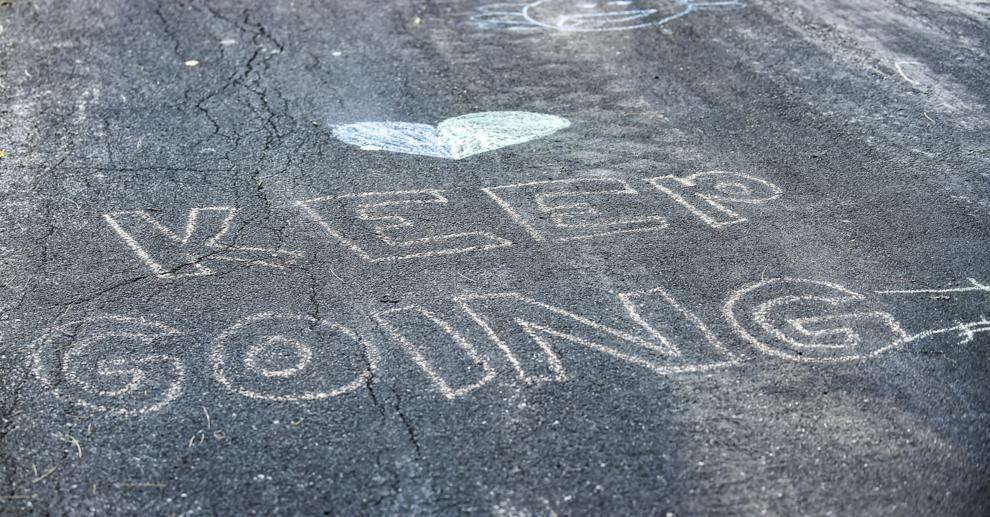 072819-BIX7-JG-10.jpg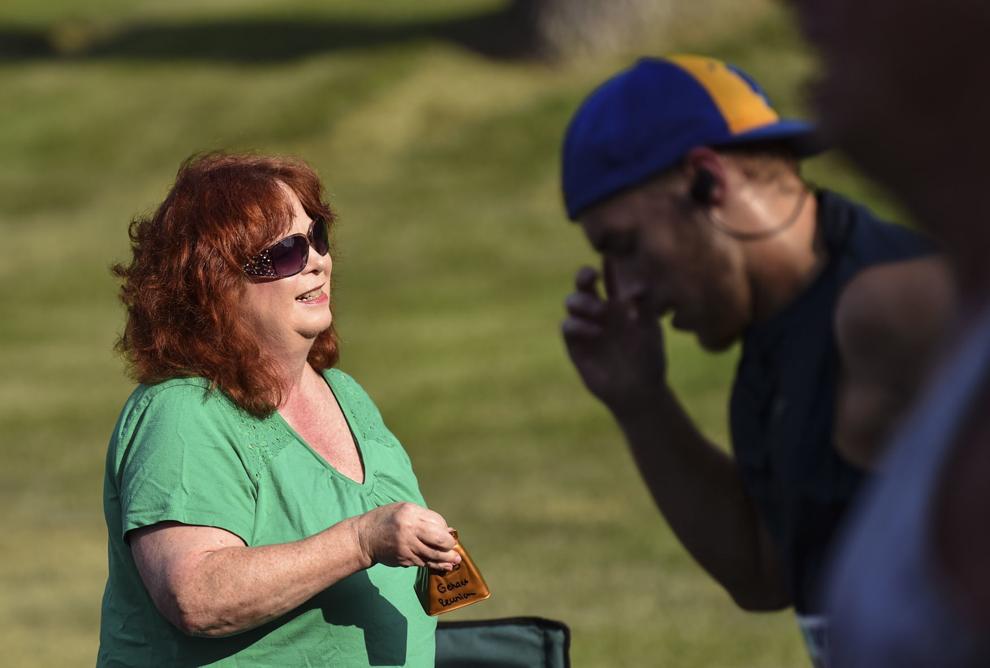 072819-BIX7-JG-11.jpg
072819-BIX7-JG-12.jpg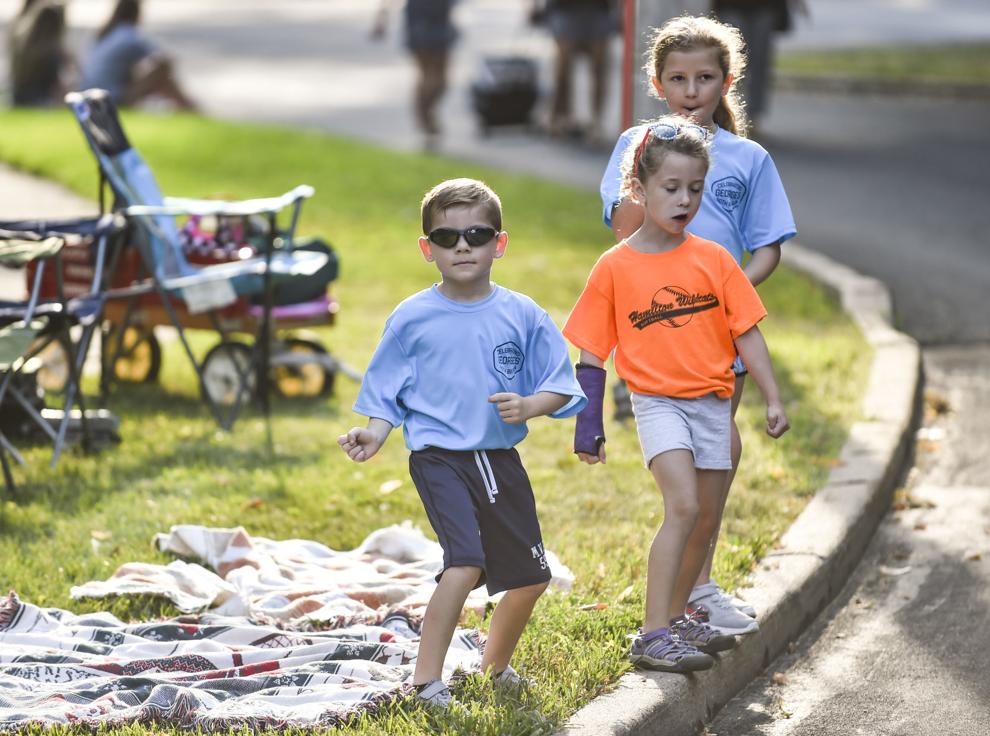 072819-BIX7-JG-13.jpg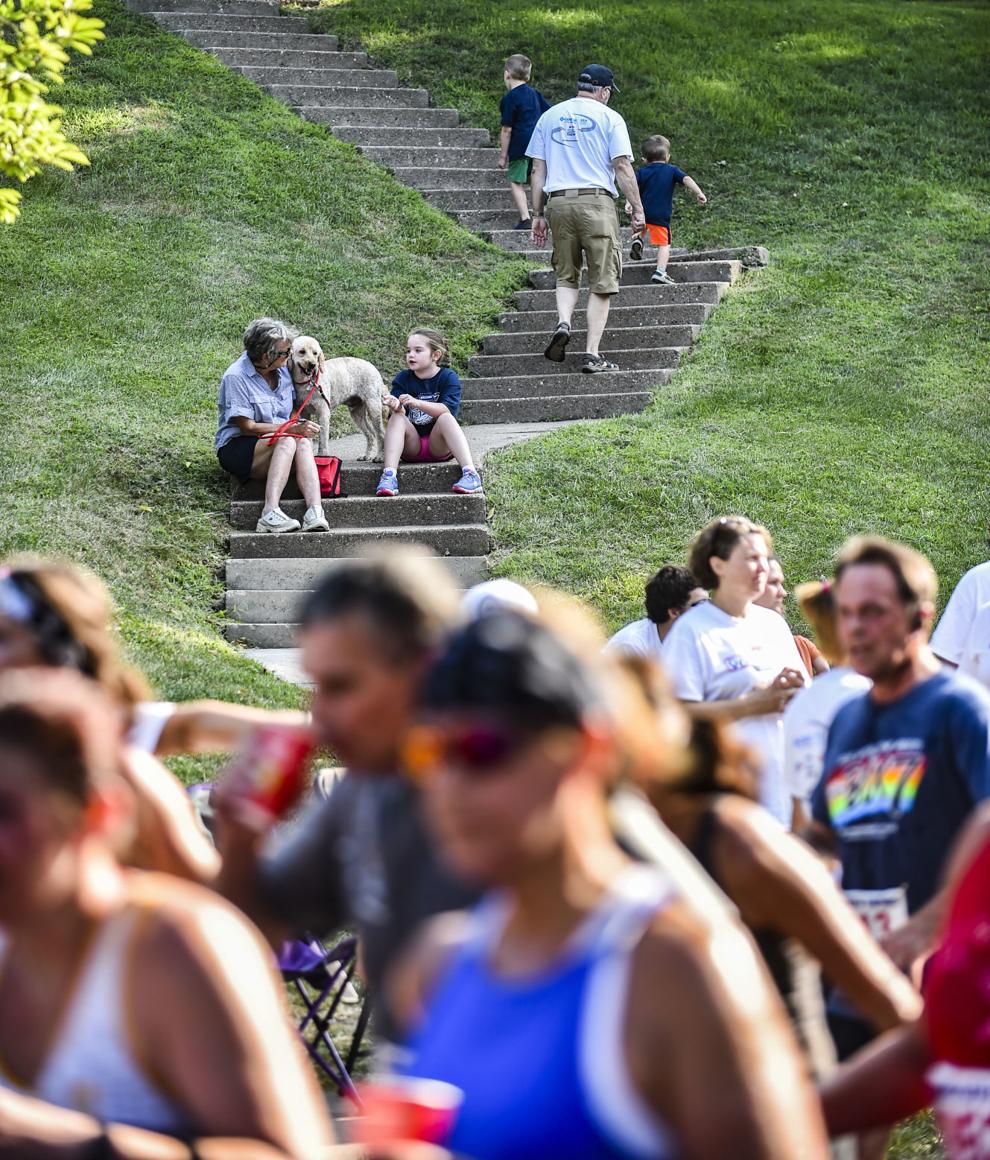 072819-BIX7-JG-14.jpg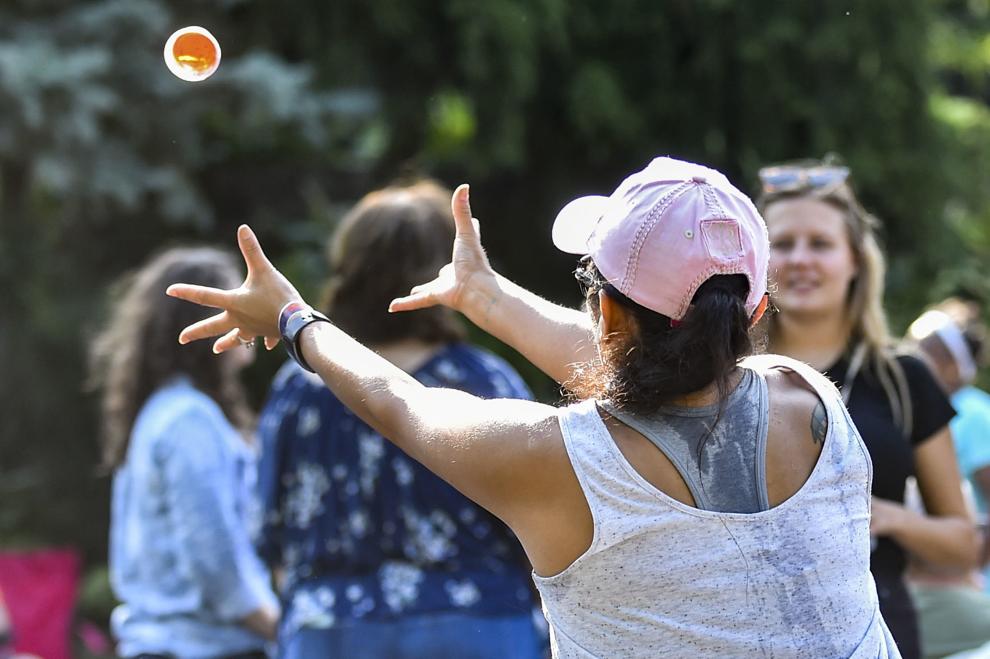 072819-BIX7-JG-15.jpg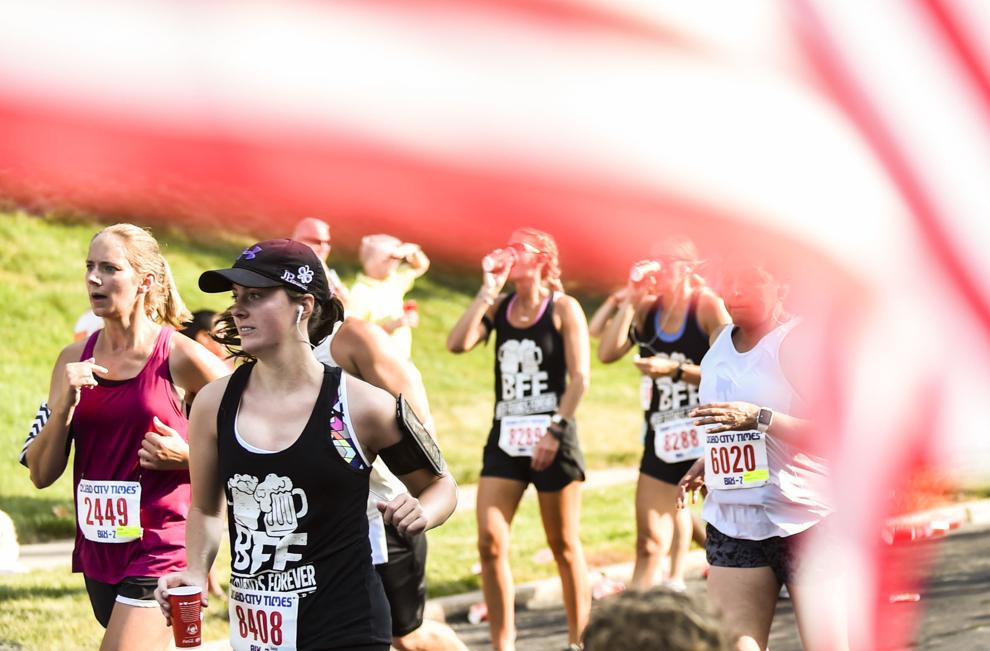 072819-BIX7-JG-16.jpg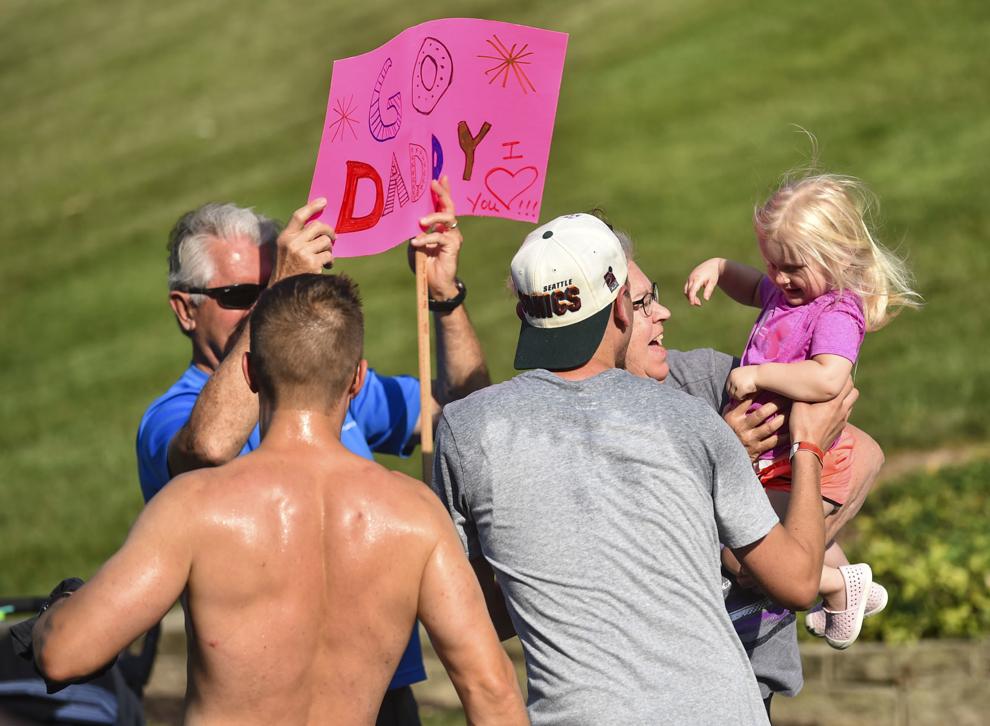 072819-BIX7-JG-17.jpg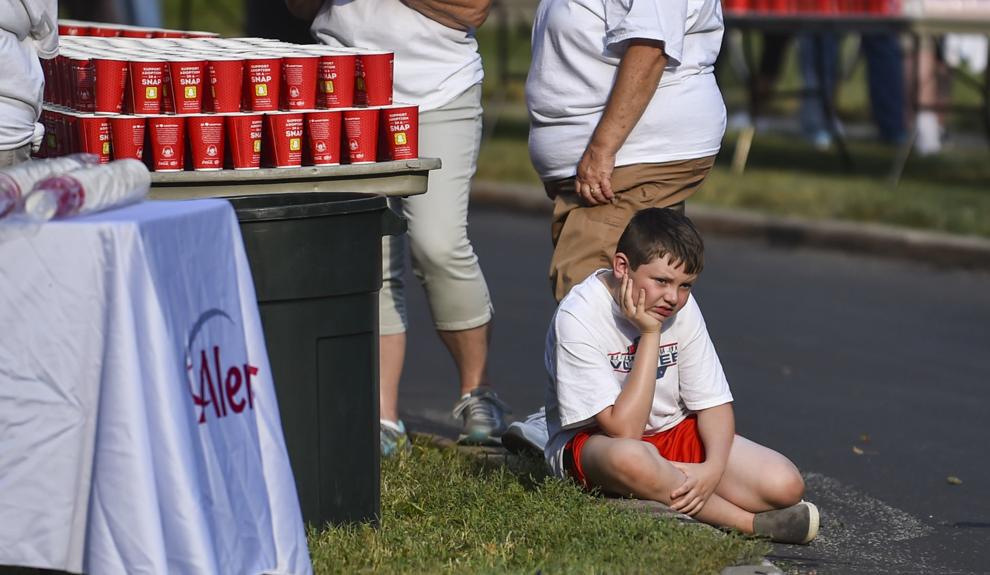 072819-BIX7-JG-18.jpg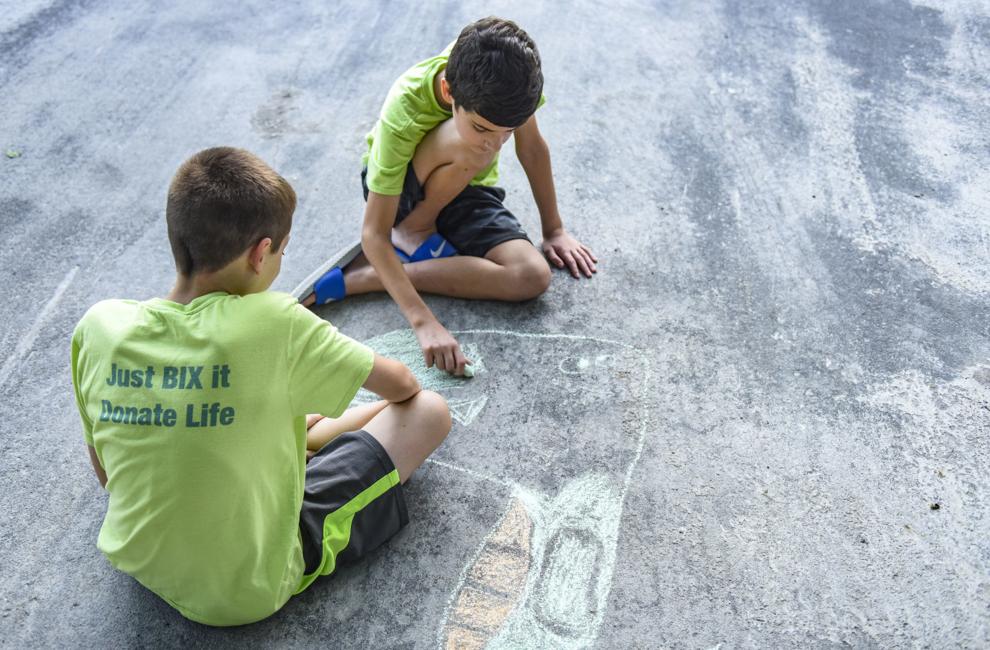 072819-BIX7-JG-19.jpg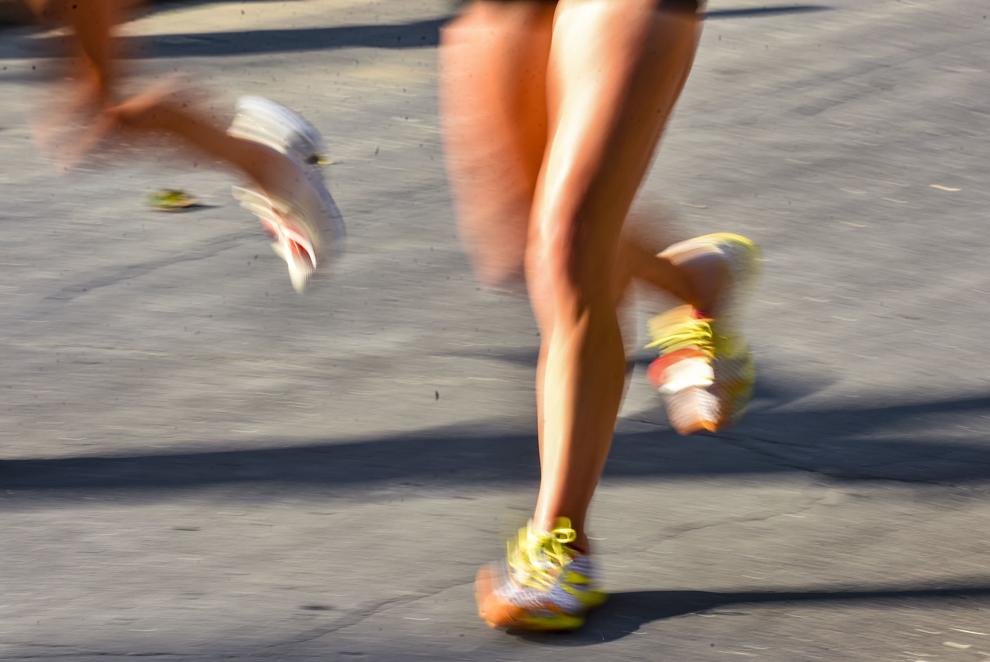 072819-BIX7-JG-20.jpg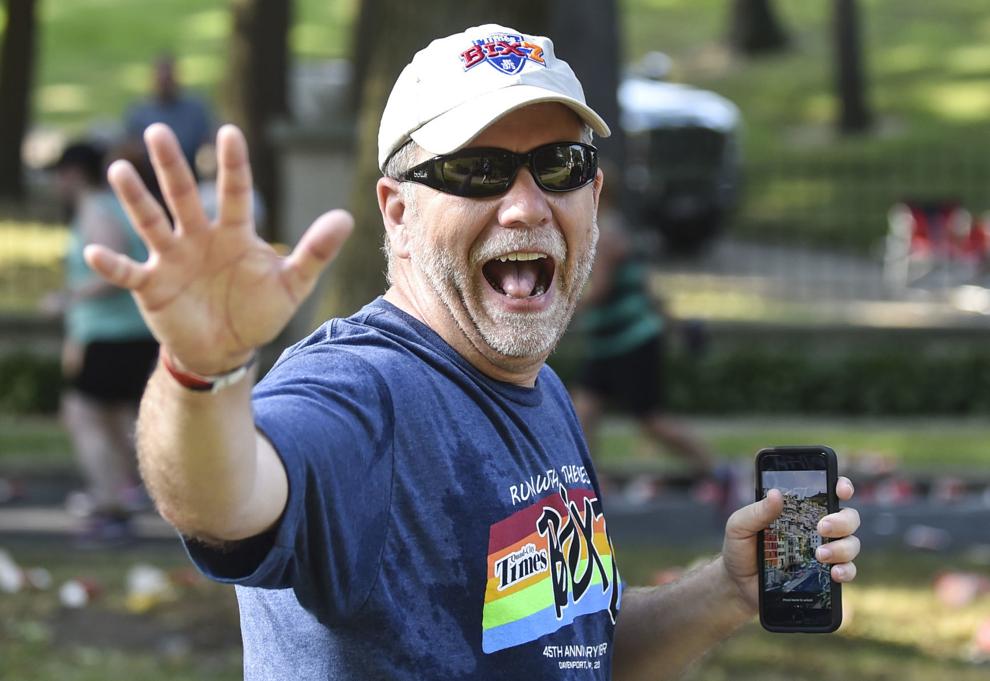 072819-BIX7-JG-21.jpg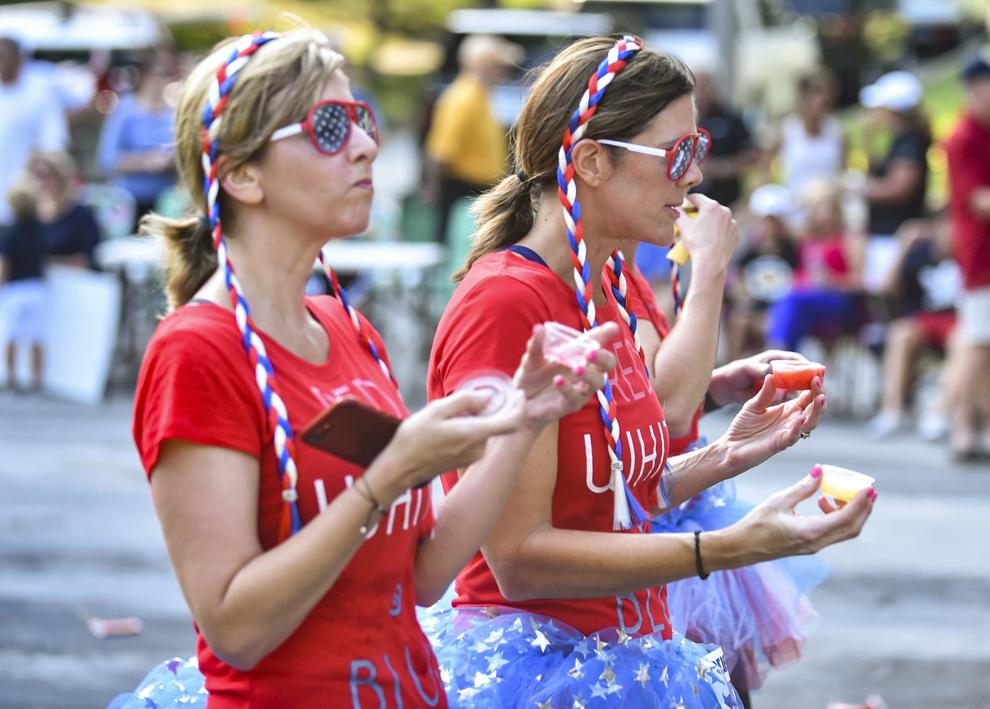 072819-BIX7-JG-22.jpg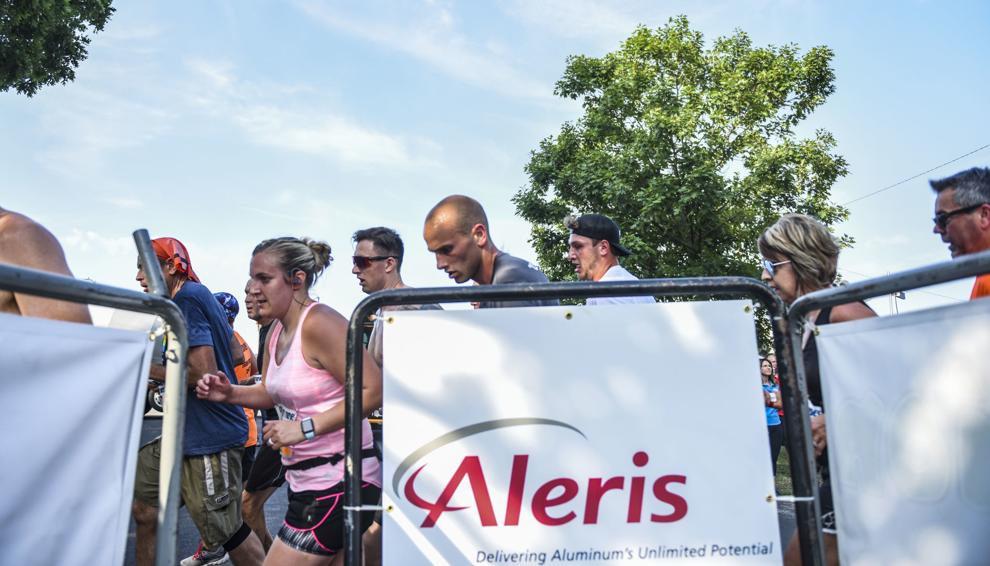 072819-BIX7-JG-23.jpg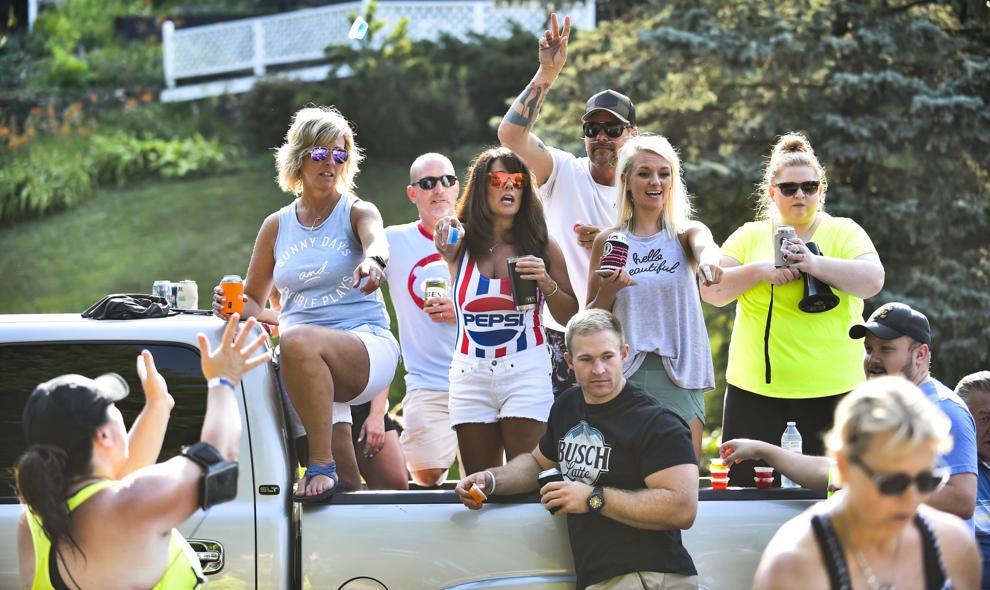 072819-BIX7-JG-24.jpg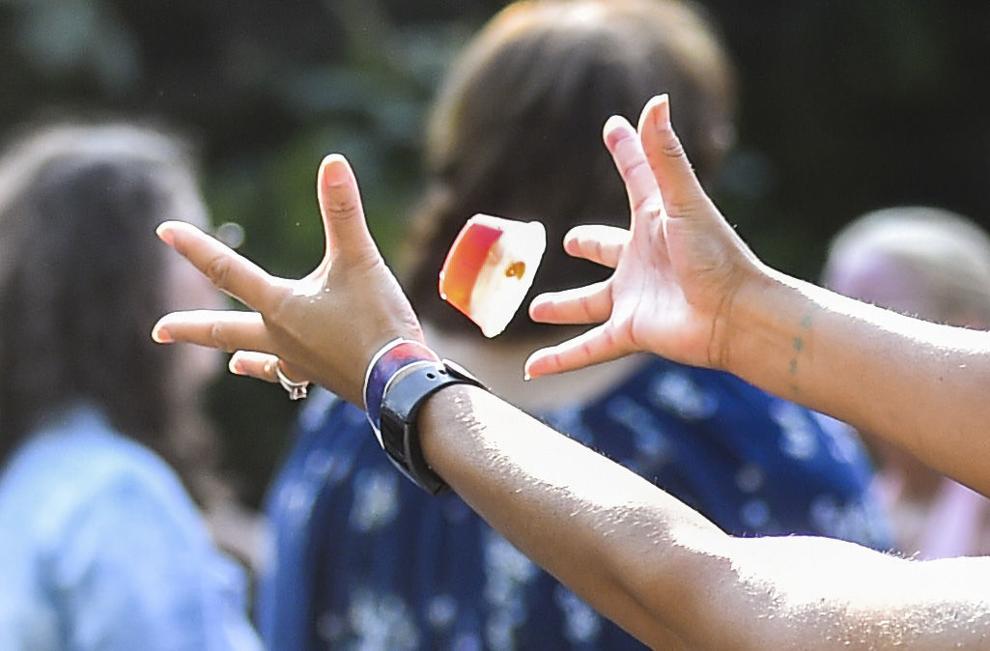 072819-BIX7-JG-25.jpg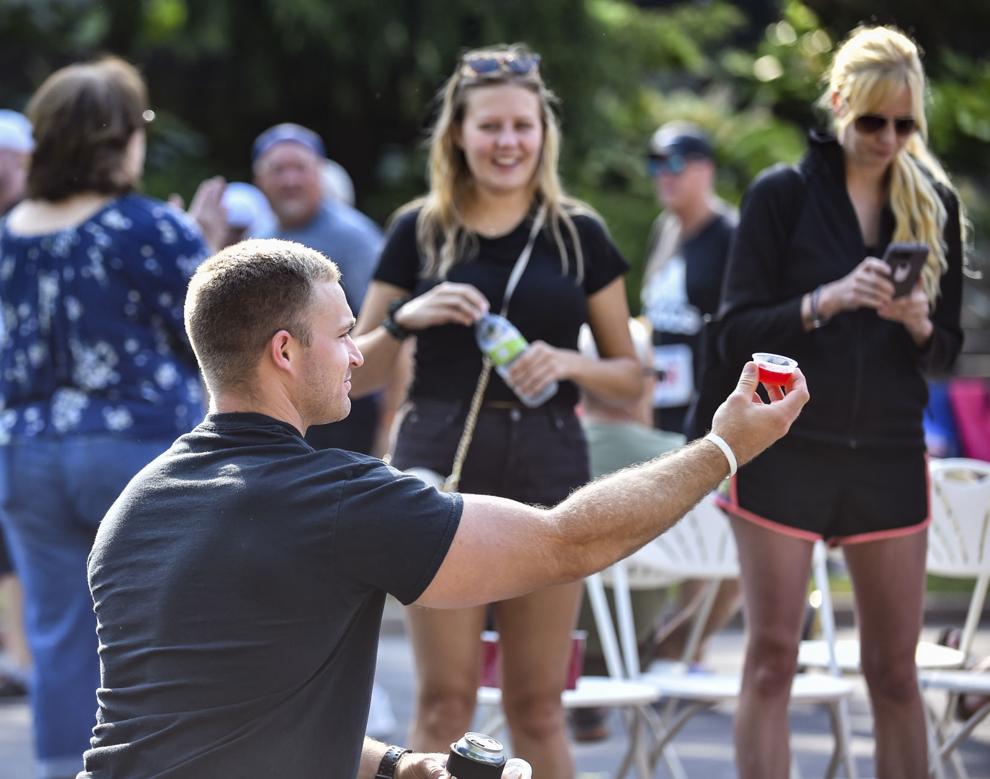 072819-BIX7-JG-26.jpg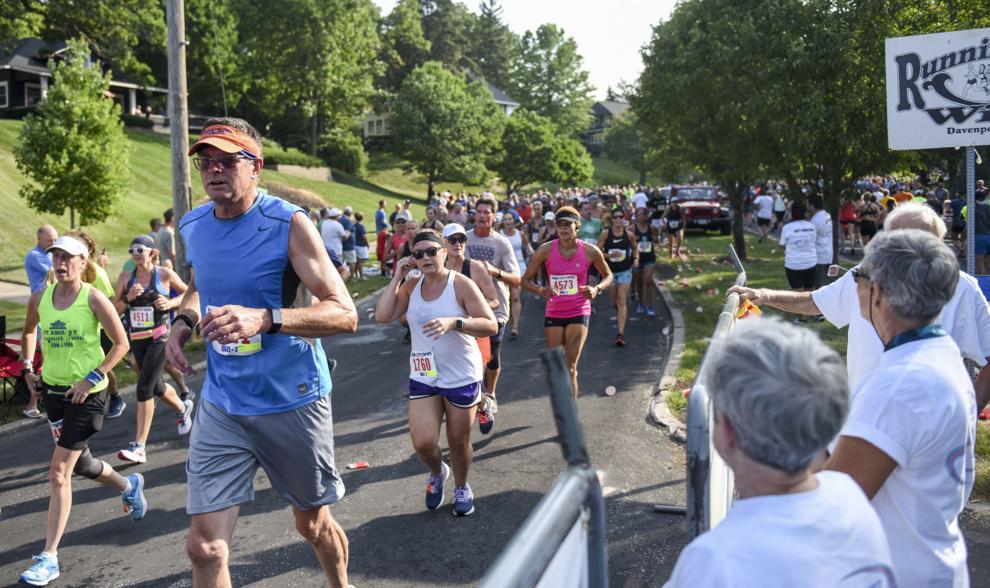 072819-BIX7-JG-27.jpg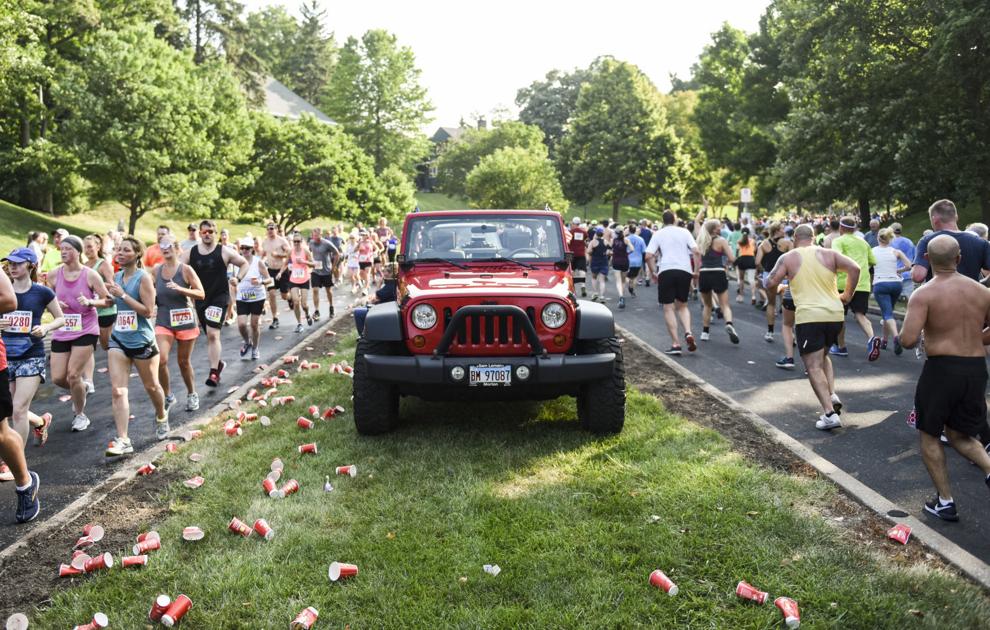 072819-BIX7-JG-28.jpg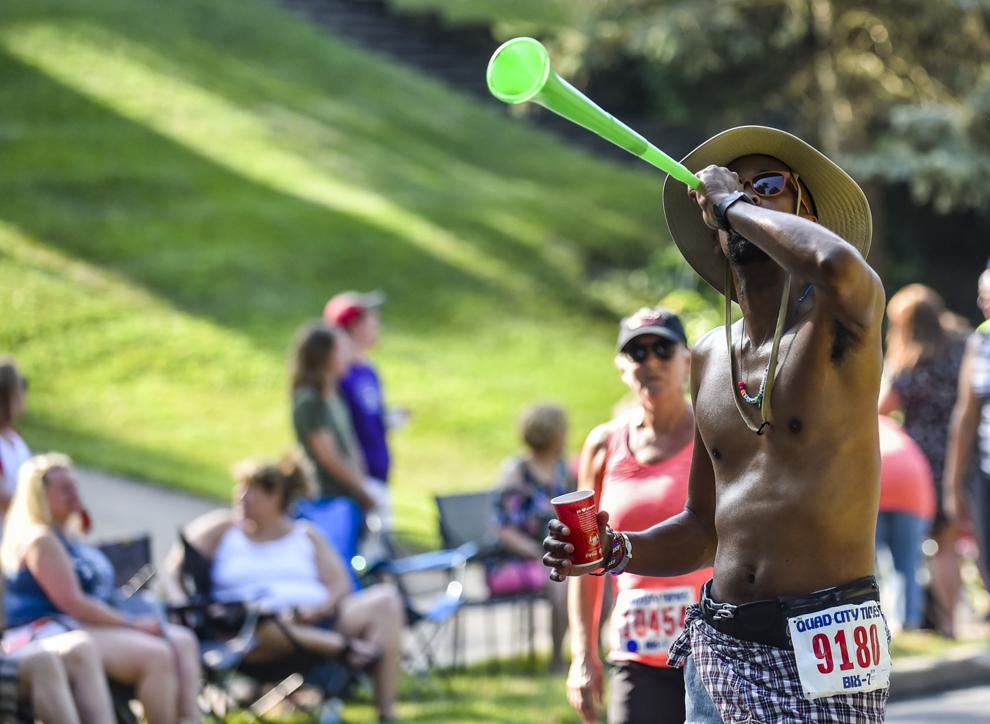 072819-BIX7-JG-29.jpg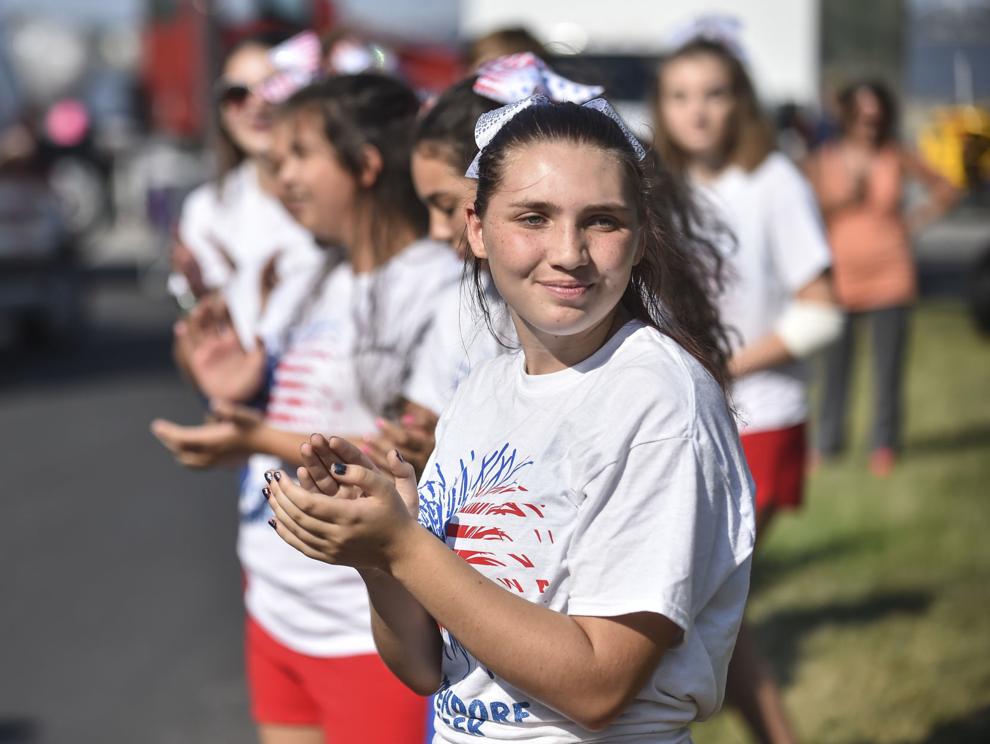 072819-BIX7-JG-30.jpg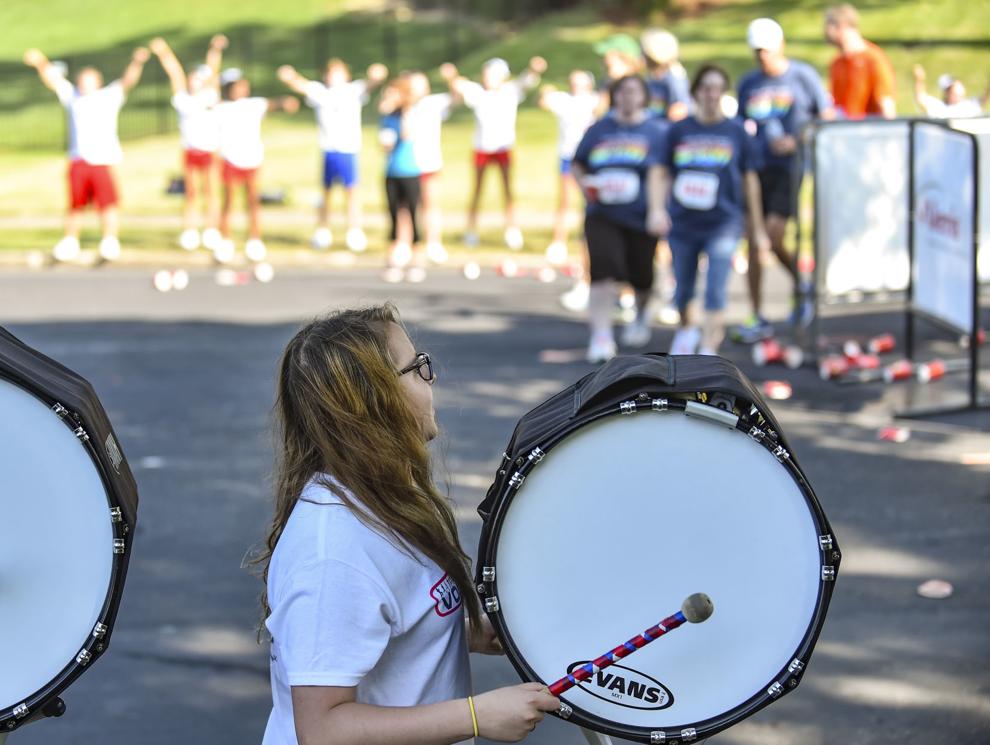 072819-BIX7-JG-31.jpg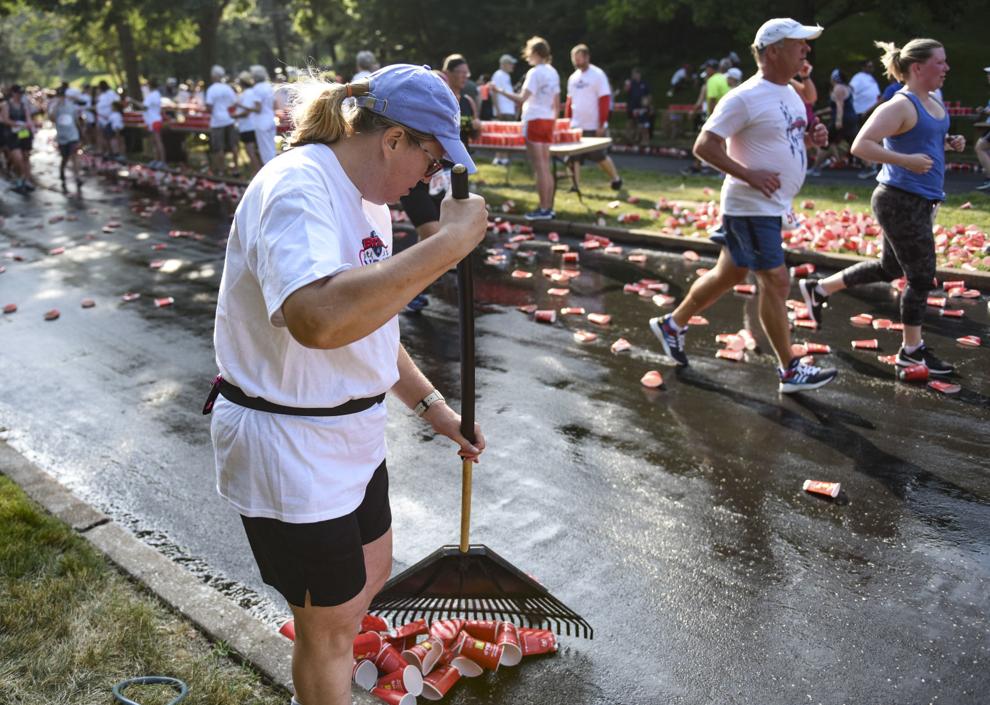 072819-BIX7-JG-32.jpg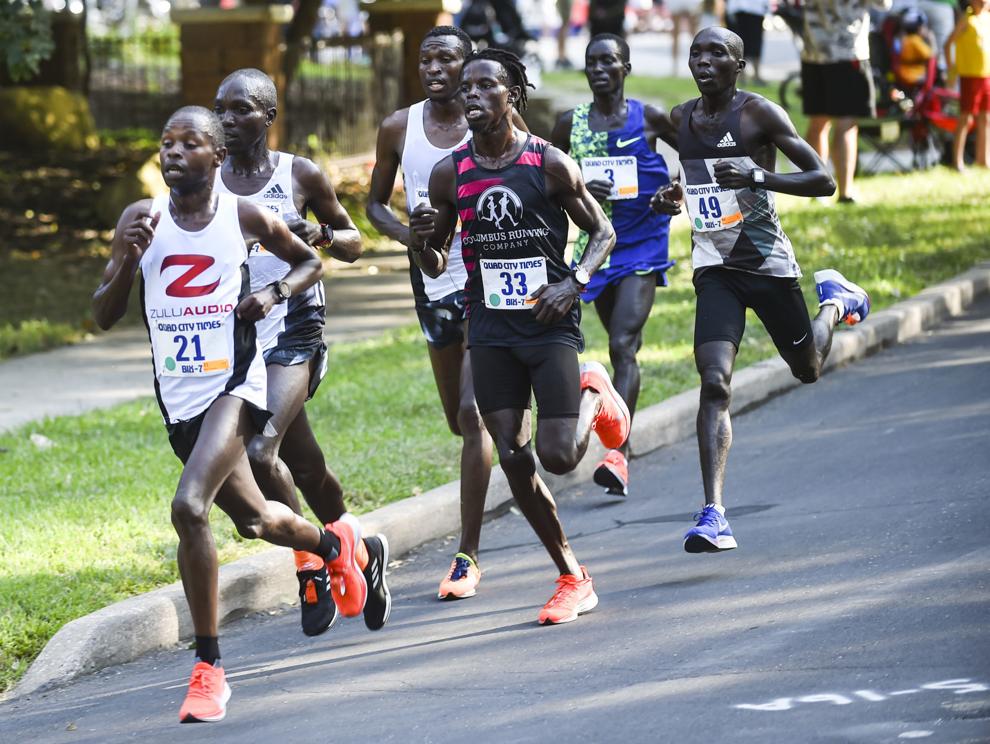 072819-BIX7-JG-33.jpg
072819-BIX7-JG-34.jpg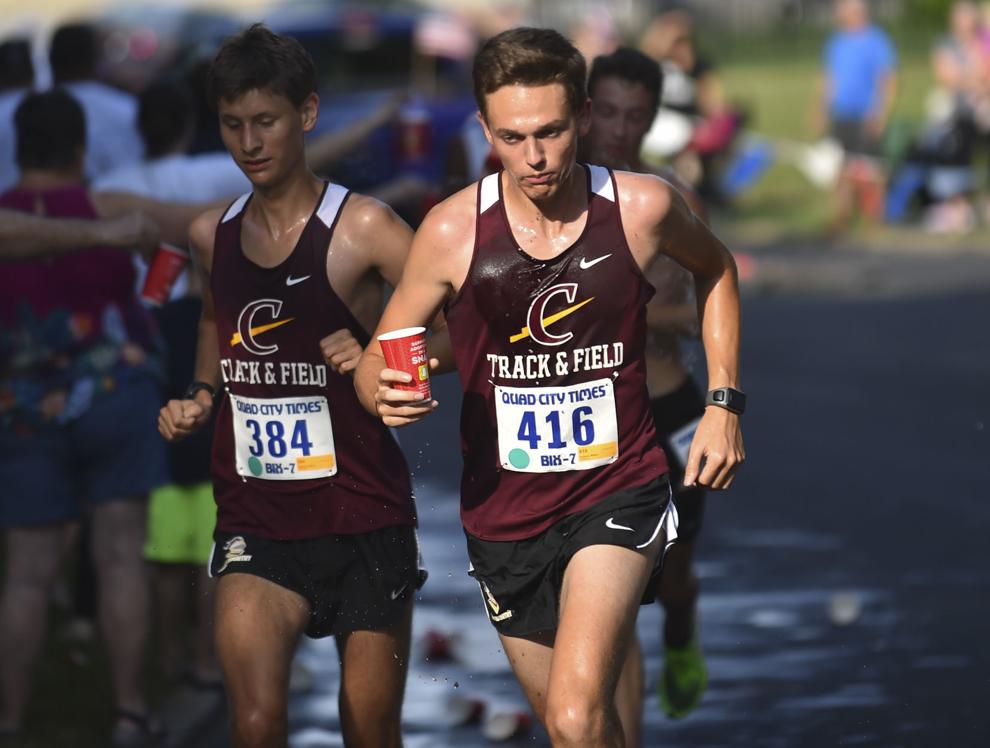 072819-BIX7-JG-35.jpg
072819-BIX7-JG-36.jpg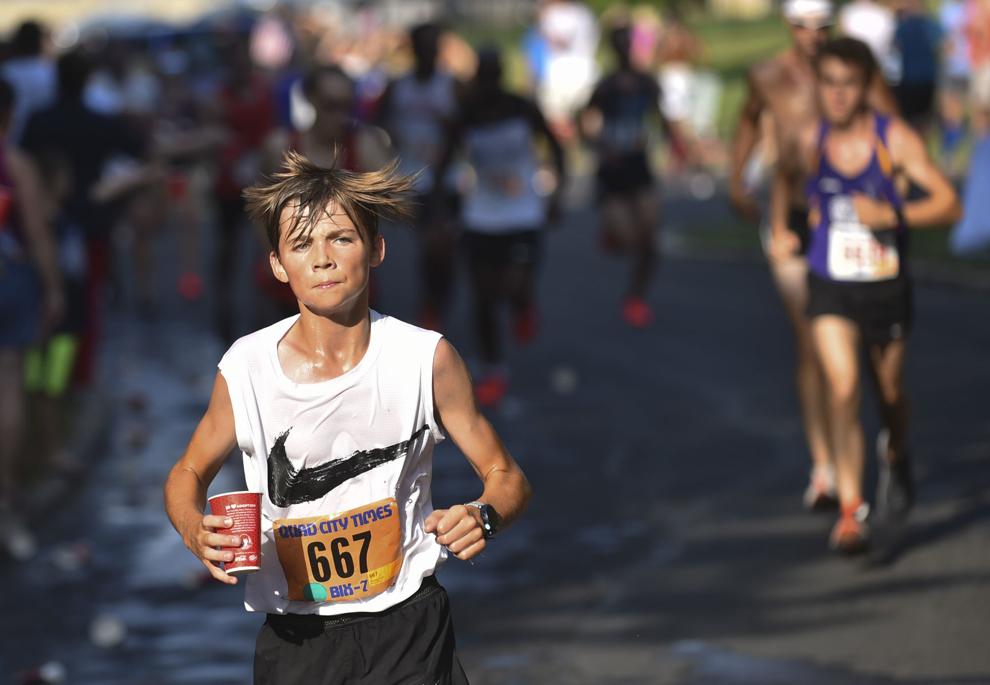 072819-BIX7-JG-37.jpg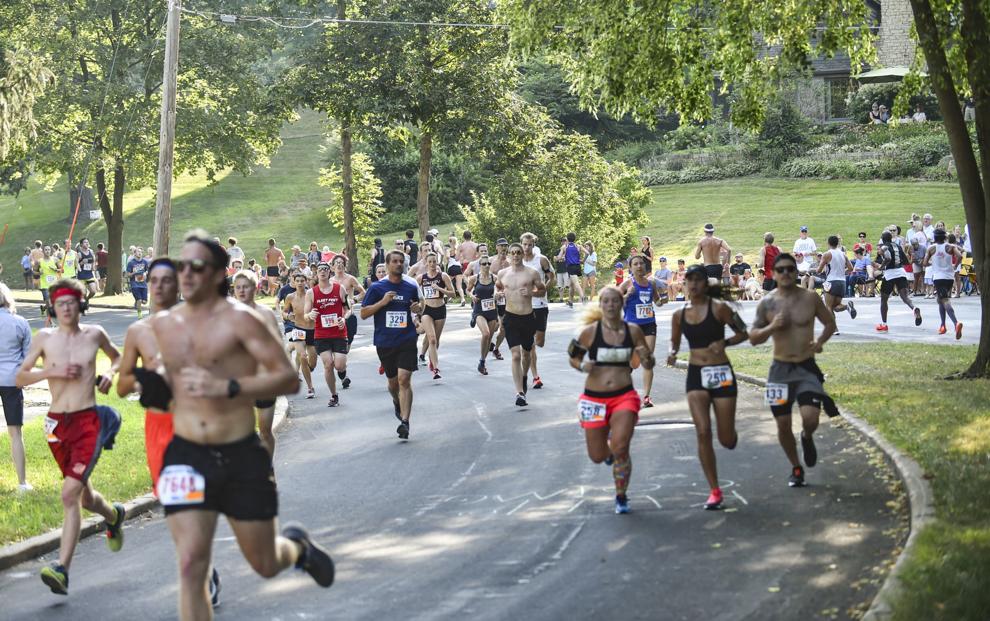 072819-BIX7-JG-38.jpg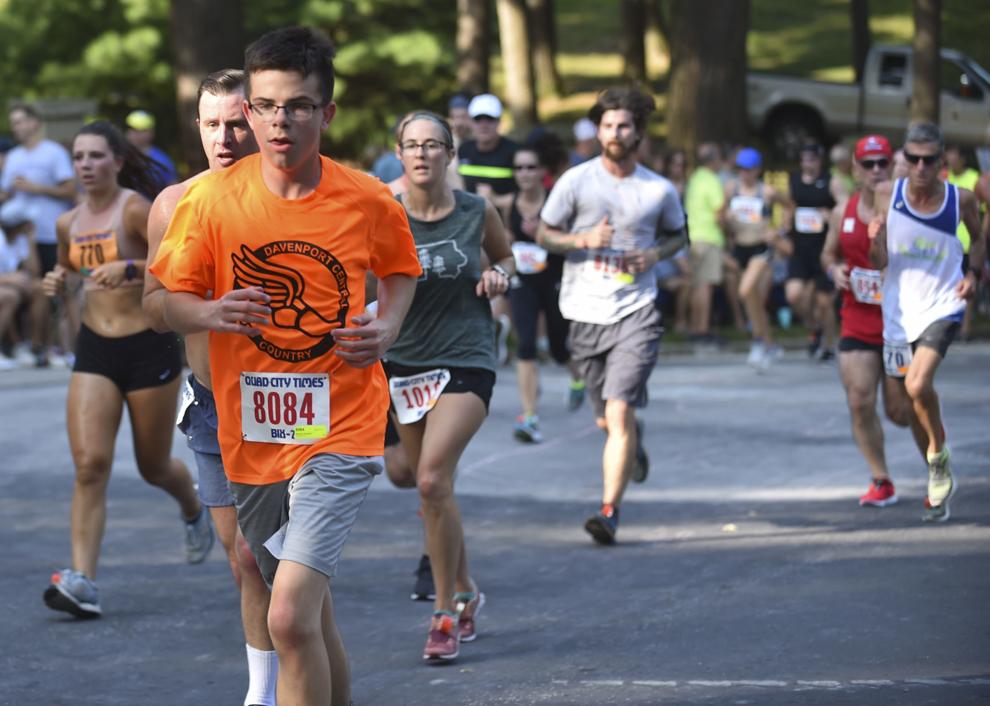 072819-BIX7-JG-39.jpg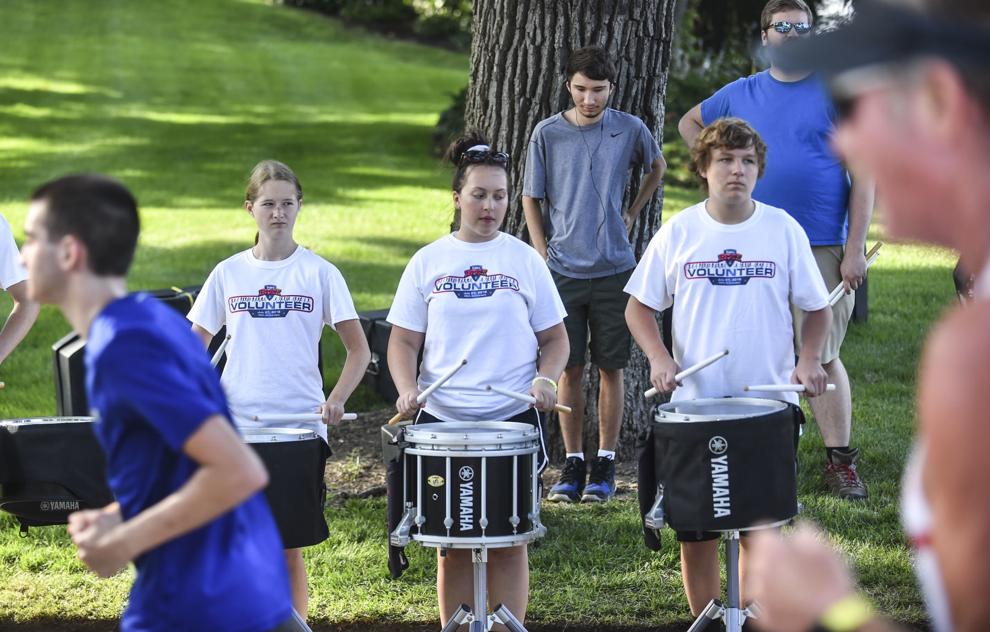 072819-BIX7-JG-40.jpg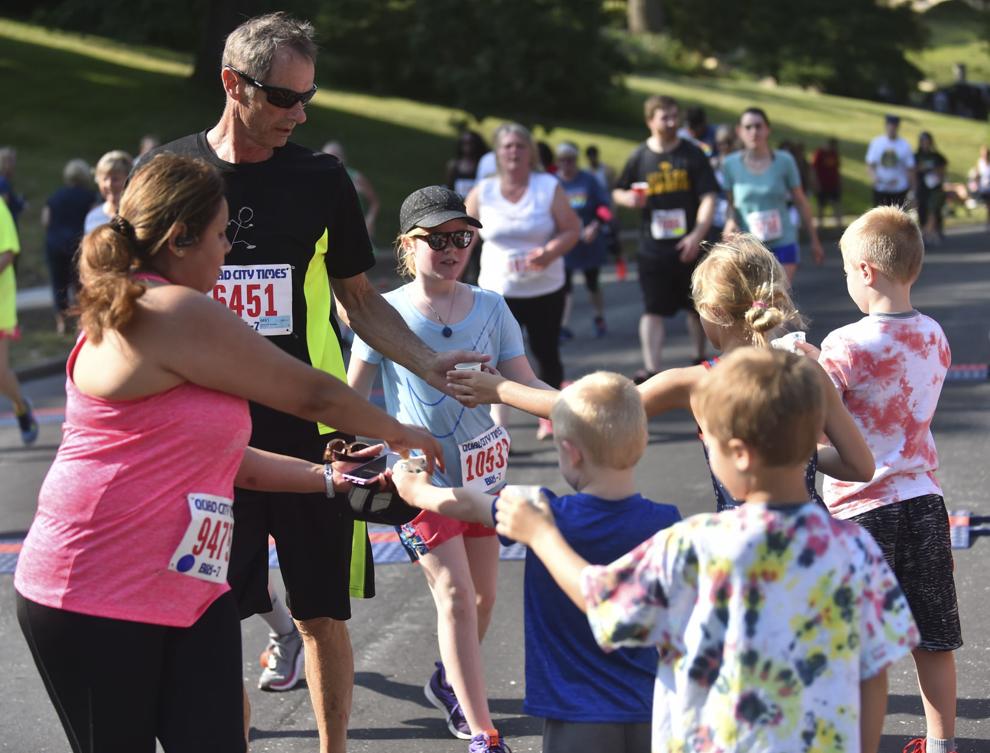 072819-BIX7-JG-41.jpg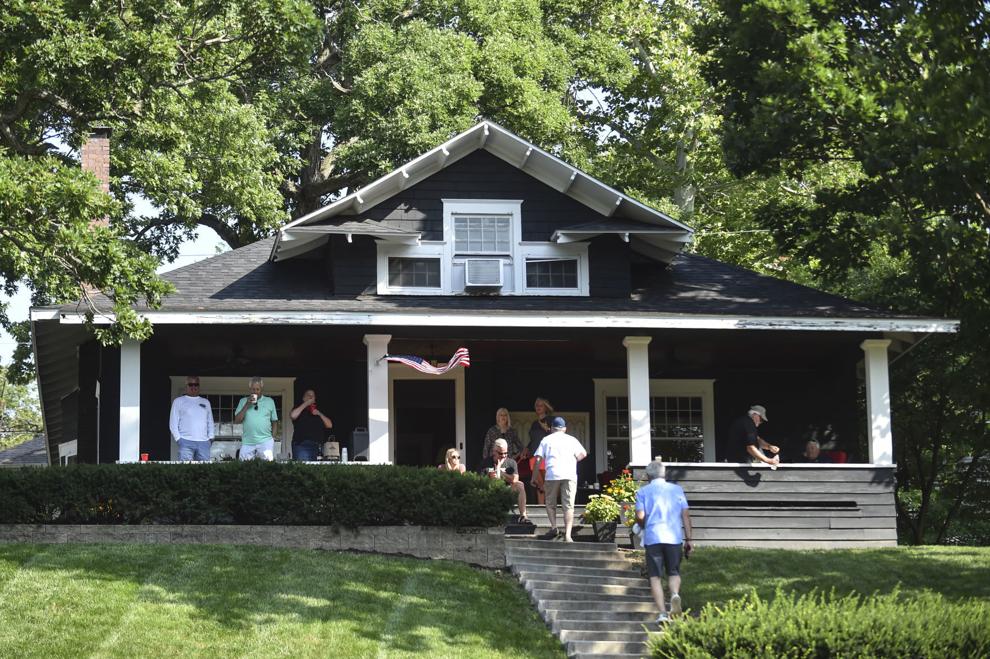 072819-BIX7-JG-42.jpg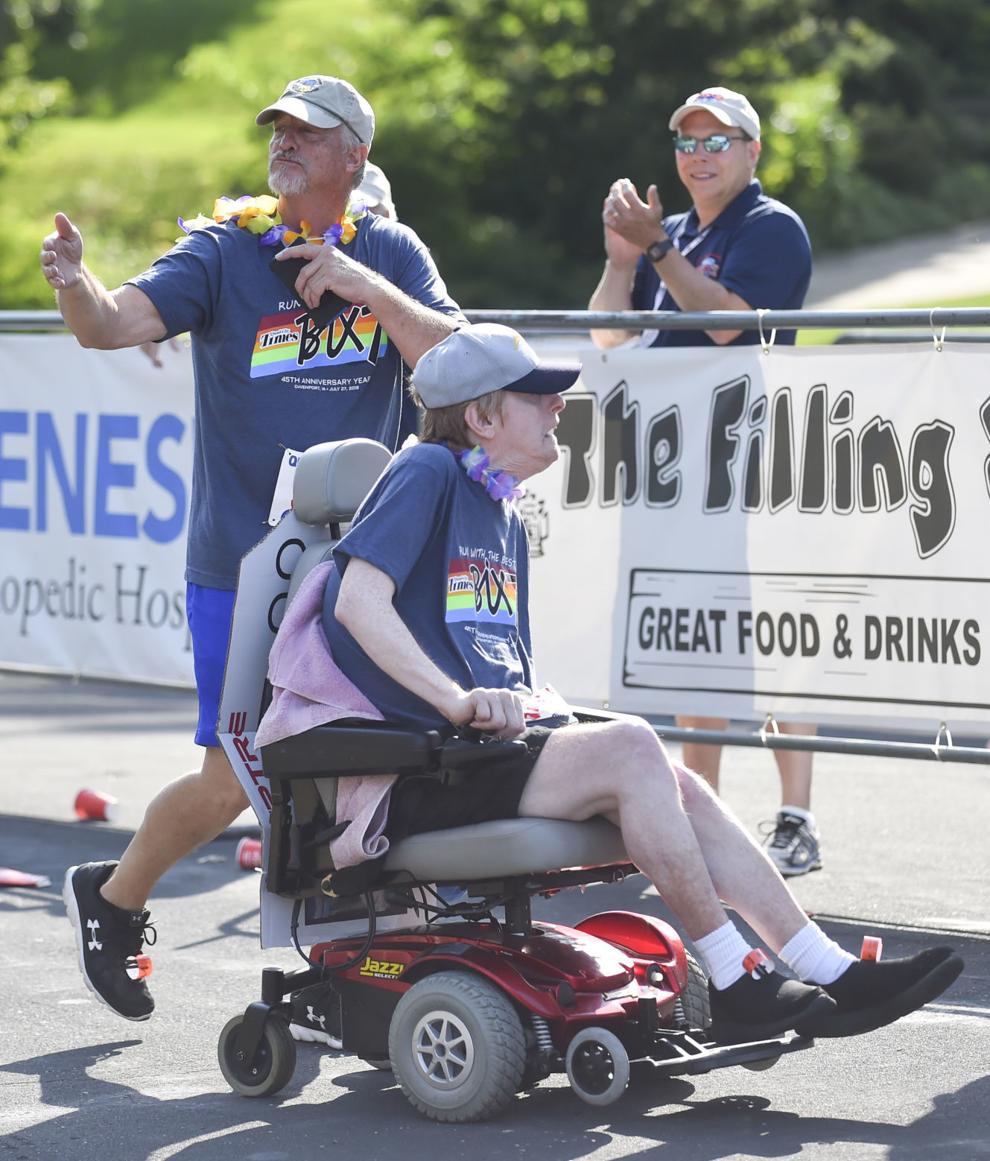 072819-BIX7-JG-43.jpg
072819-BIX7-JG-44.jpg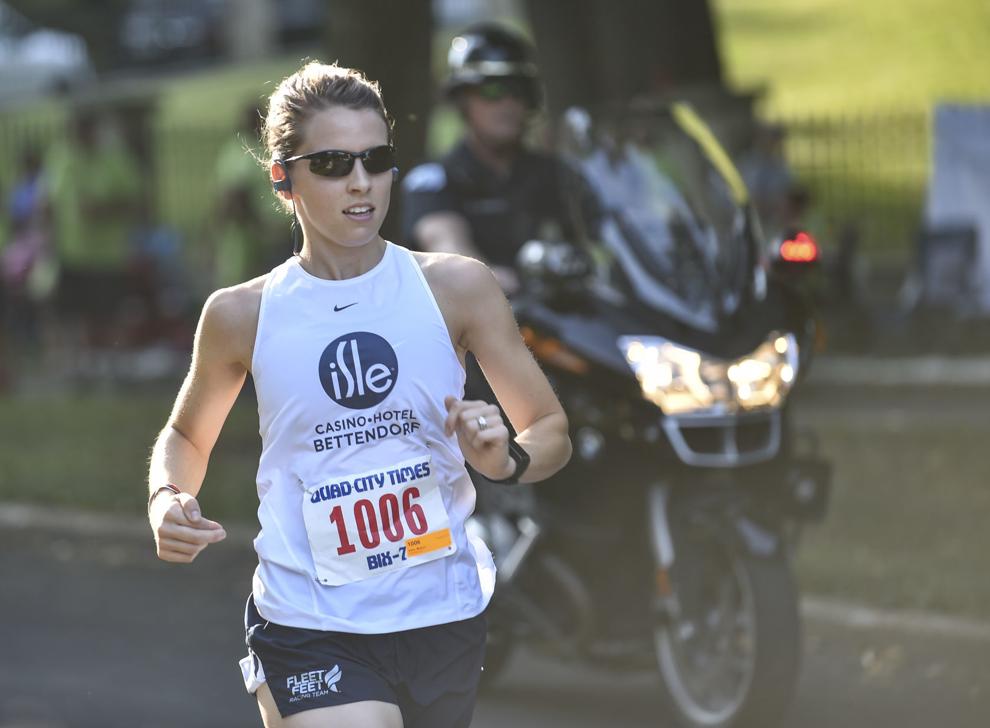 072819-BIX7-JG-45.jpg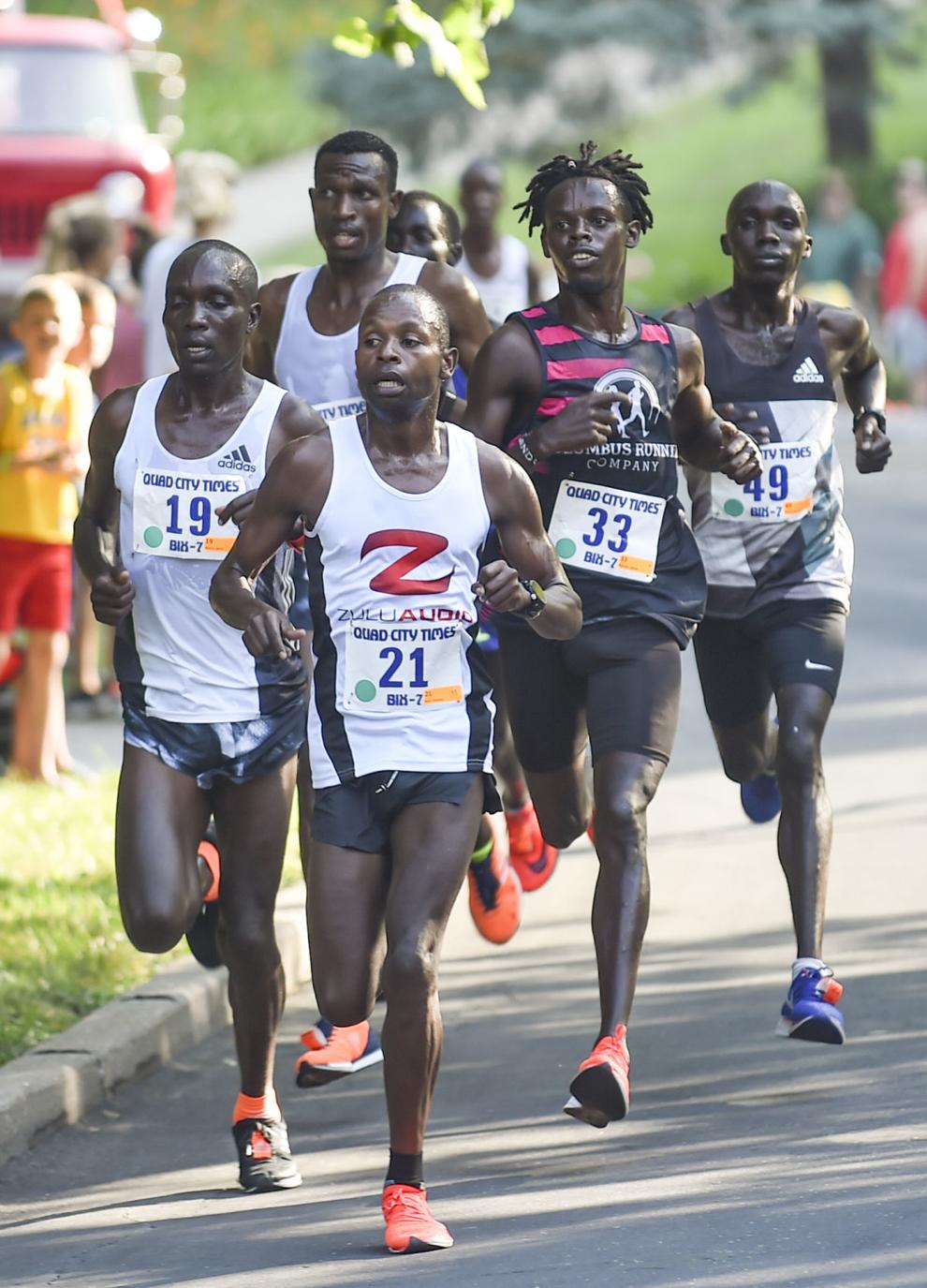 072819-BIX7-JG-46.jpg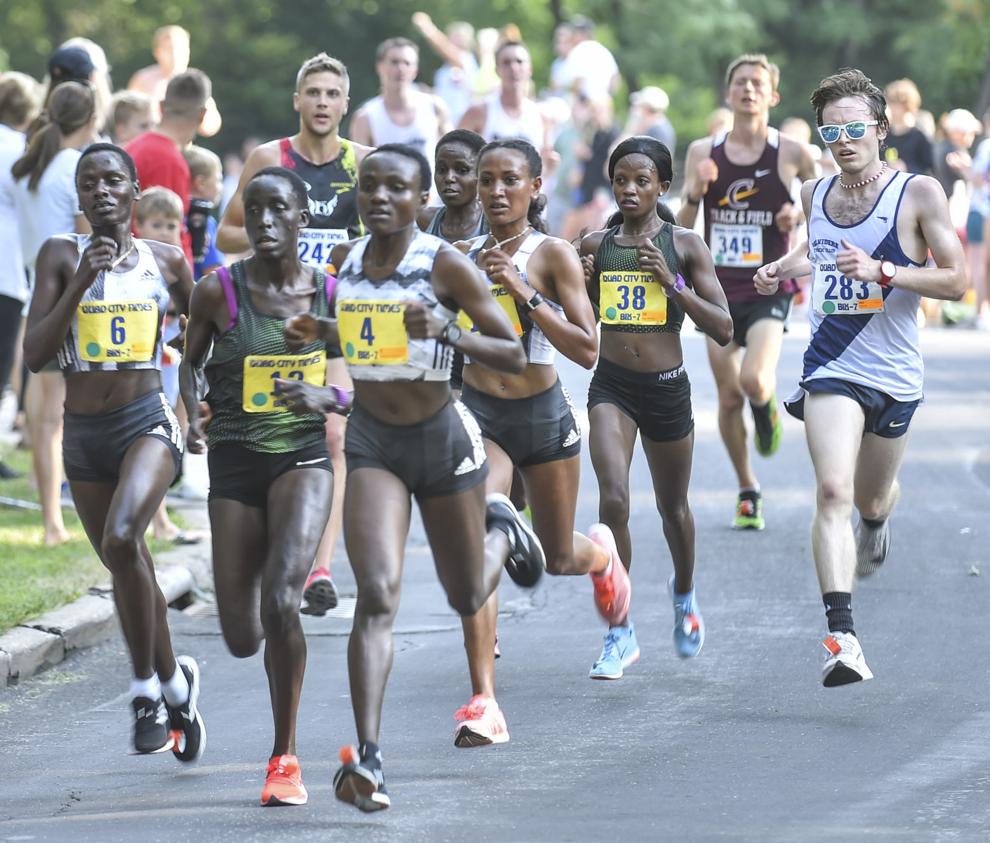 072819-BIX7-JG-47.jpg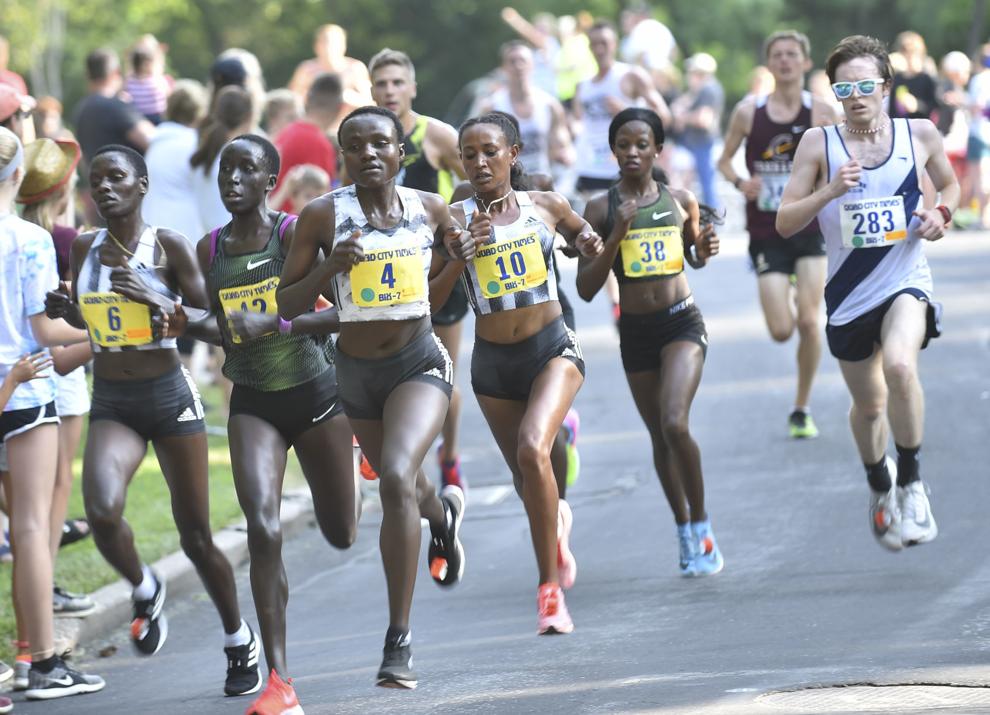 072819-BIX7-JG-48.jpg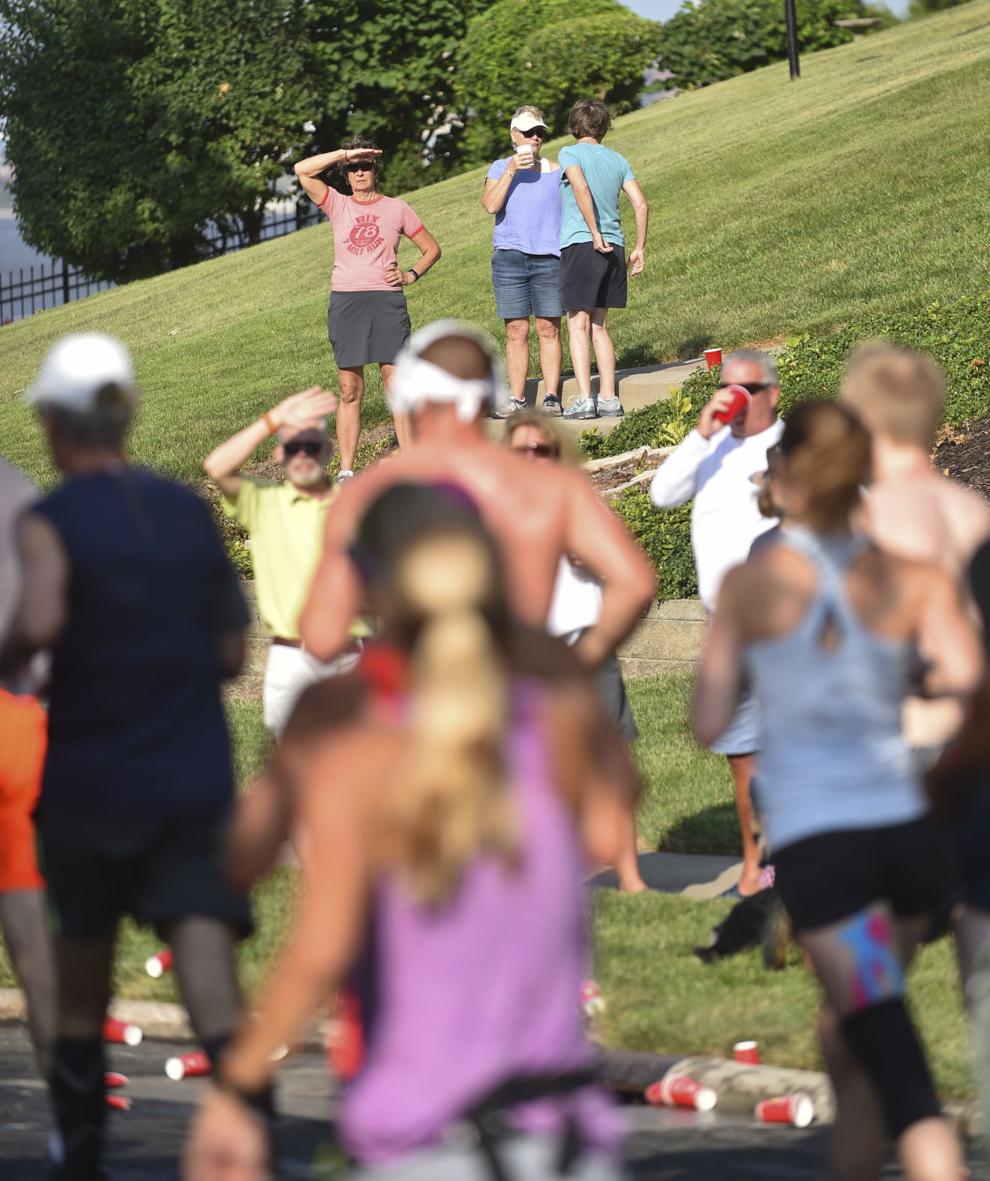 072819-BIX7-JG-49.jpg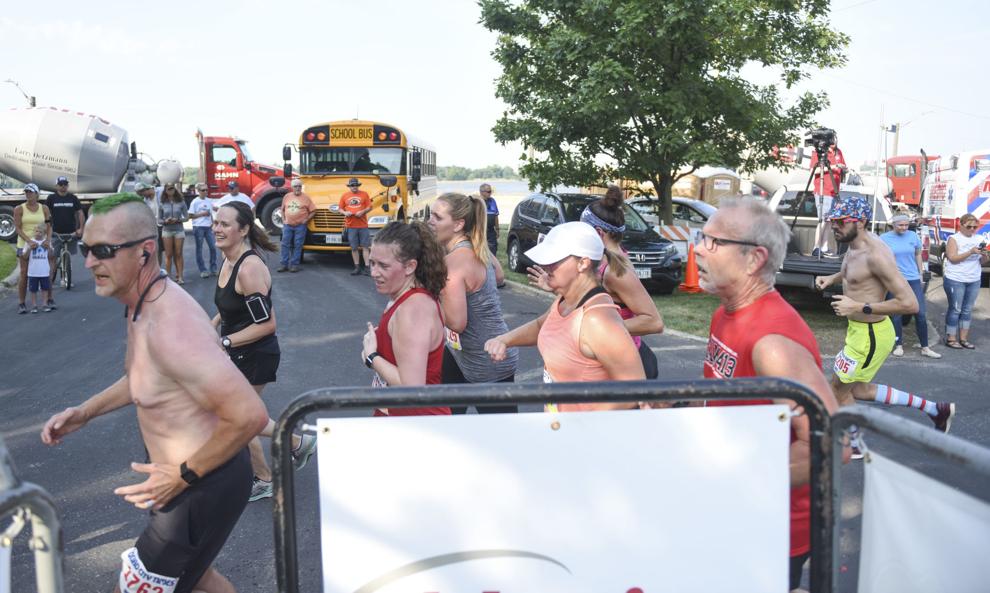 072819-BIX7-JG-50.jpg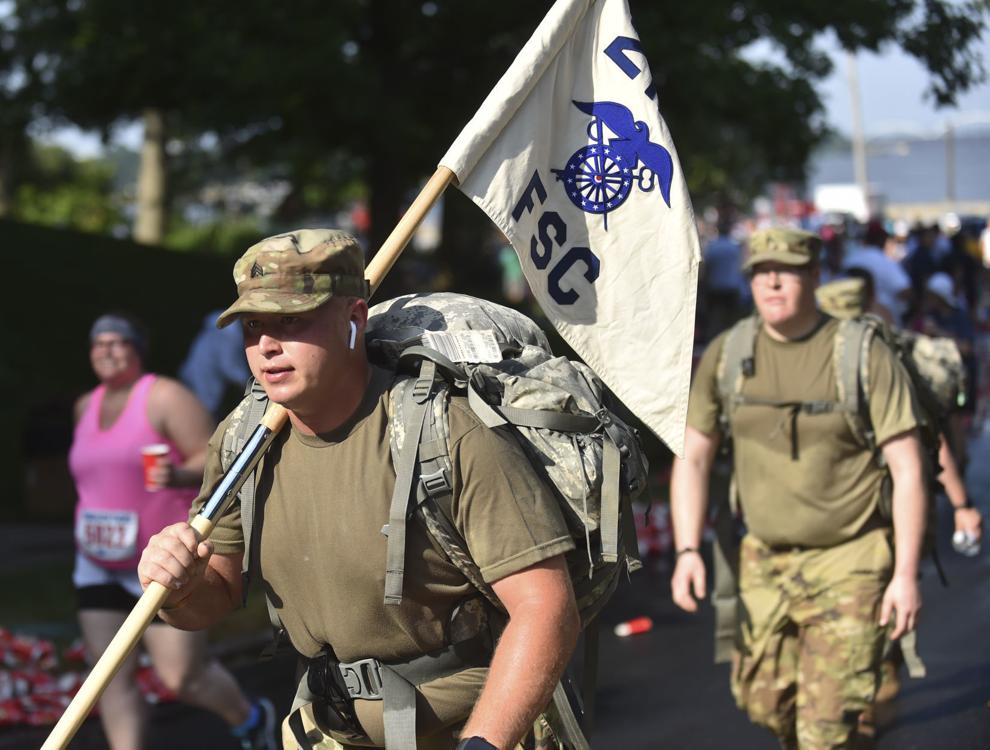 PHOTOS: 2019 Quad-City Times Bix 7 Post Race Party
072819-BIX7-POST-KS-001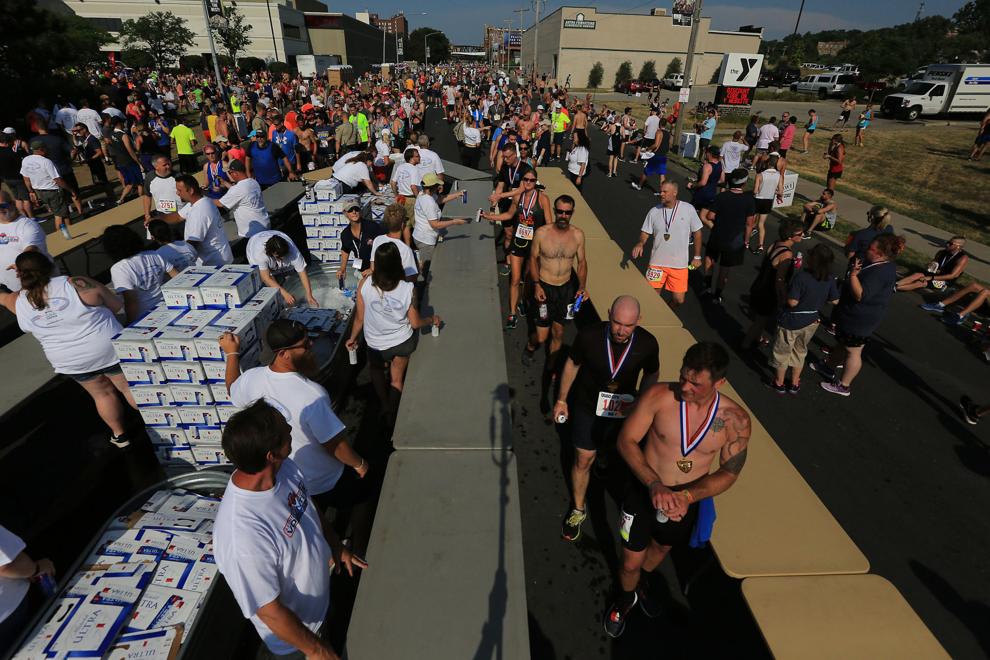 072819-BIX7-POST-KS-002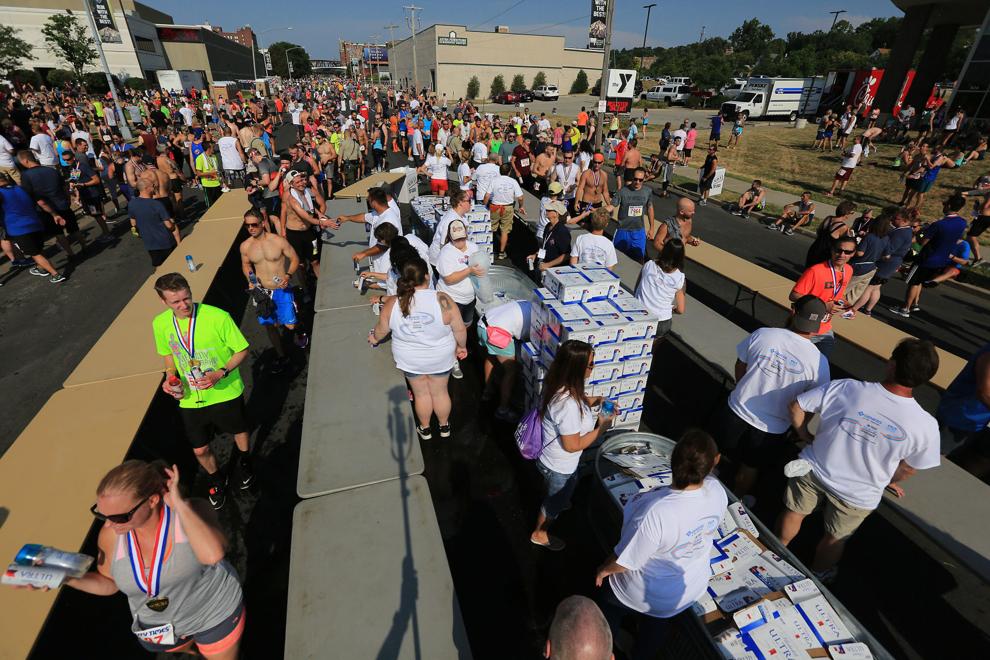 072819-BIX7-POST-KS-003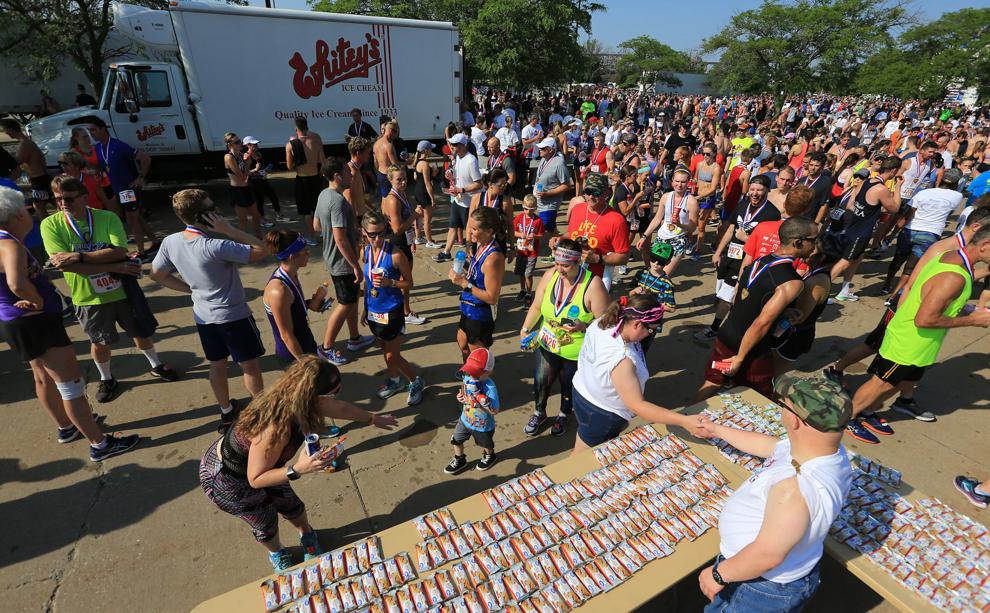 072819-BIX7-POST-KS-004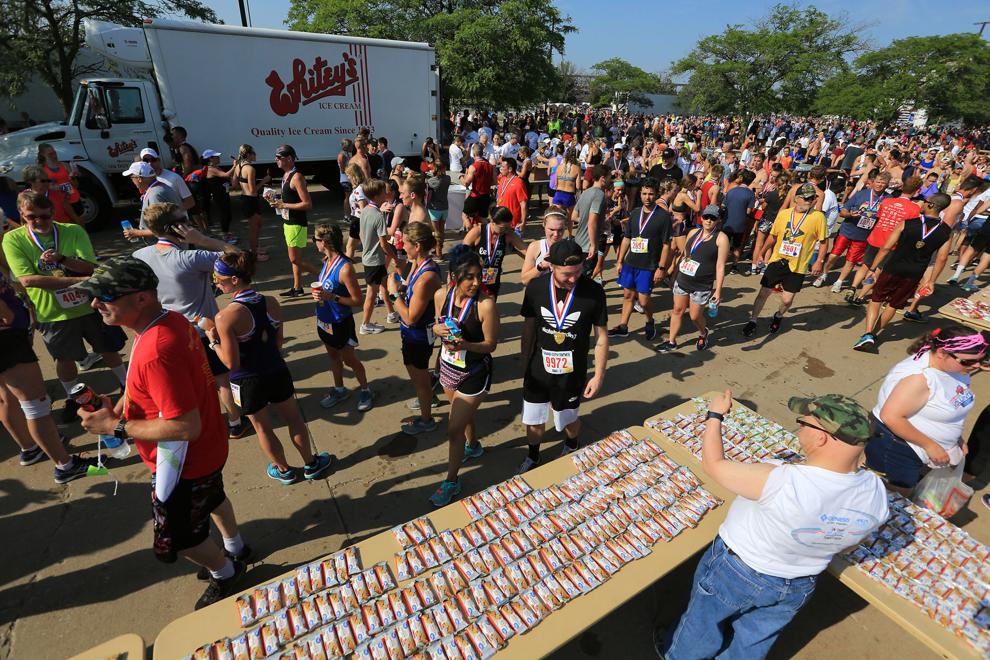 072819-BIX7-POST-KS-005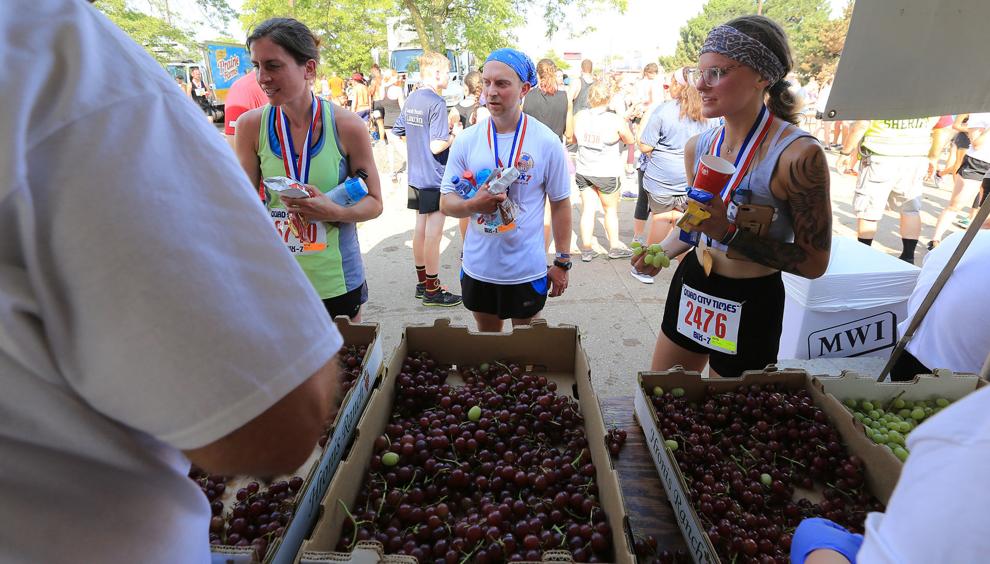 072819-BIX7-POST-KS-006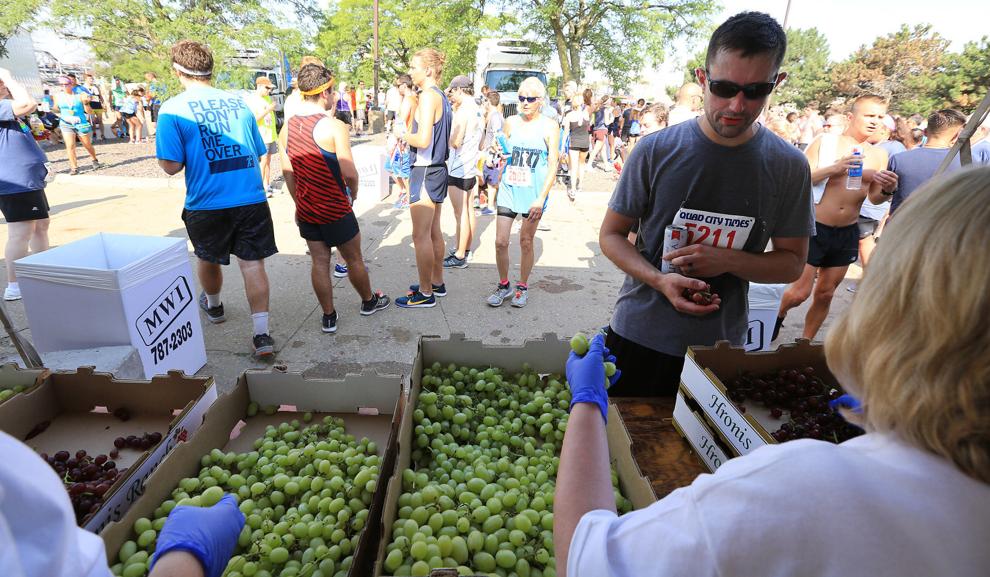 072819-BIX7-POST-KS-007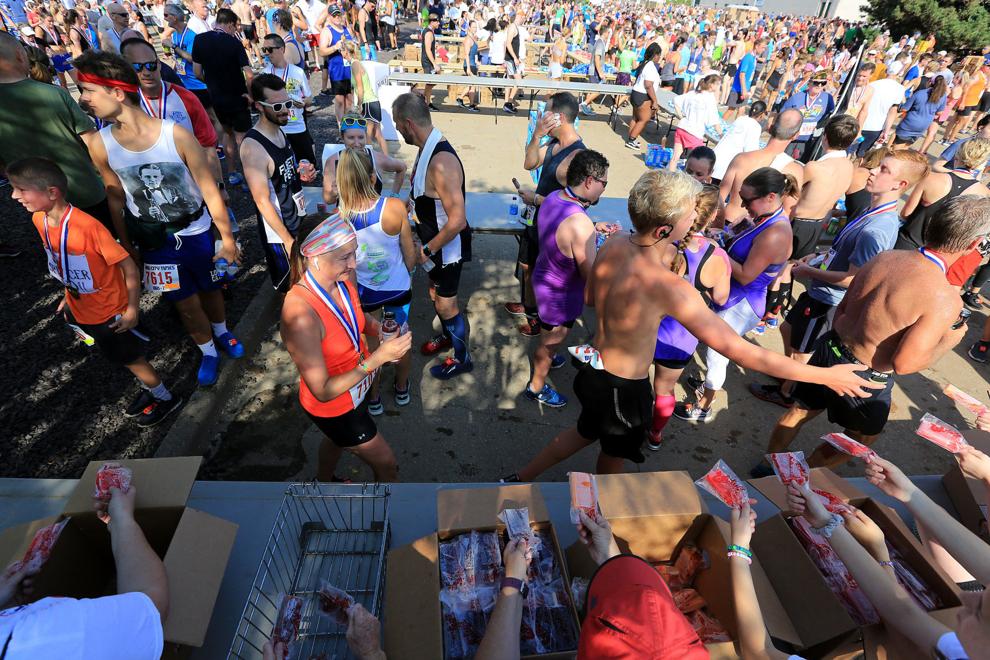 072819-BIX7-POST-KS-008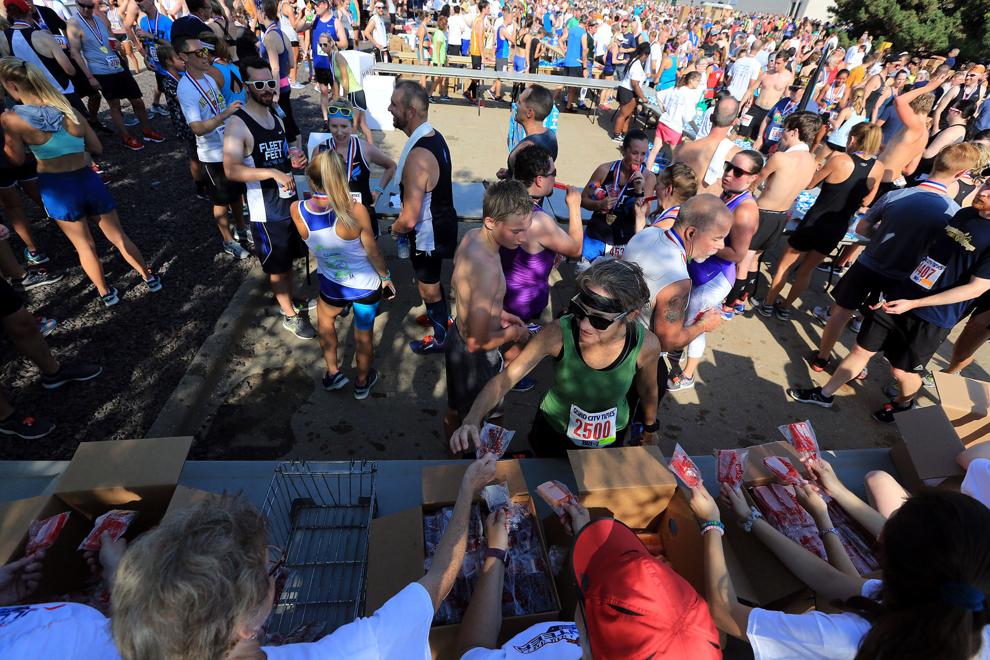 072819-BIX7-POST-KS-009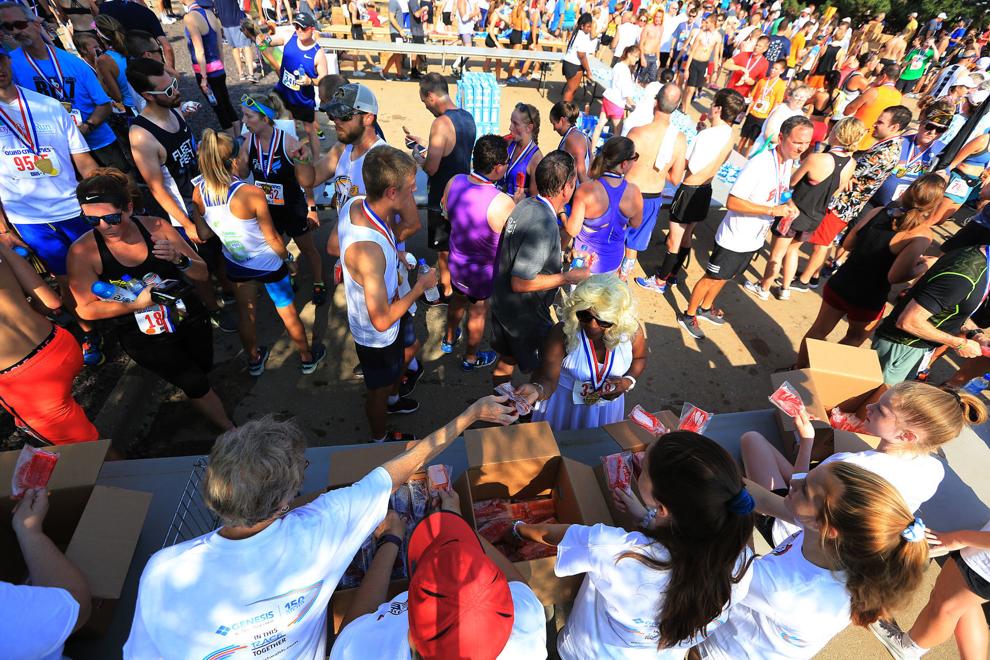 072819-BIX7-POST-KS-010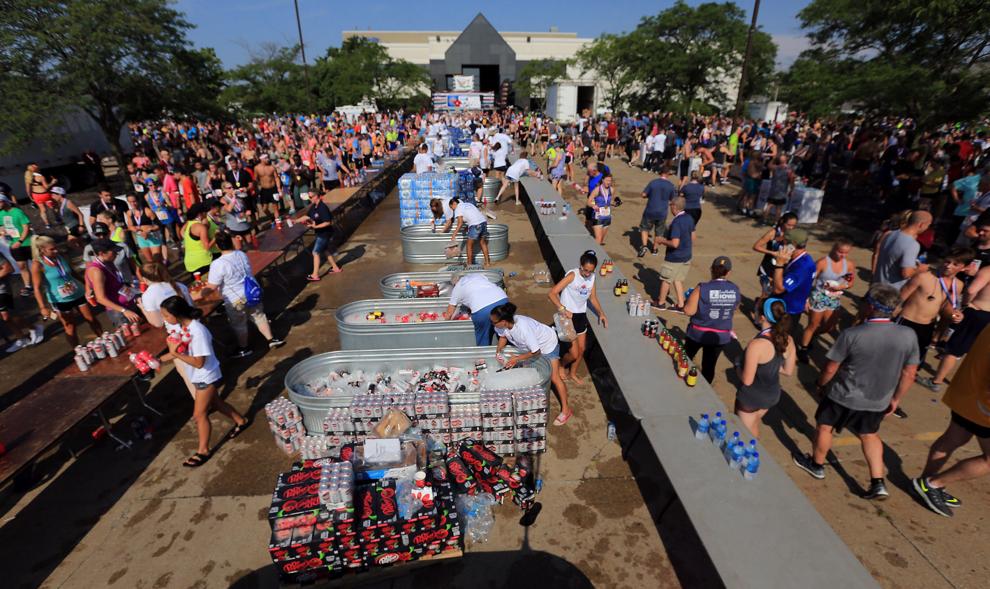 072819-BIX7-POST-KS-011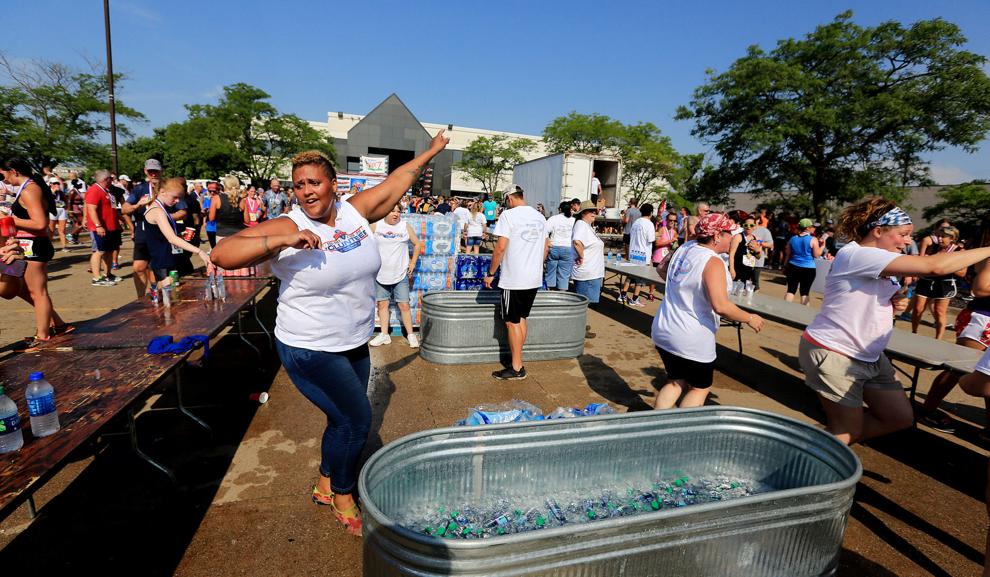 072819-BIX7-POST-KS-012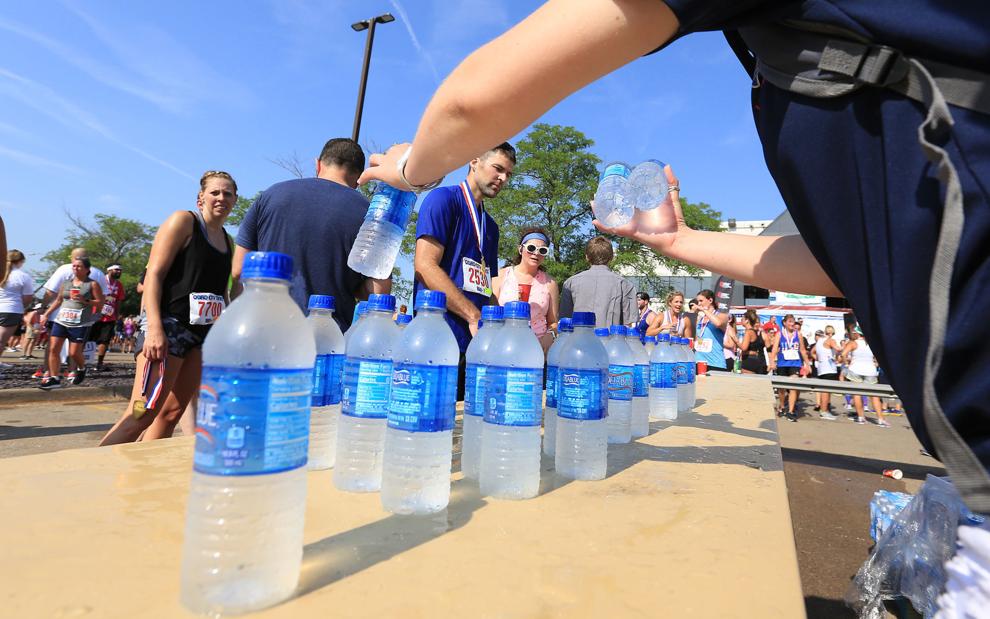 072819-BIX7-POST-KS-013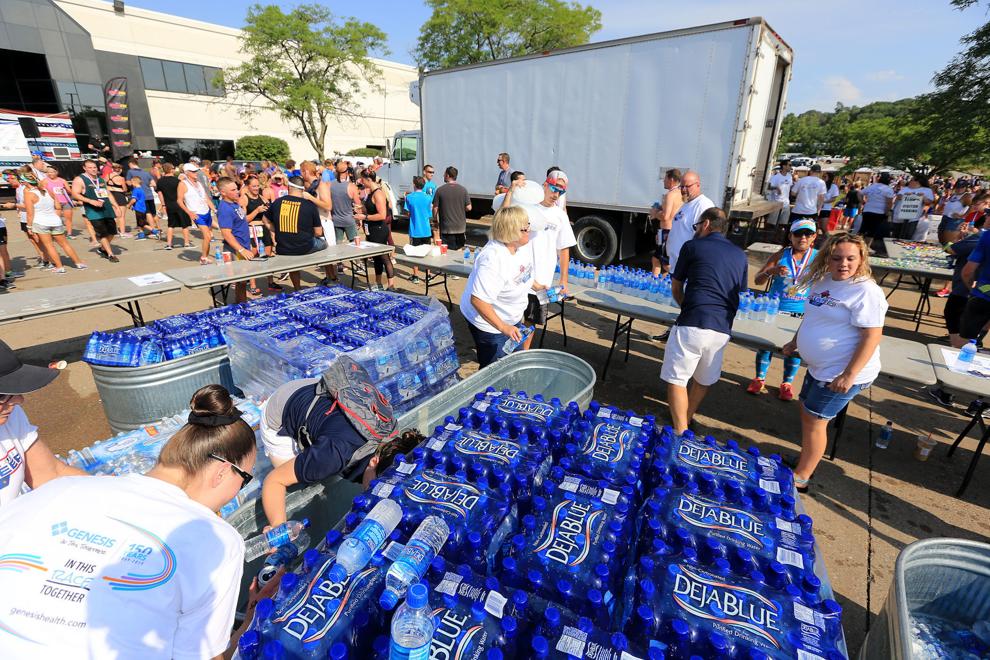 072819-BIX7-POST-KS-014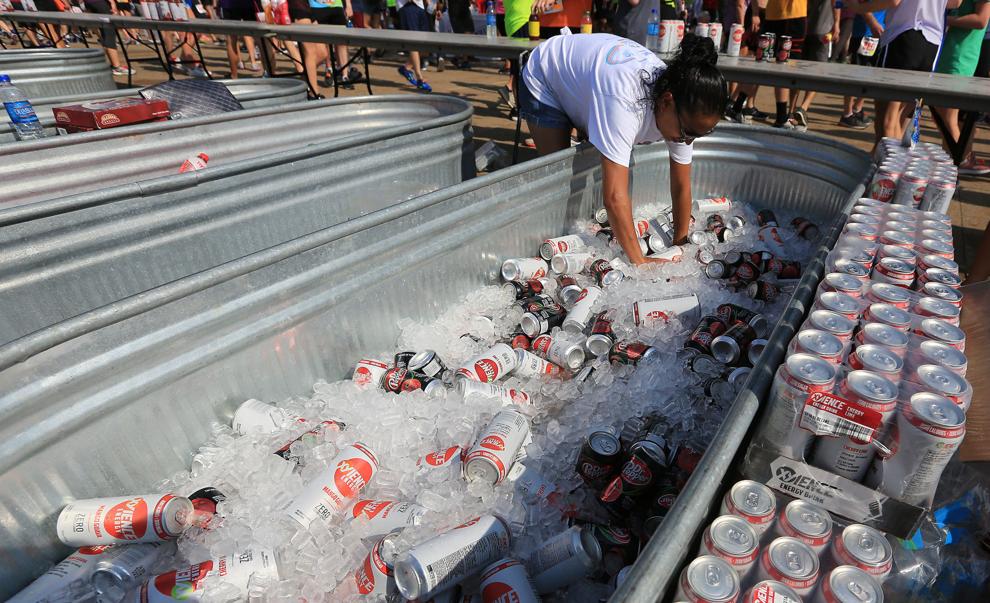 072819-BIX7-POST-KS-016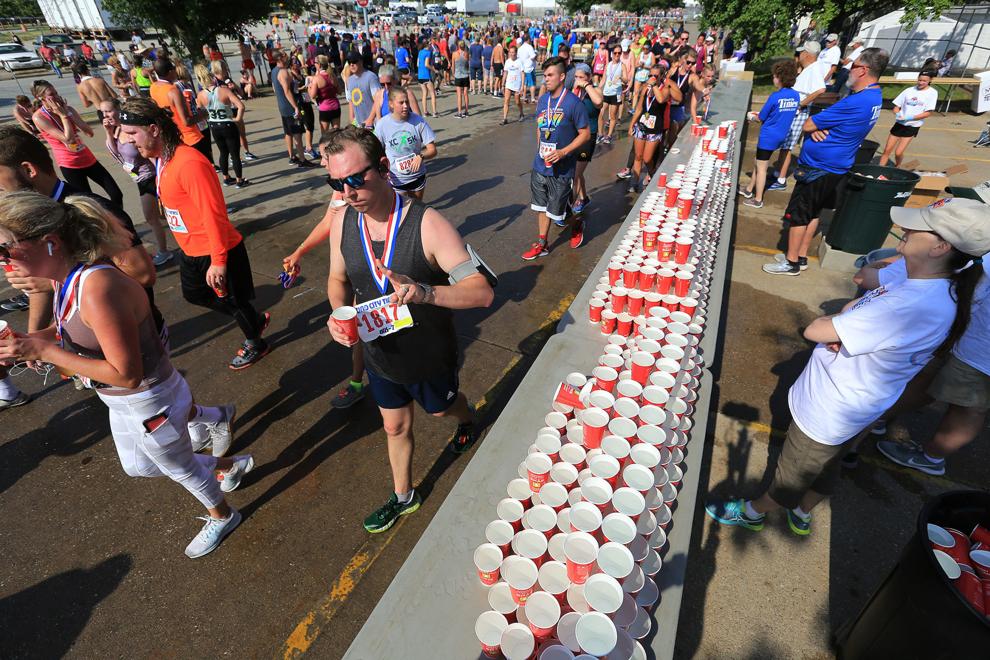 072819-BIX7-POST-KS-017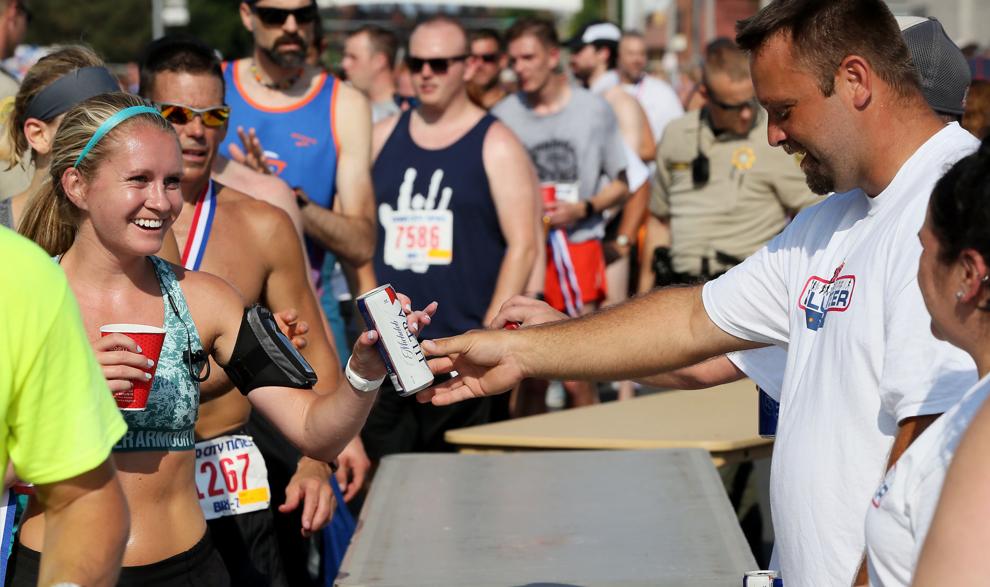 072819-BIX7-POST-KS-018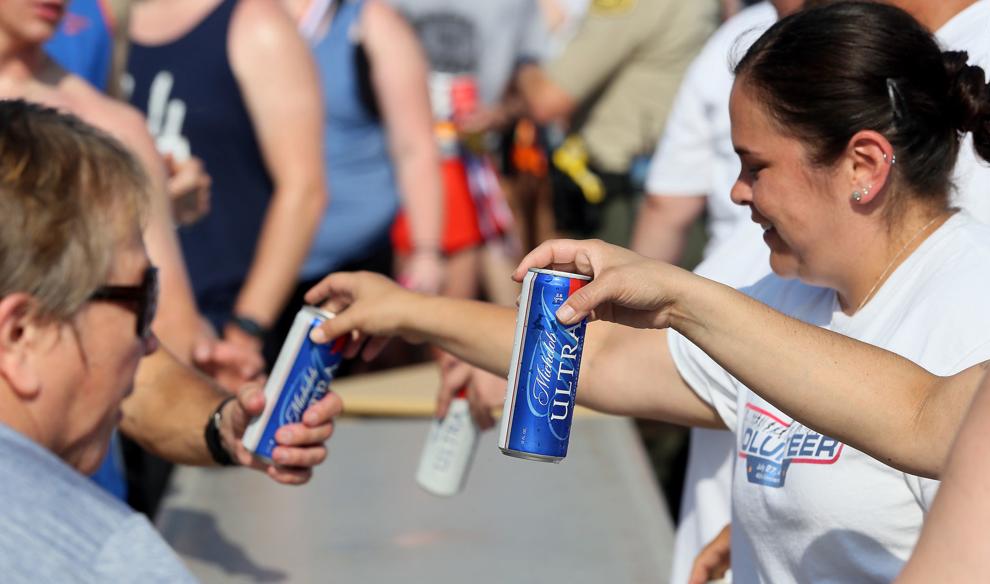 072819-BIX7-POST-KS-020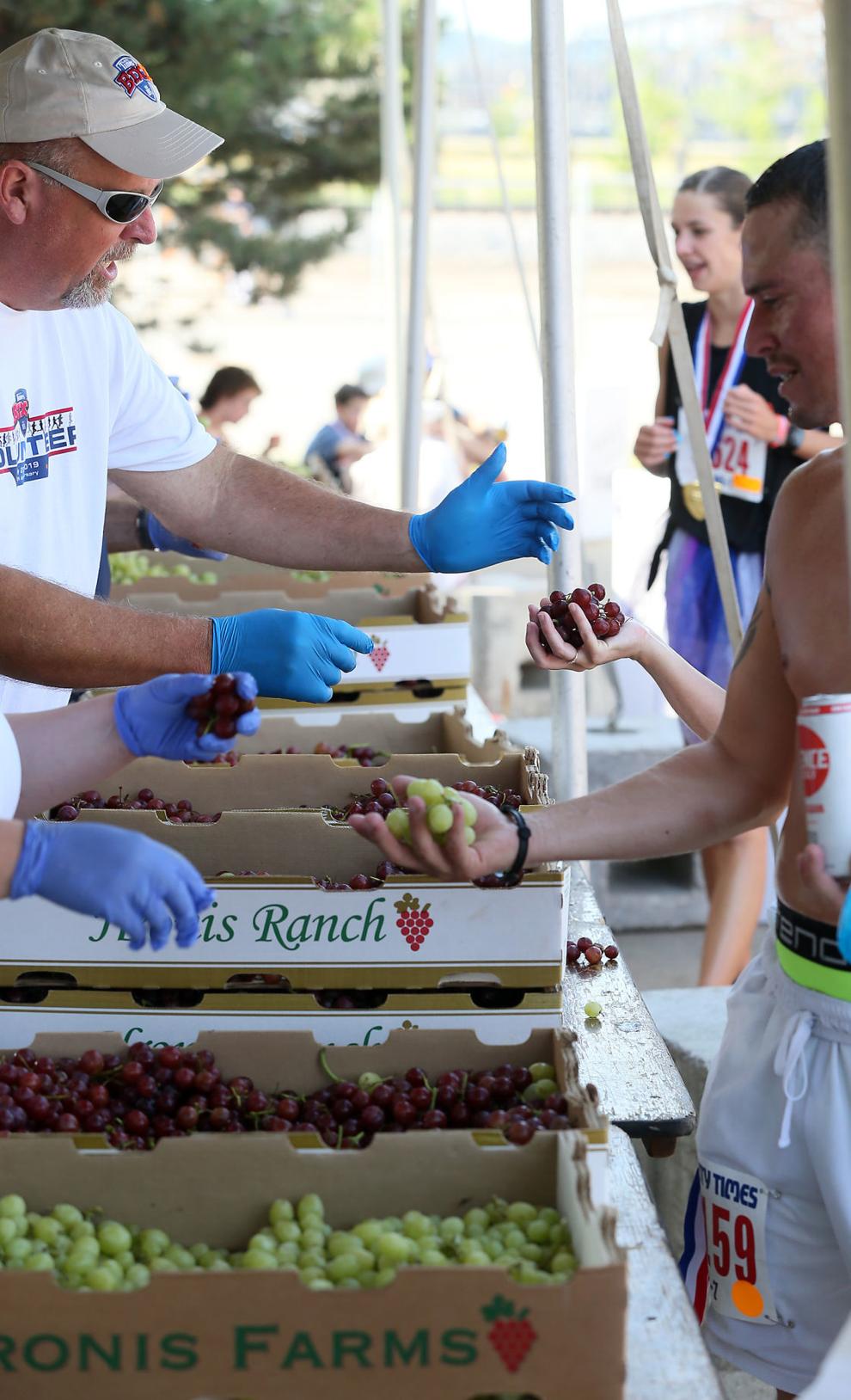 072819-BIX7-POST-KS-021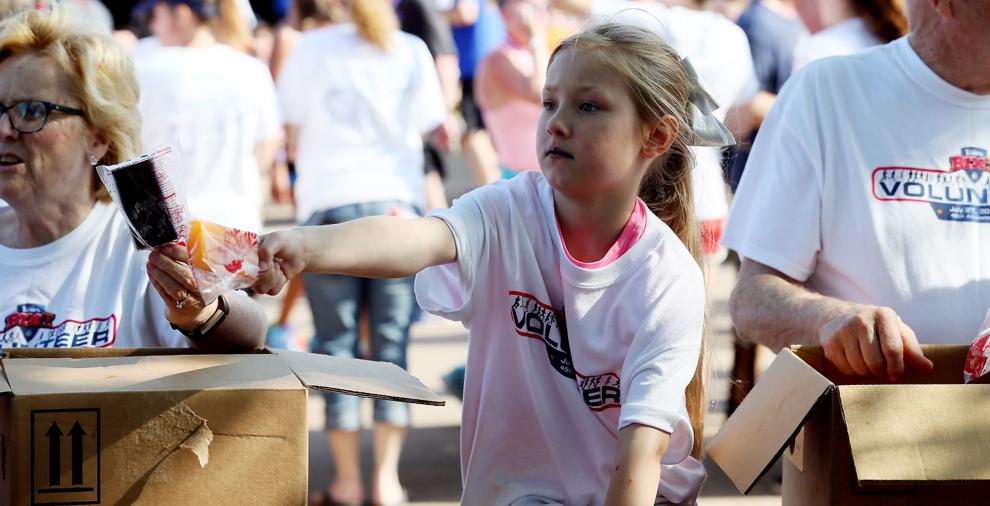 072819-BIX7-POST-KS-022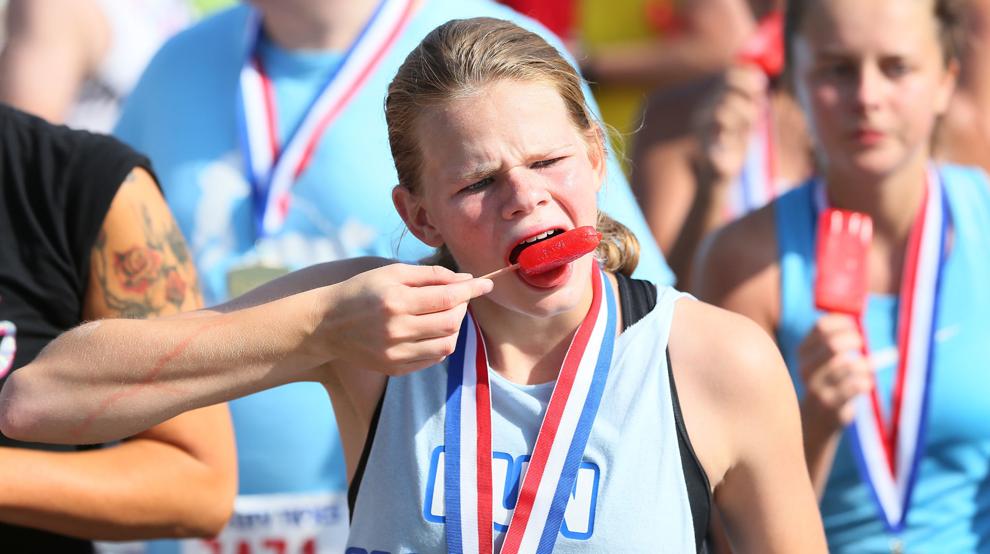 072819-BIX7-POST-KS-023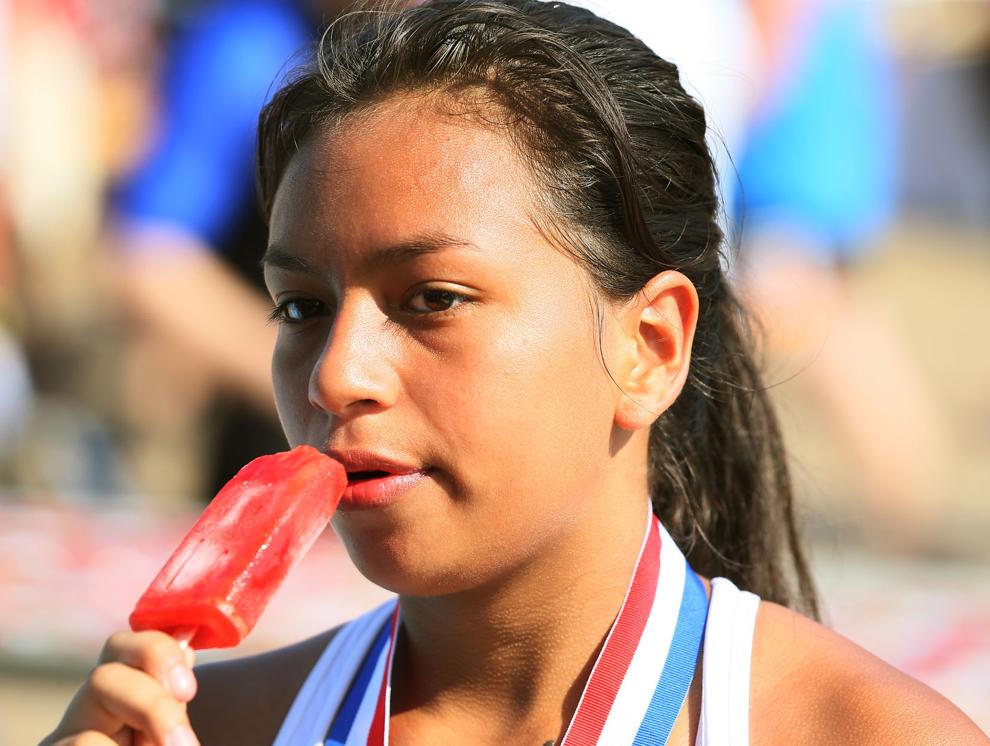 072819-BIX7-POST-KS-024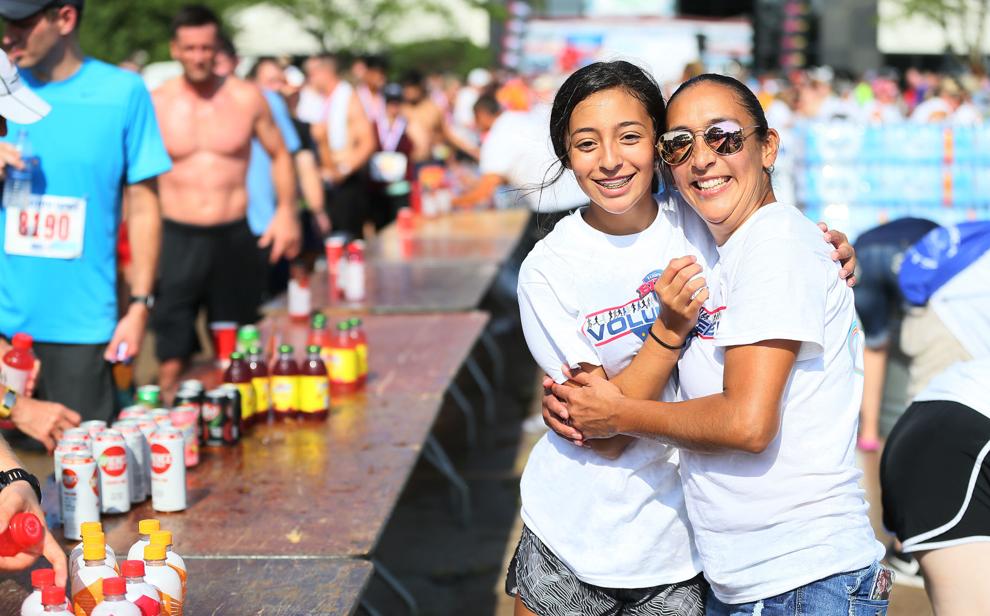 072819-BIX7-POST-KS-025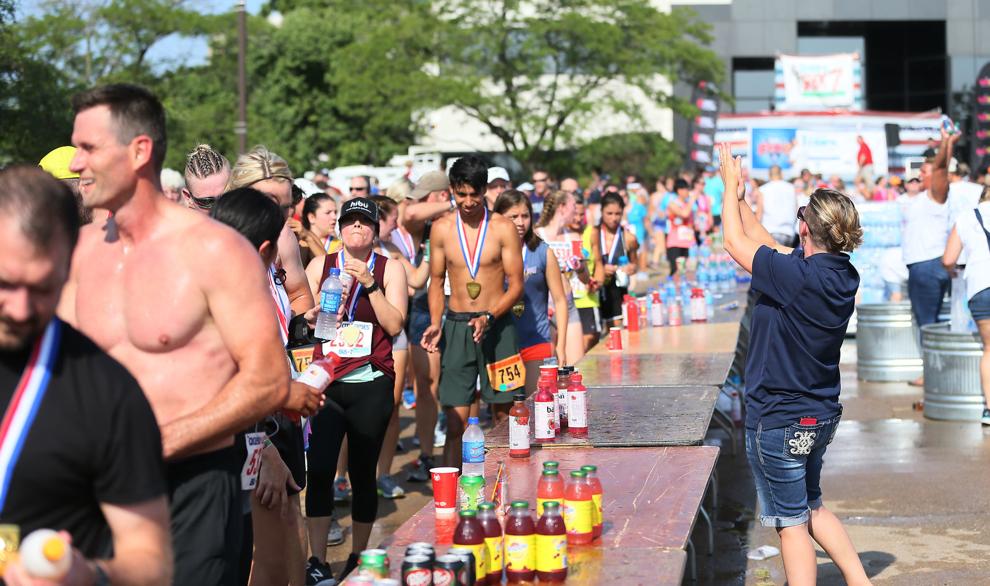 072819-BIX7-POST-KS-026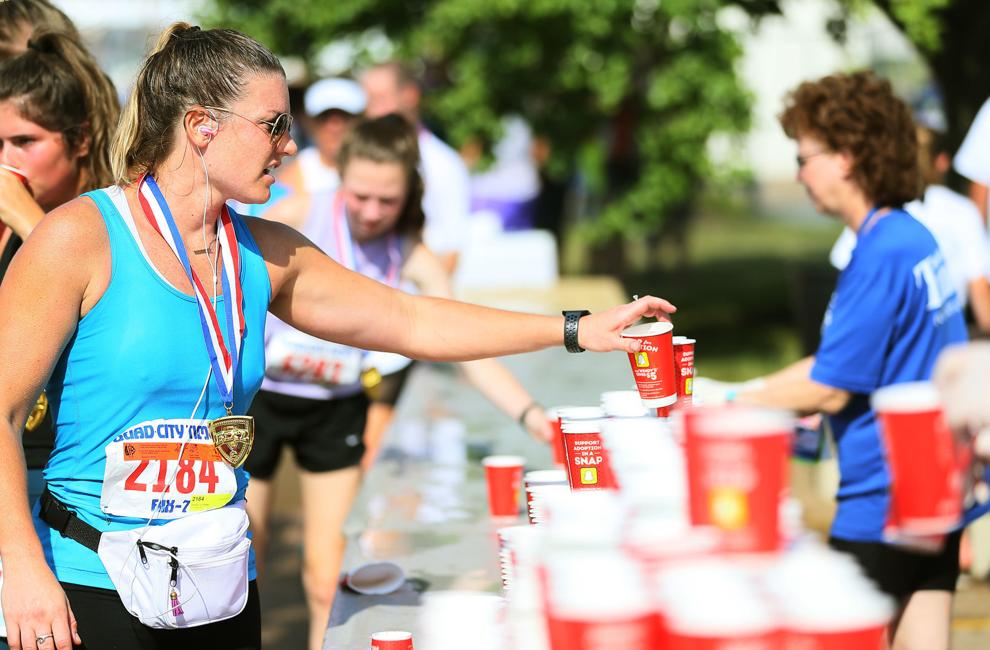 072819-BIX7-POST-KS-027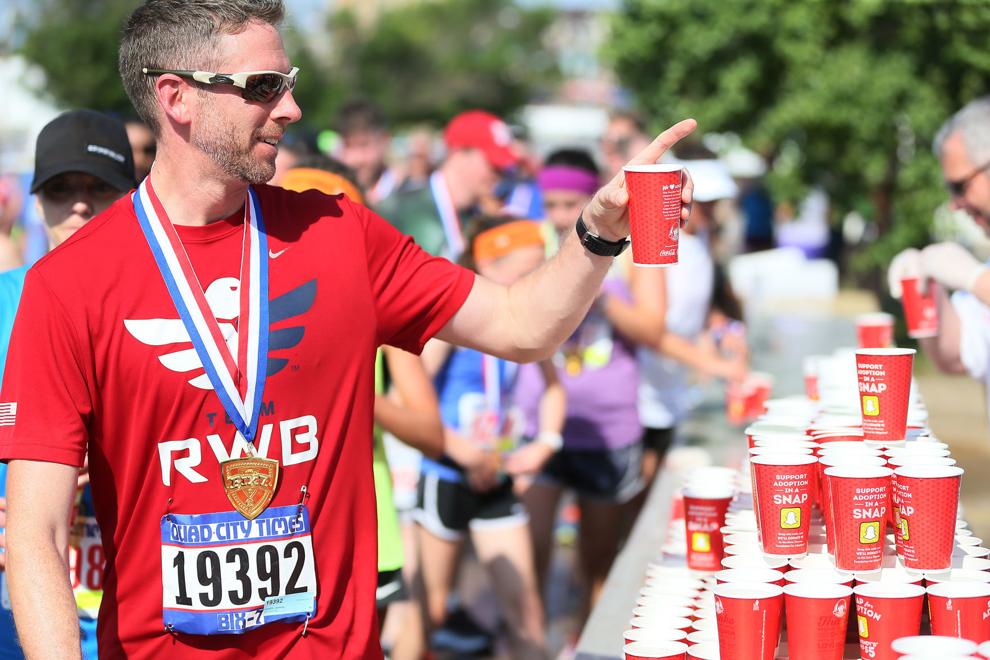 072819-BIX7-POST-KS-028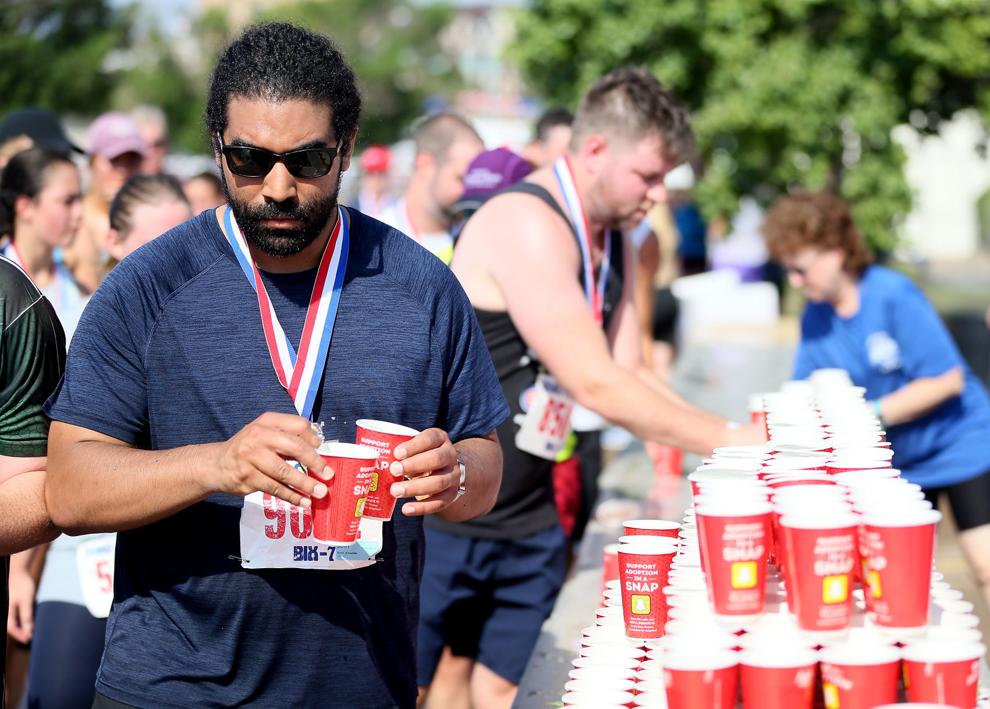 072819-BIX7-POST-KS-029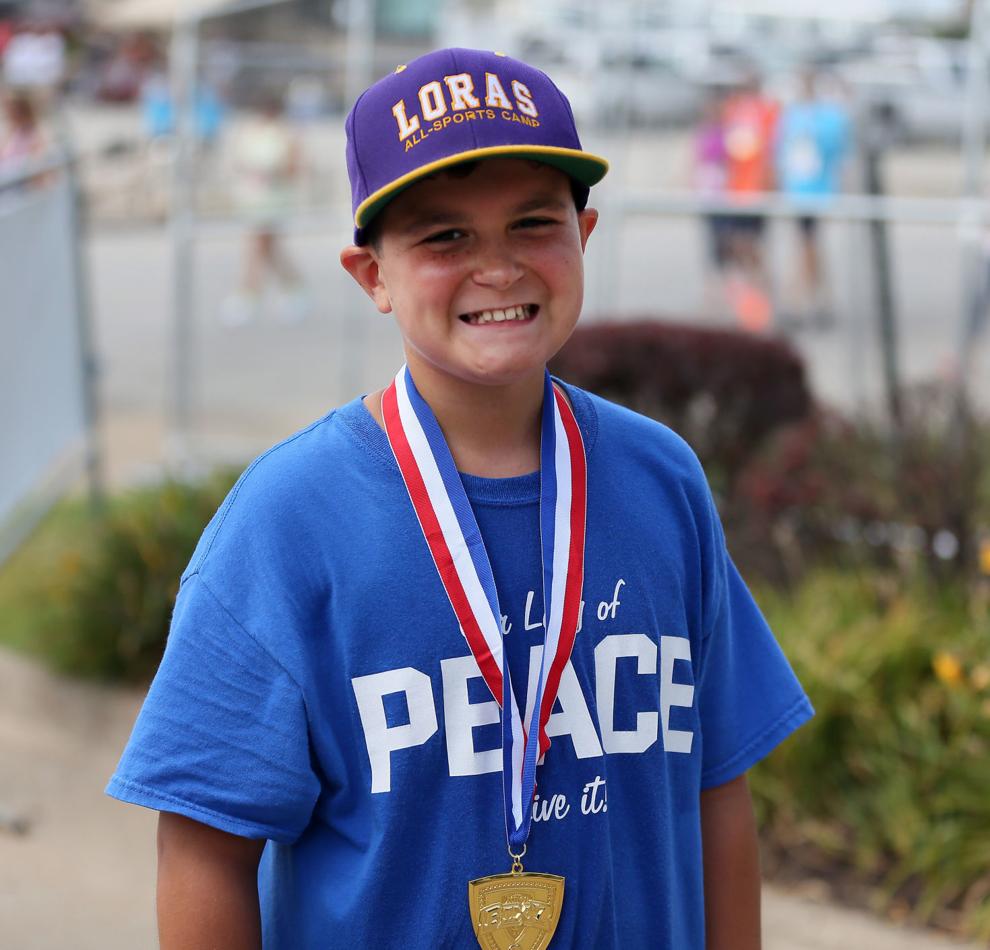 PHOTOS: Before the start of the 2019 Quad-City Times BIX7
072819-BIX7-KS-001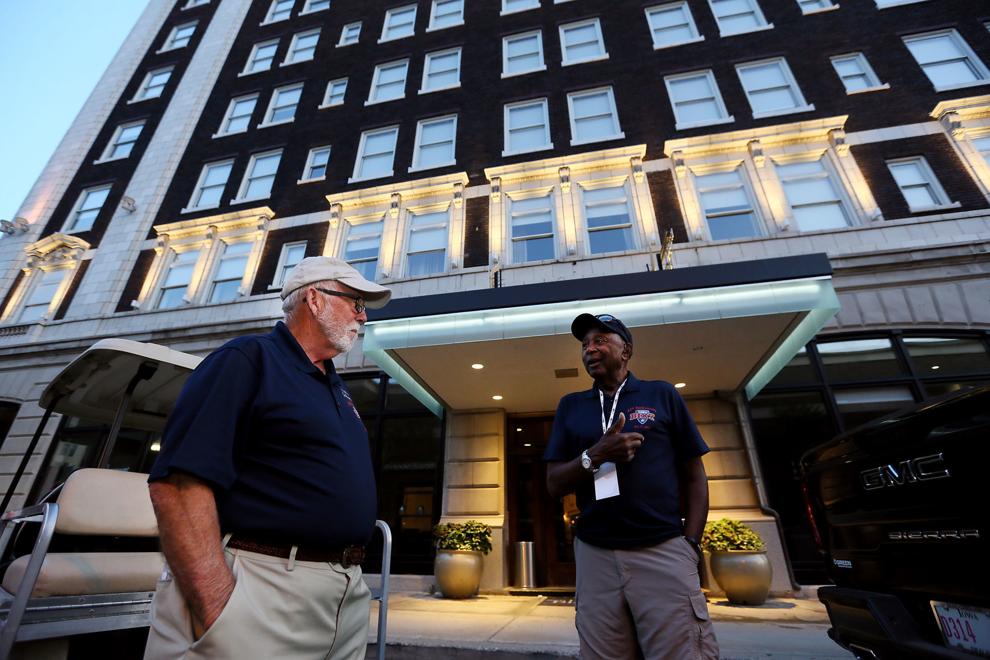 072819-BIX7-KS-002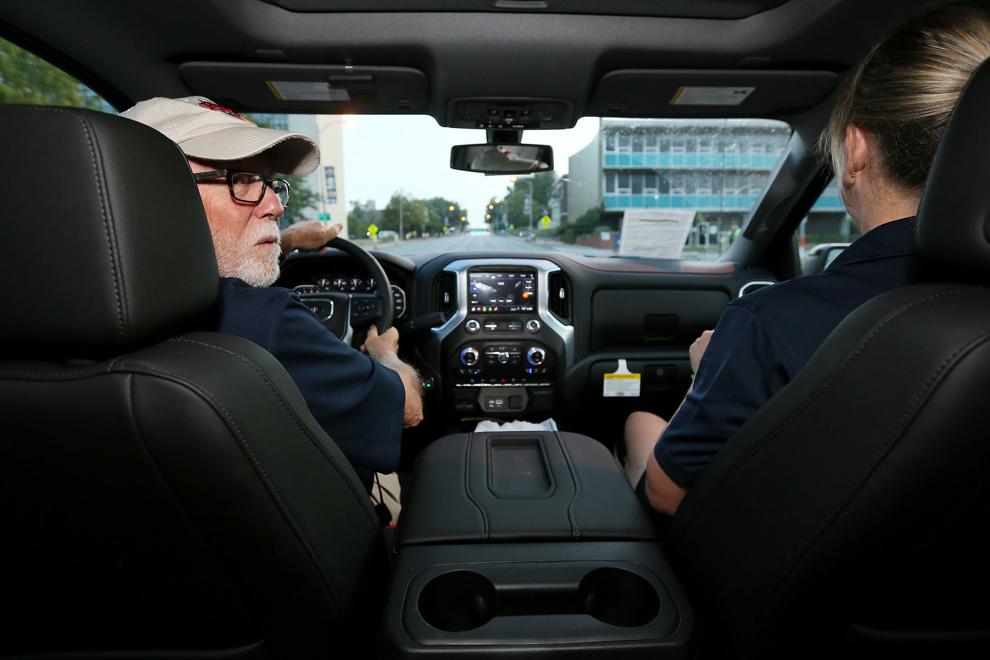 072819-BIX7-KS-003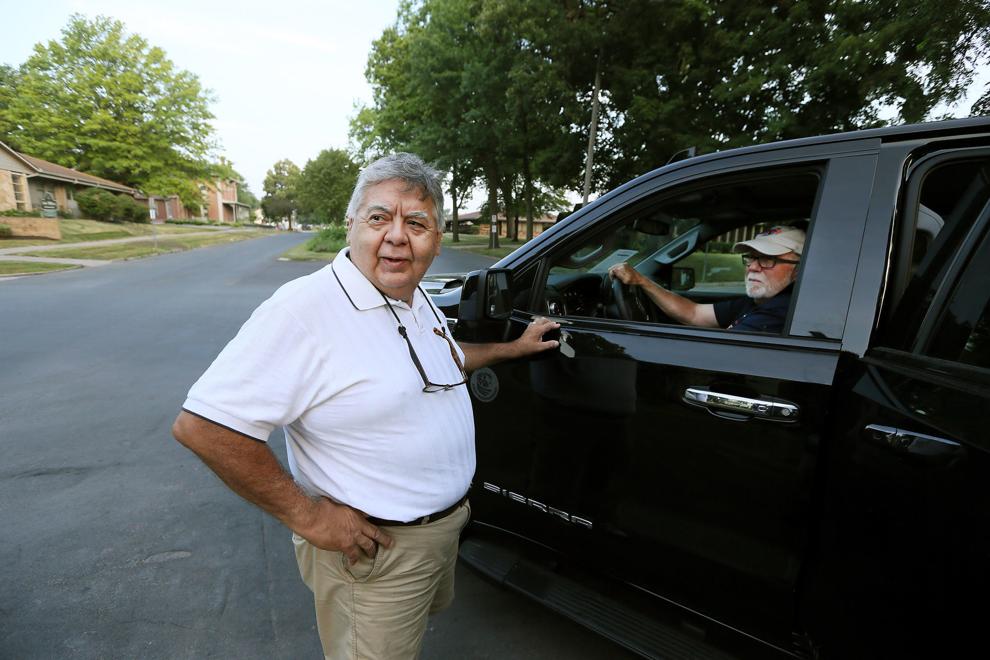 072819-BIX7-KS-004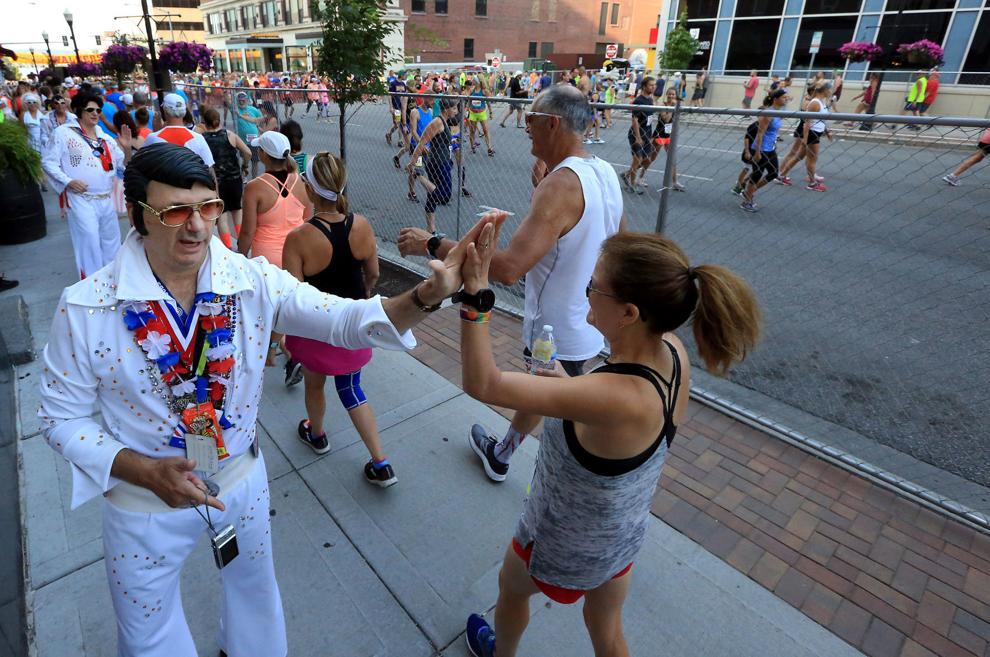 072819-BIX7-KS-005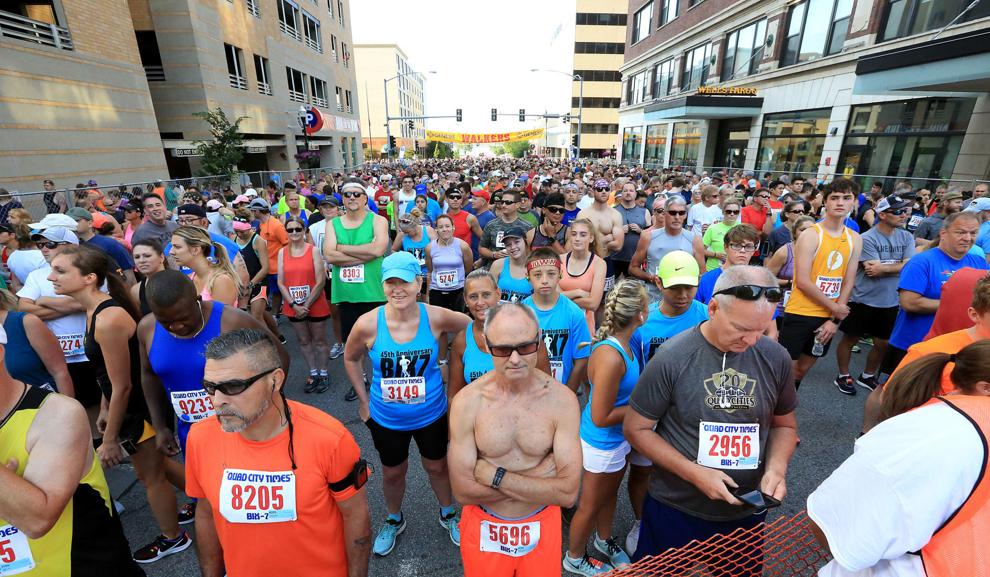 072819-BIX7-KS-006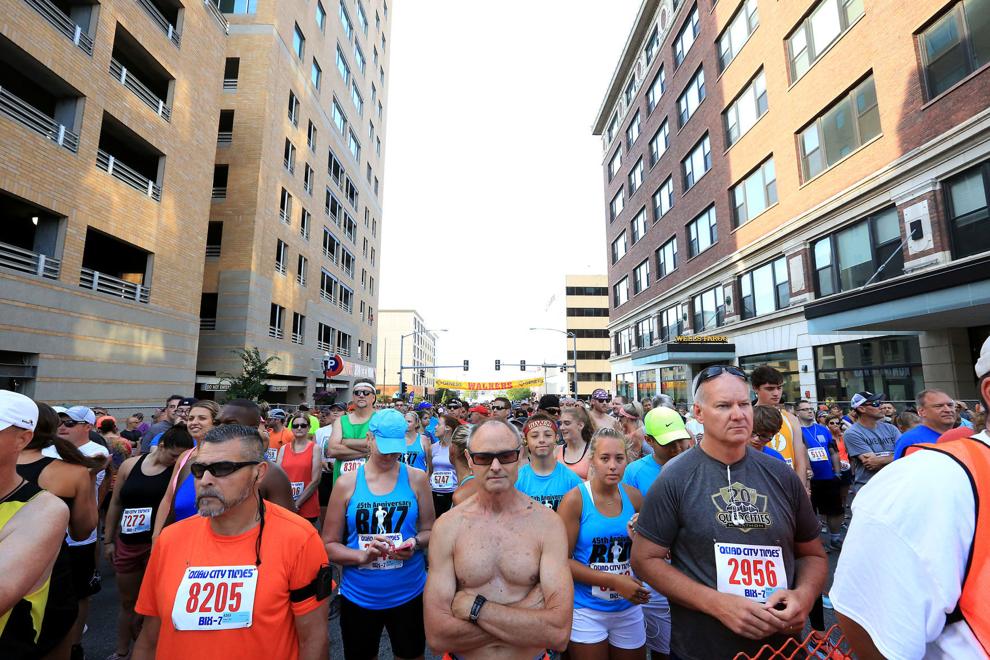 072819-BIX7-KS-007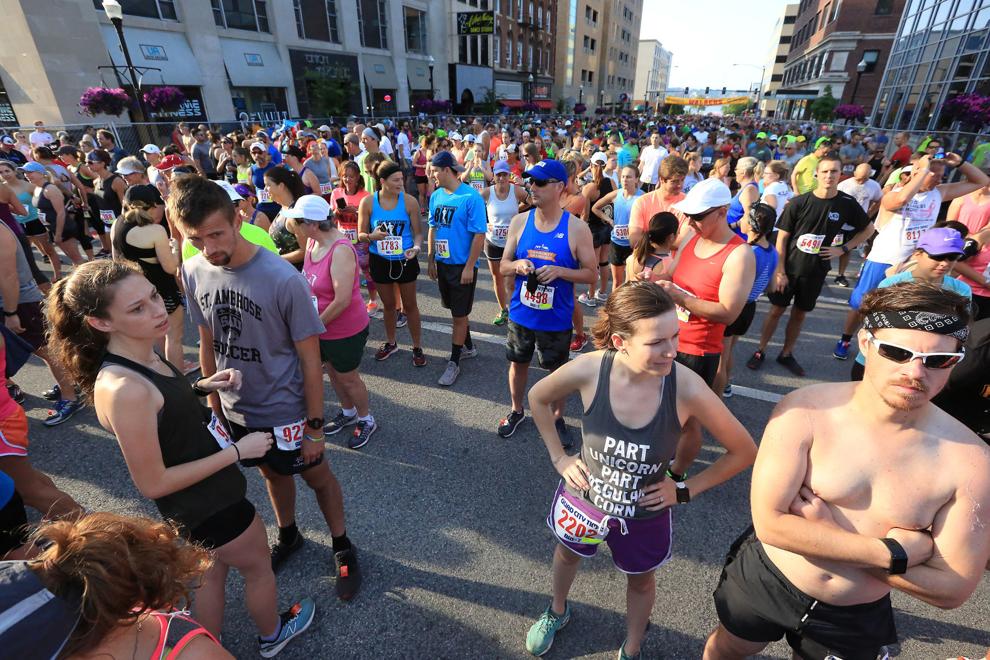 072819-BIX7-KS-008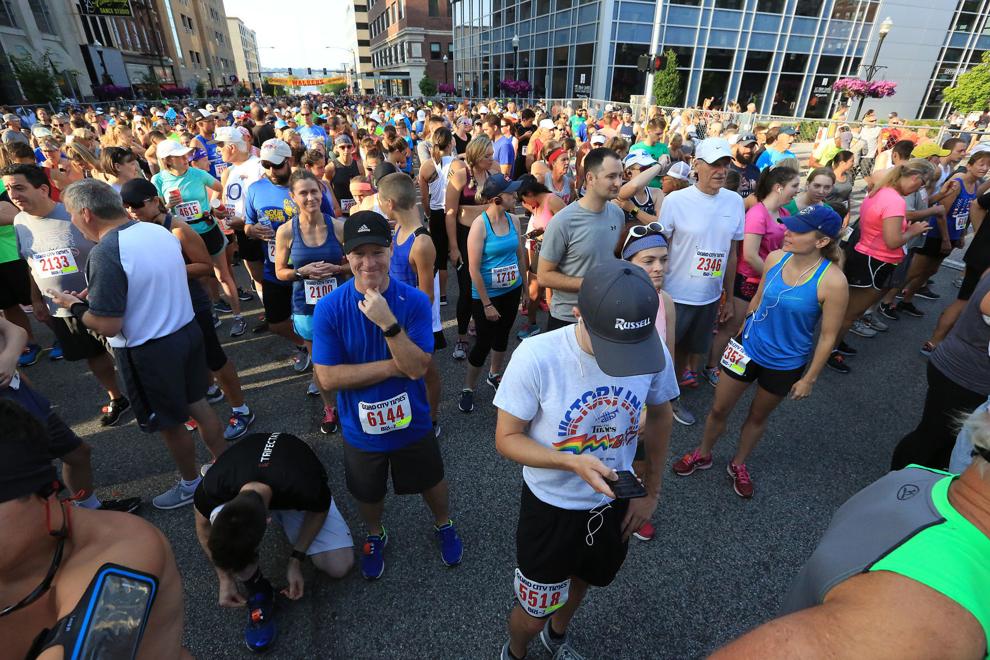 072819-BIX7-KS-009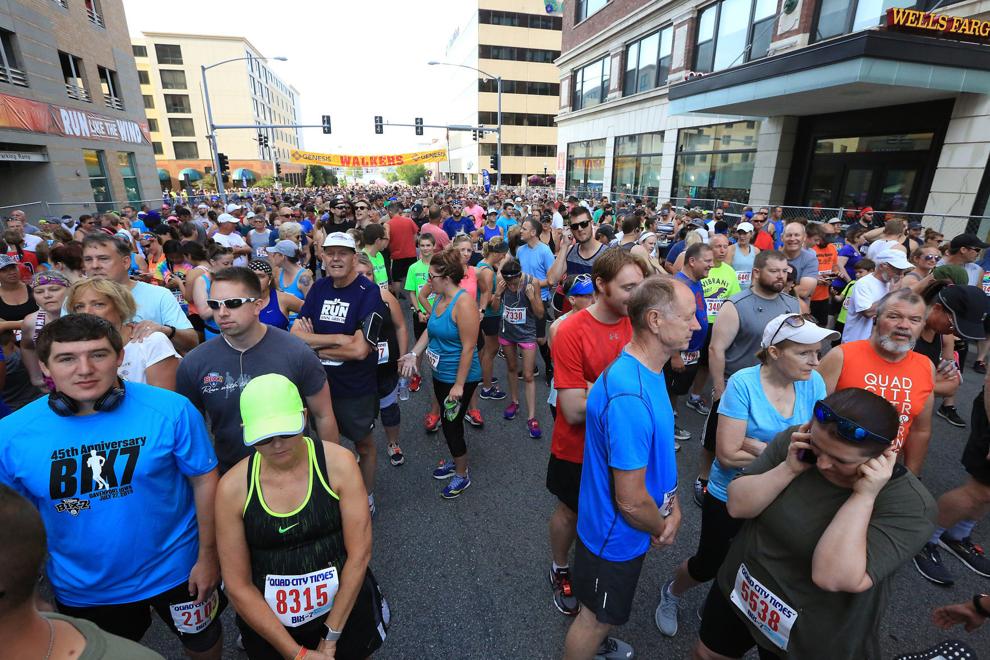 072819-BIX7-KS-010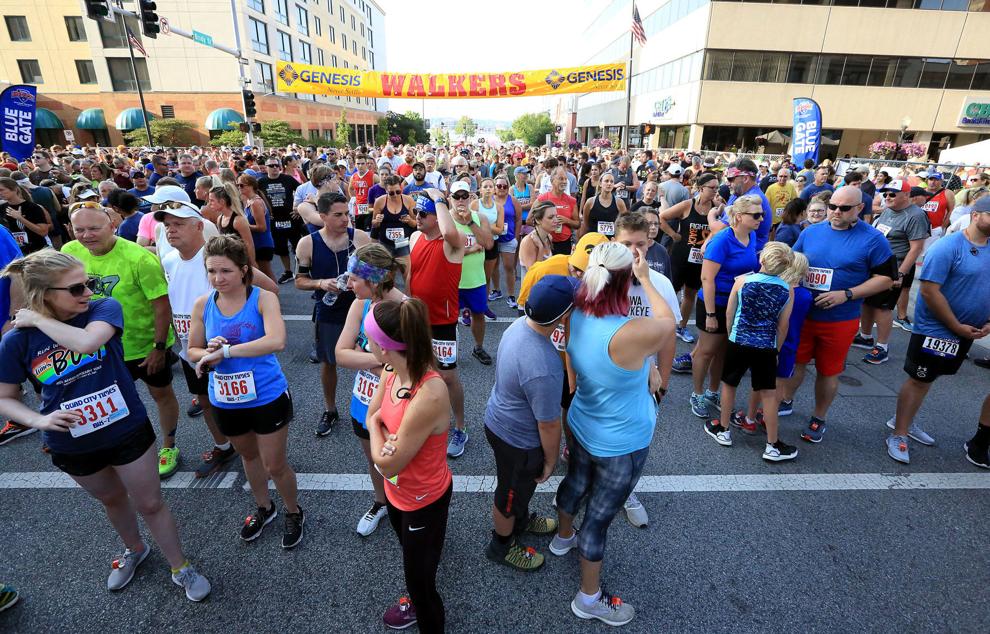 072819-BIX7-KS-011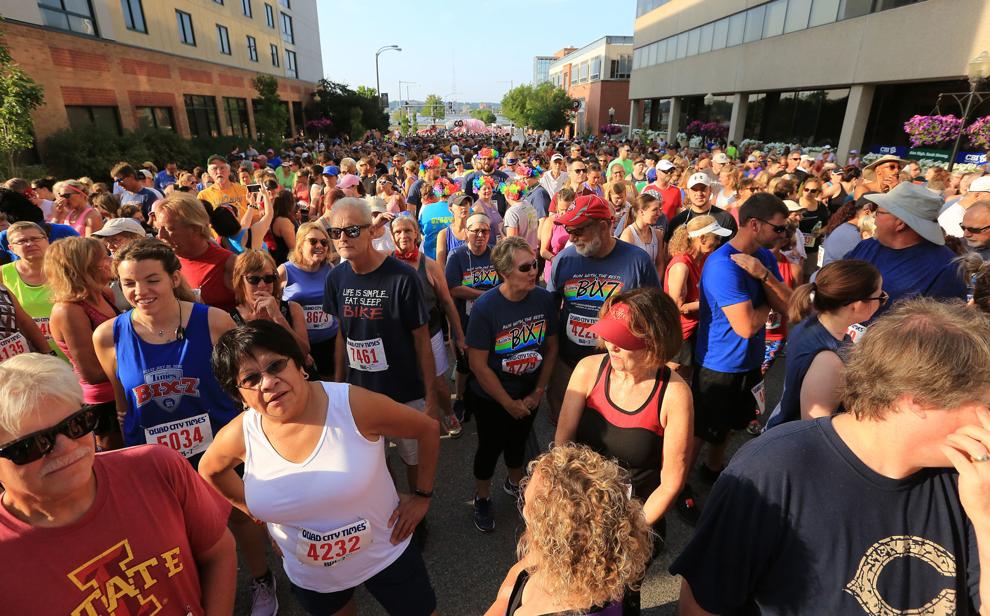 072819-BIX7-KS-012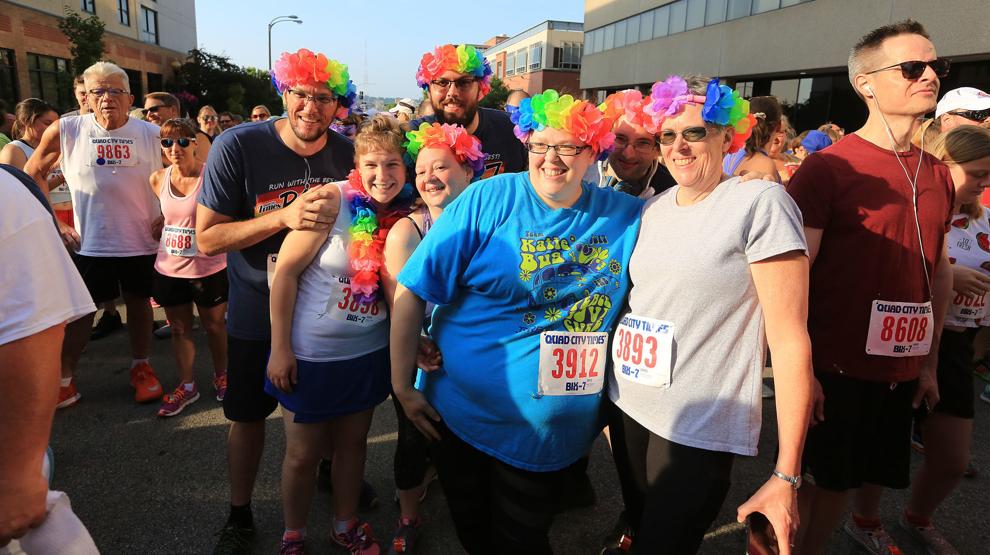 072819-BIX7-KS-013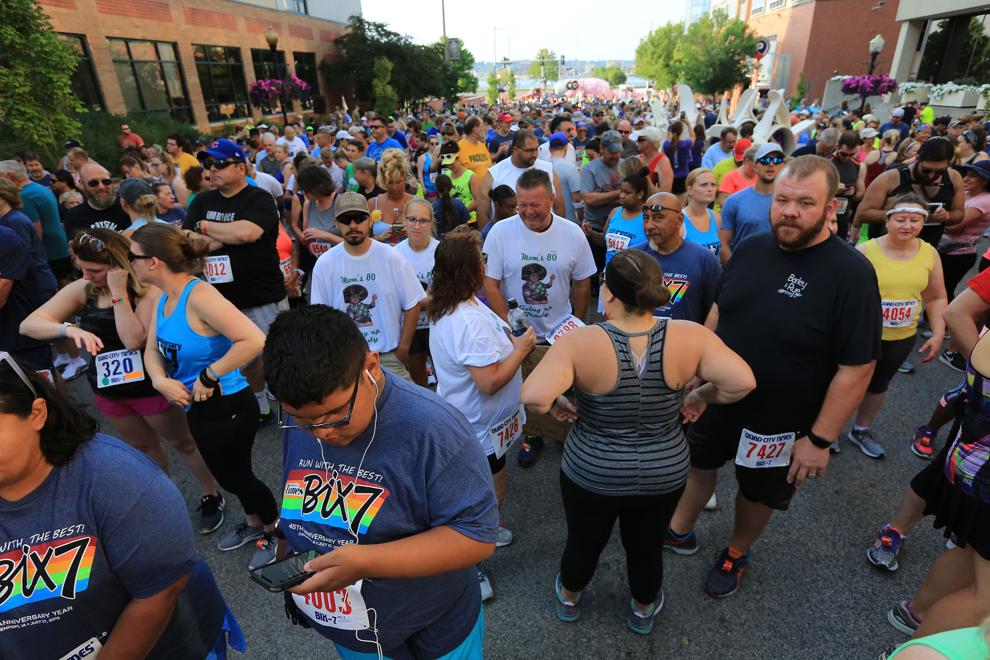 072819-BIX7-KS-014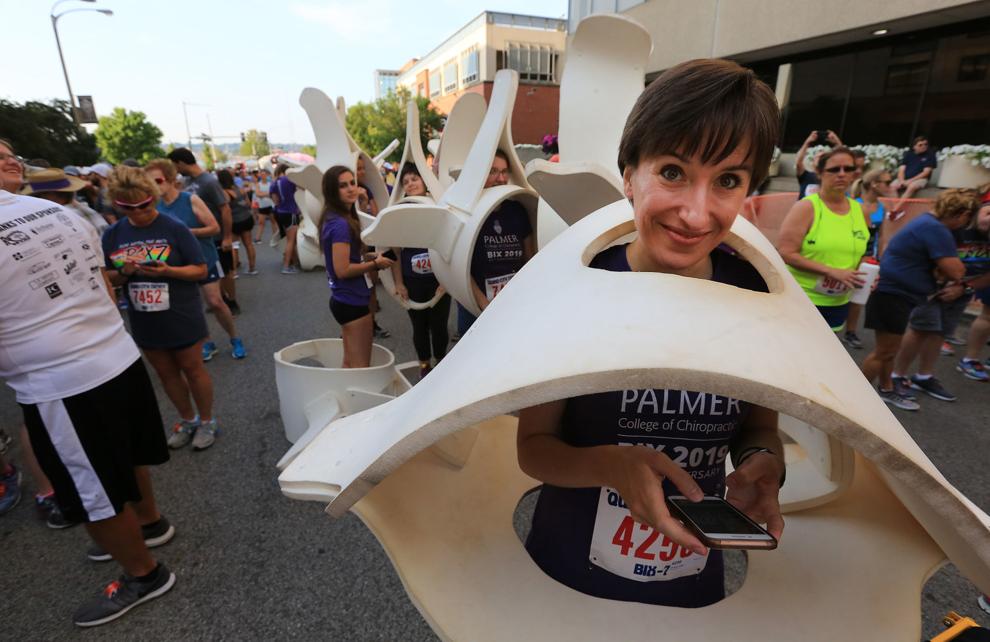 072819-BIX7-KS-015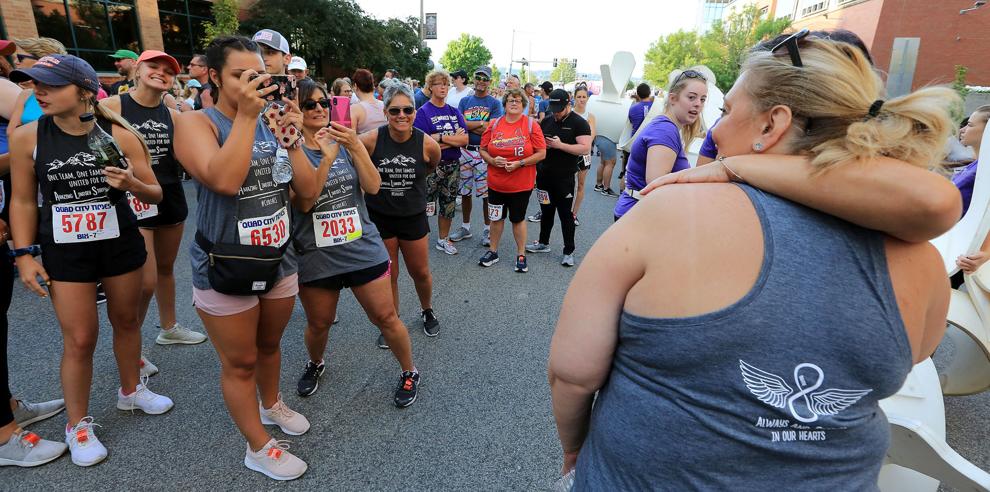 072819-BIX7-KS-016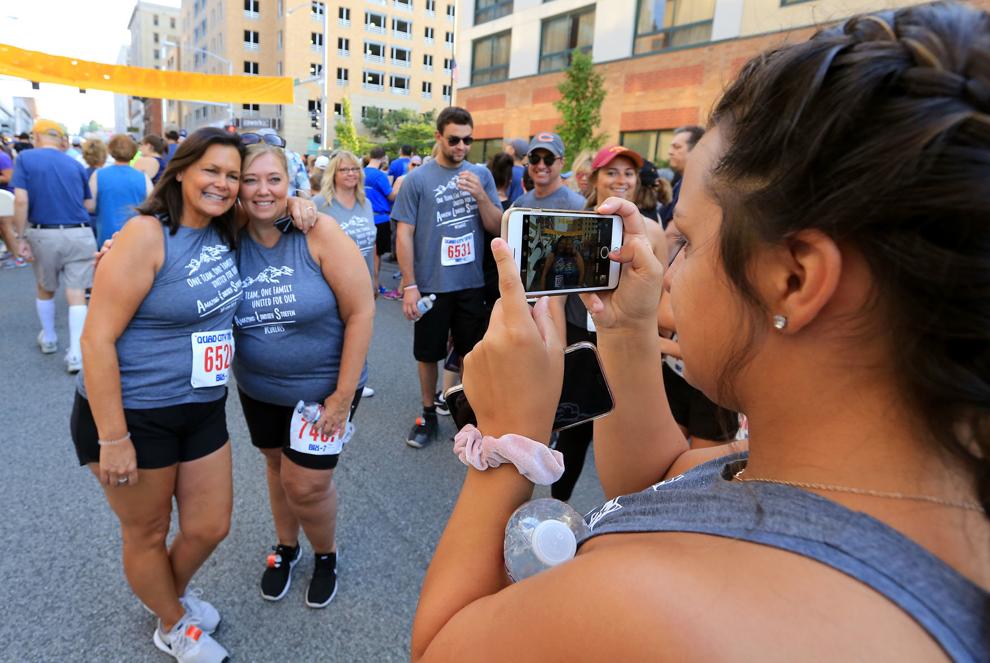 072819-BIX7-KS-017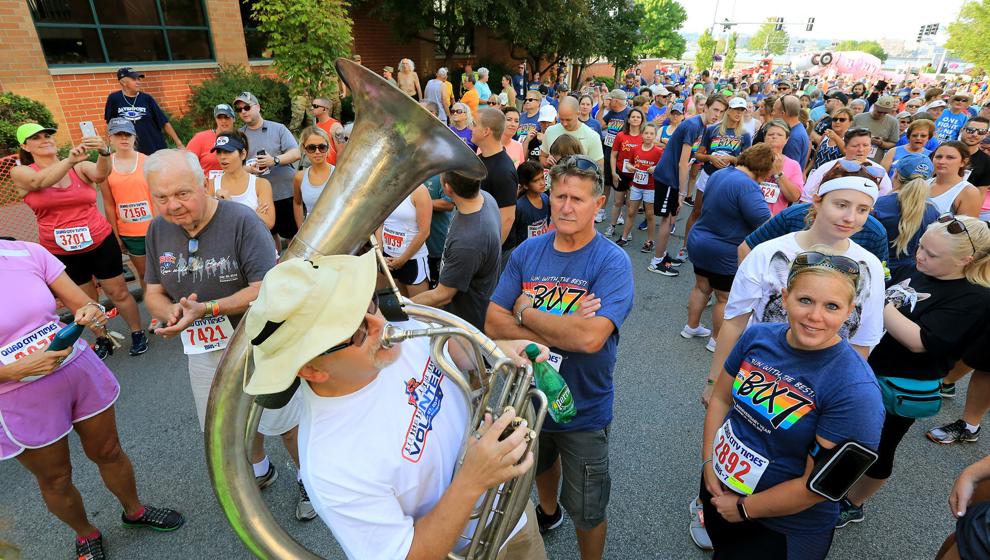 072819-BIX7-KS-018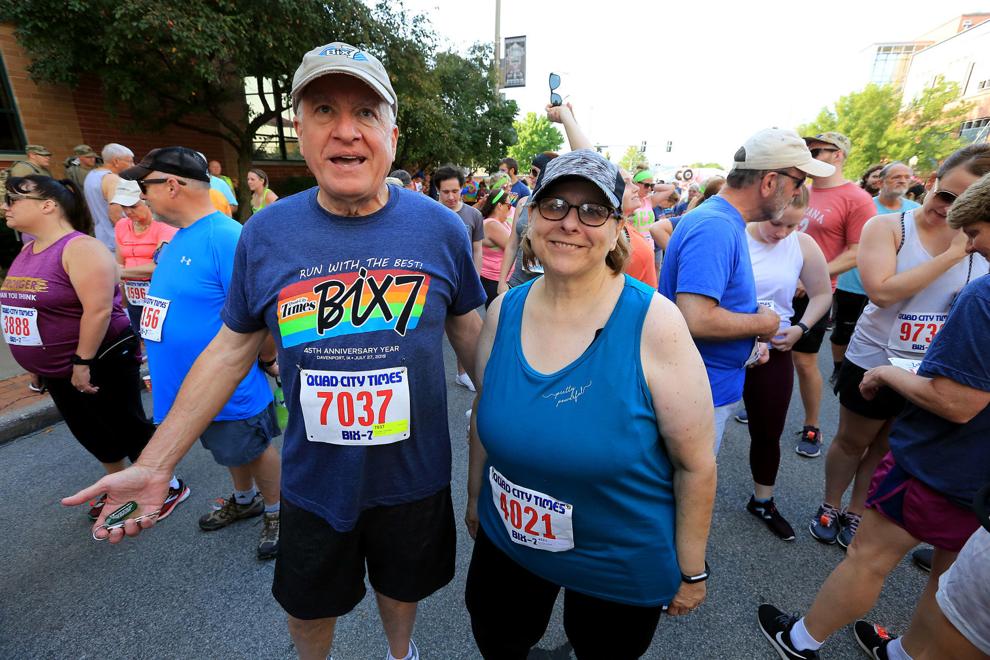 072819-BIX7-KS-019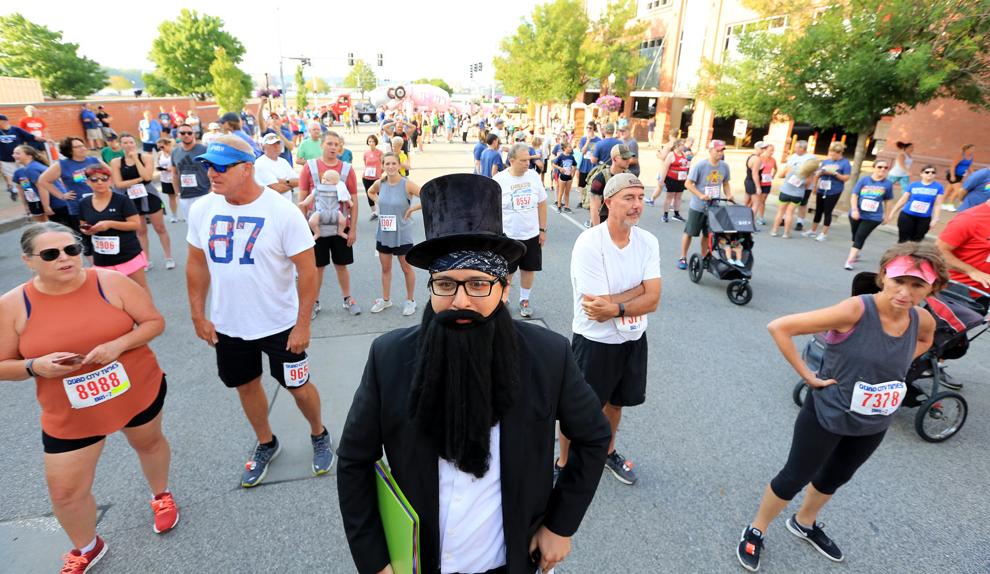 072819-BIX7-KS-020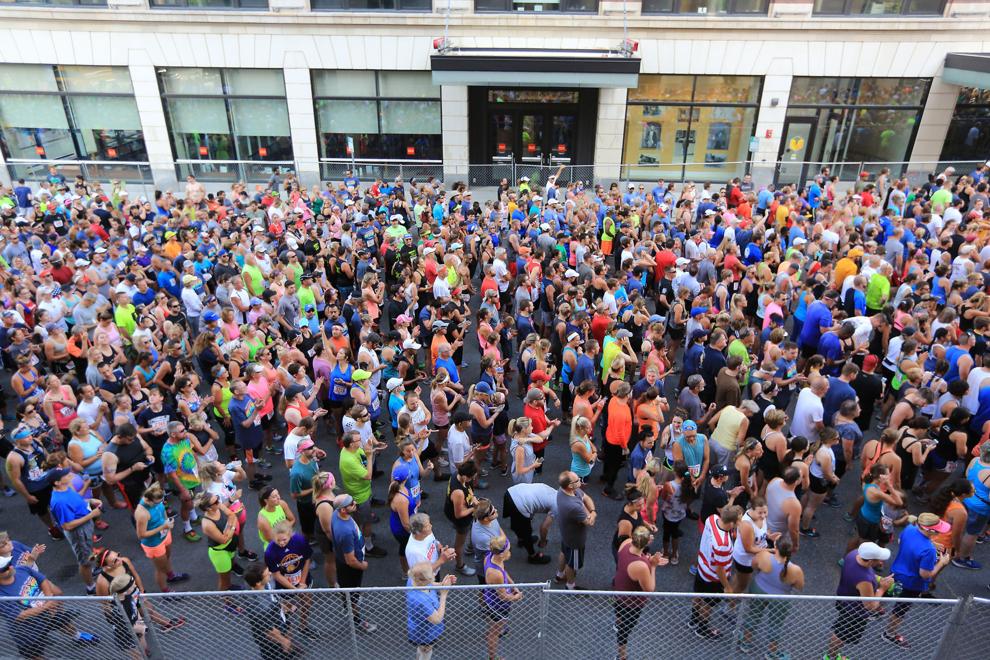 072819-BIX7-KS-021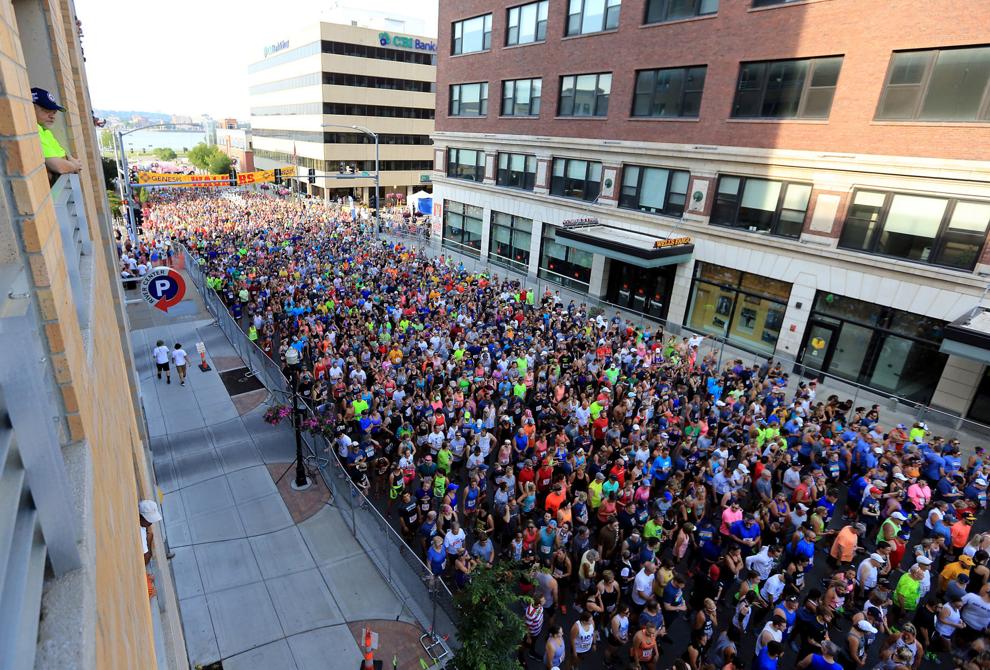 072819-BIX7-KS-022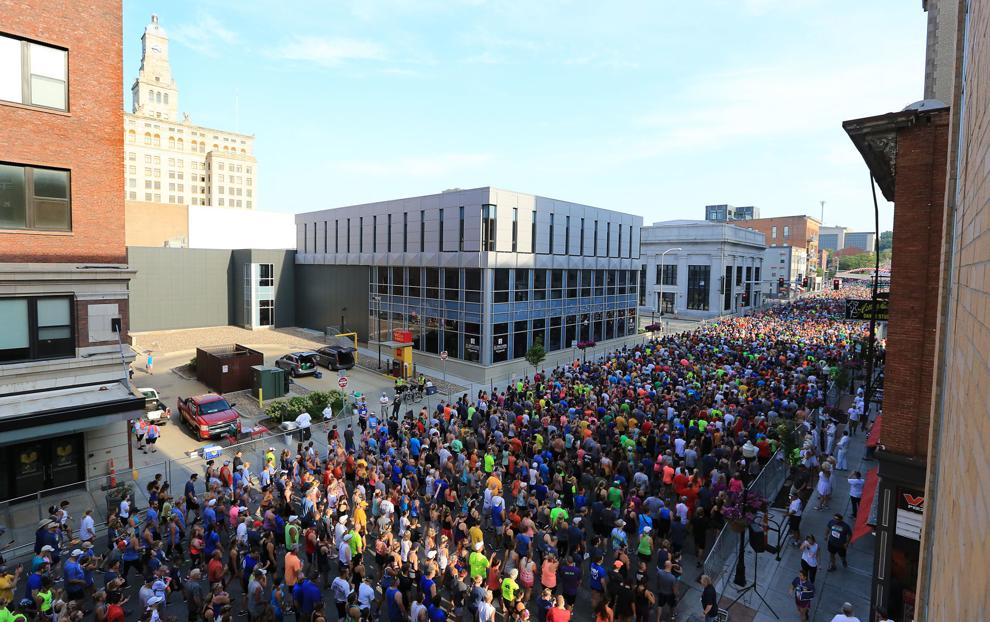 072819-BIX7-KS-023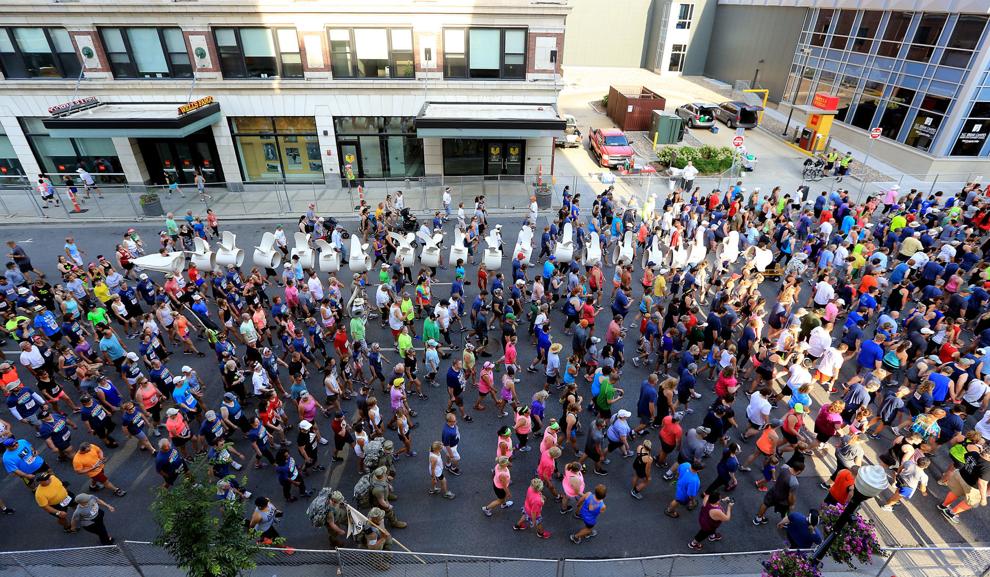 072819-BIX7-KS-024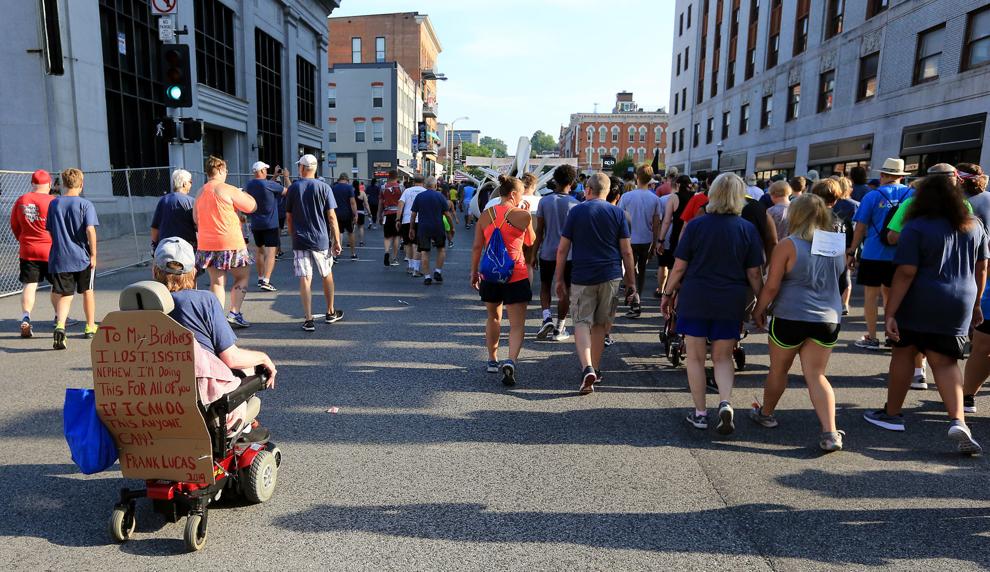 072819-BIX7-KS-025
072819-BIX7-KS-026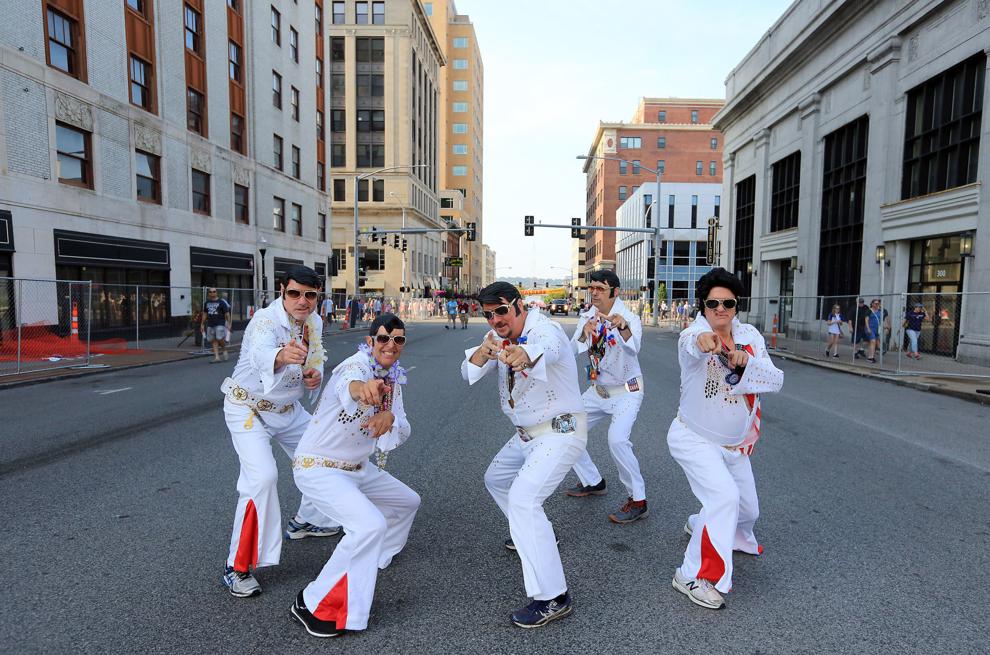 072819-BIX7-KS-027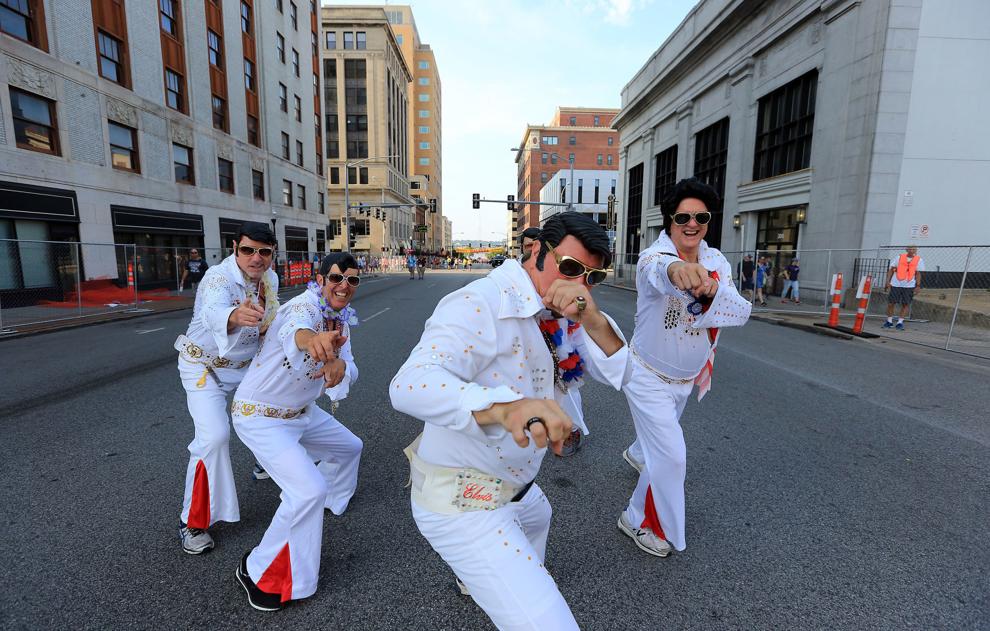 072819-BIX7-KS-028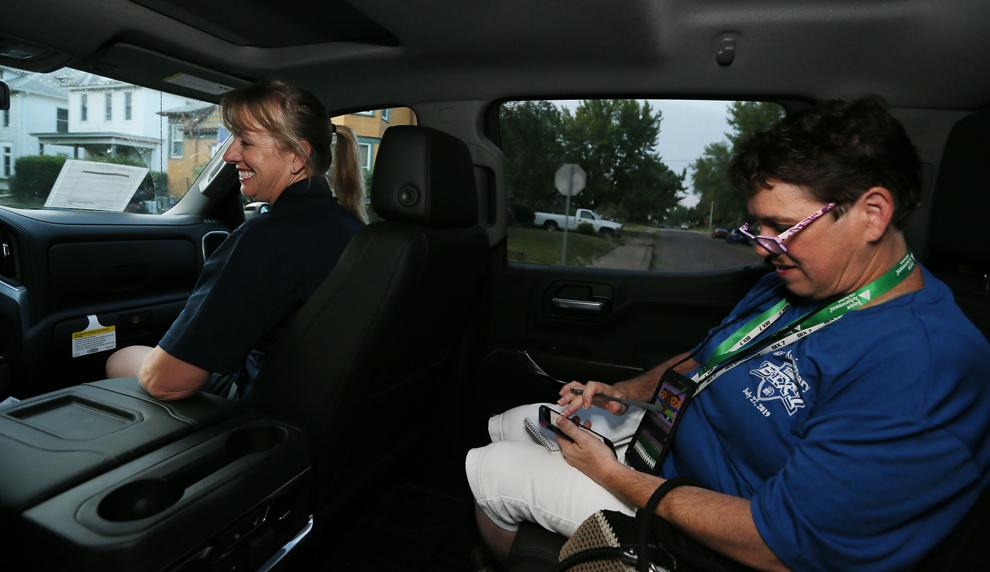 072819-BIX7-KS-029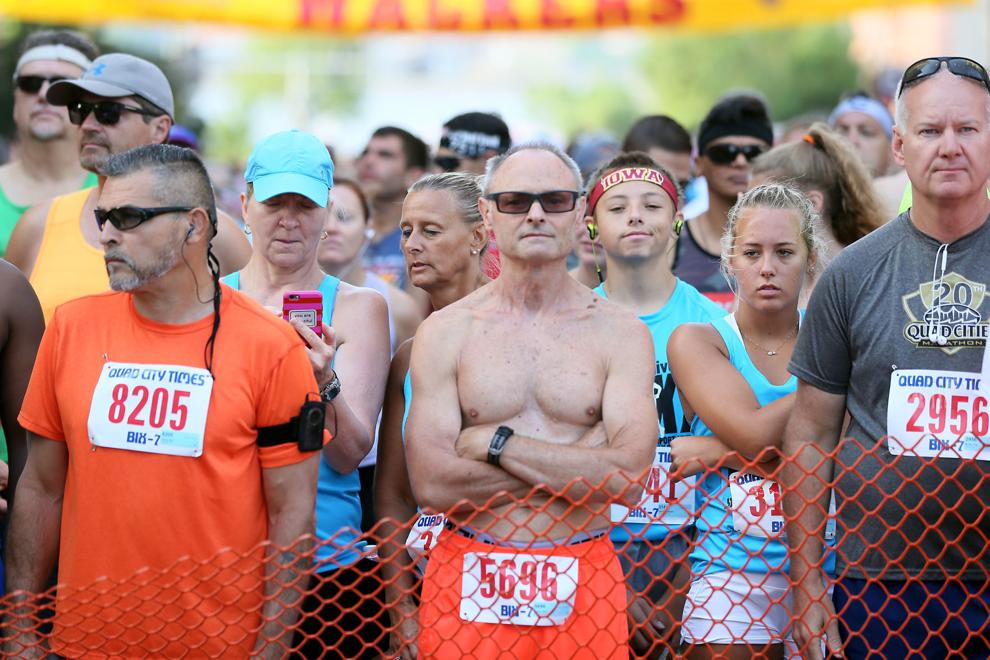 072819-BIX7-KS-030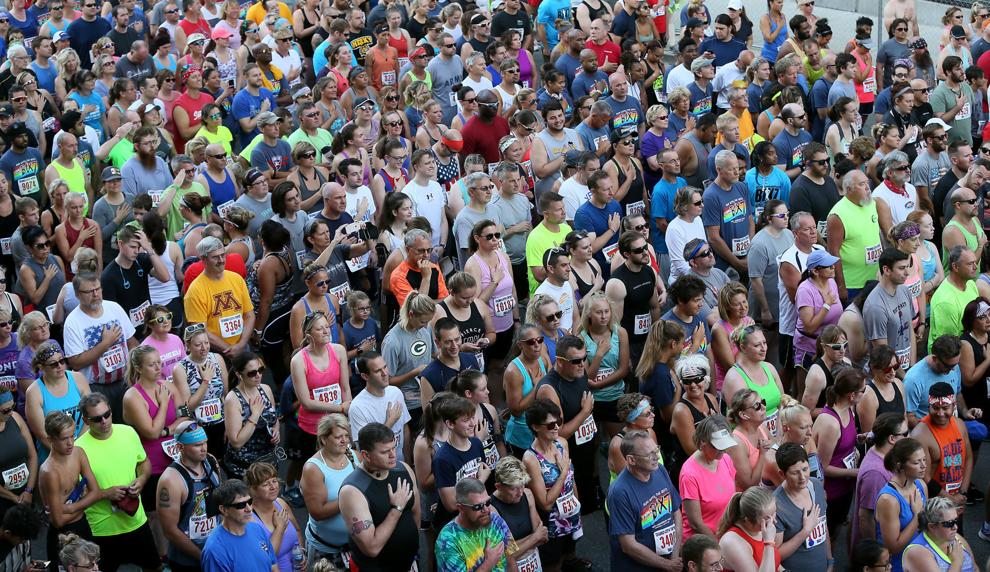 072819-BIX7-KS-031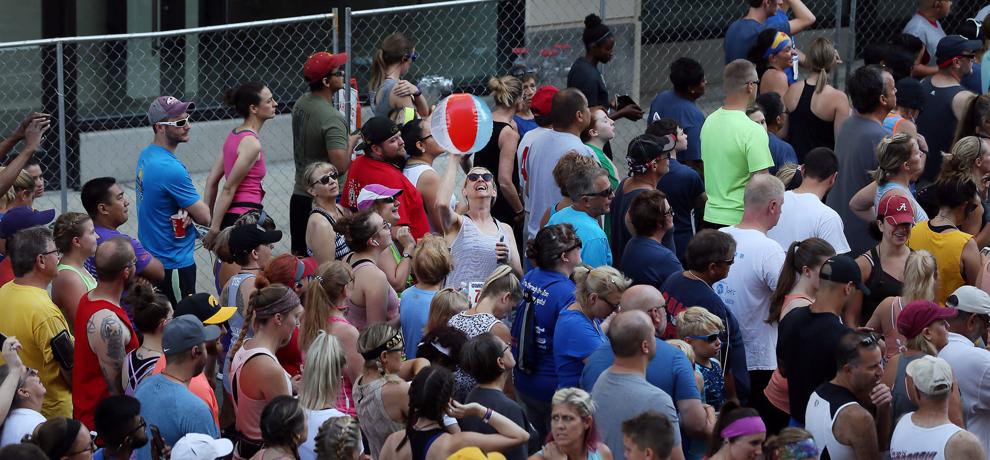 072819-BIX7-KS-032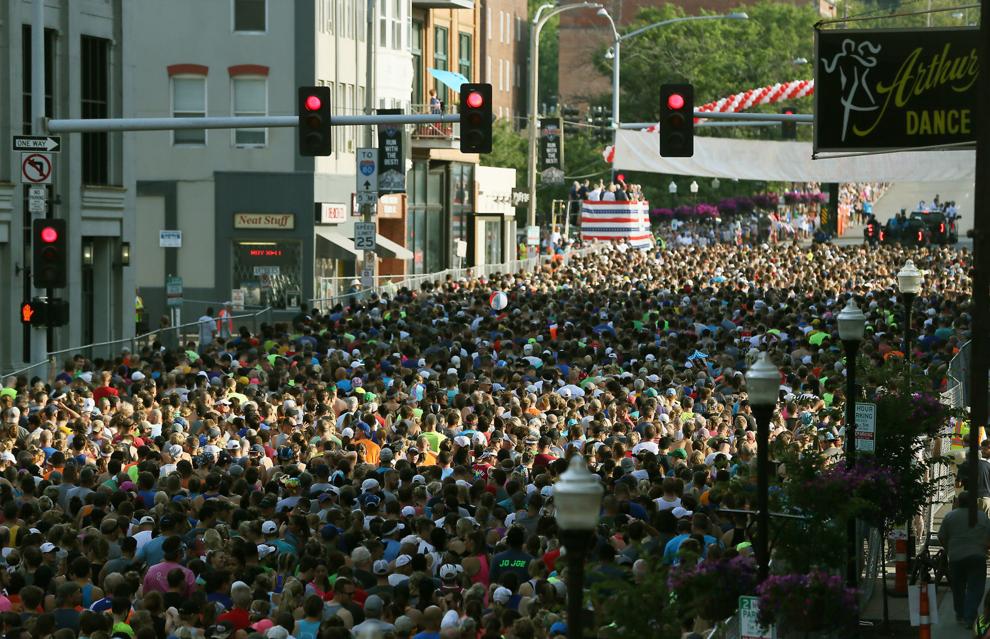 072819-BIX7-KS-033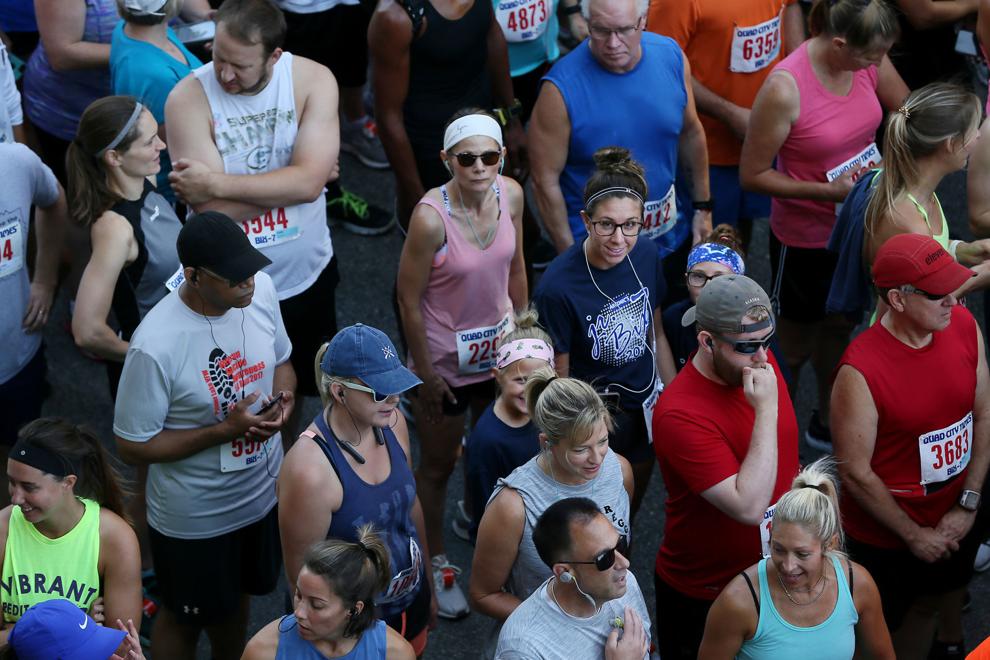 072819-BIX7-KS-034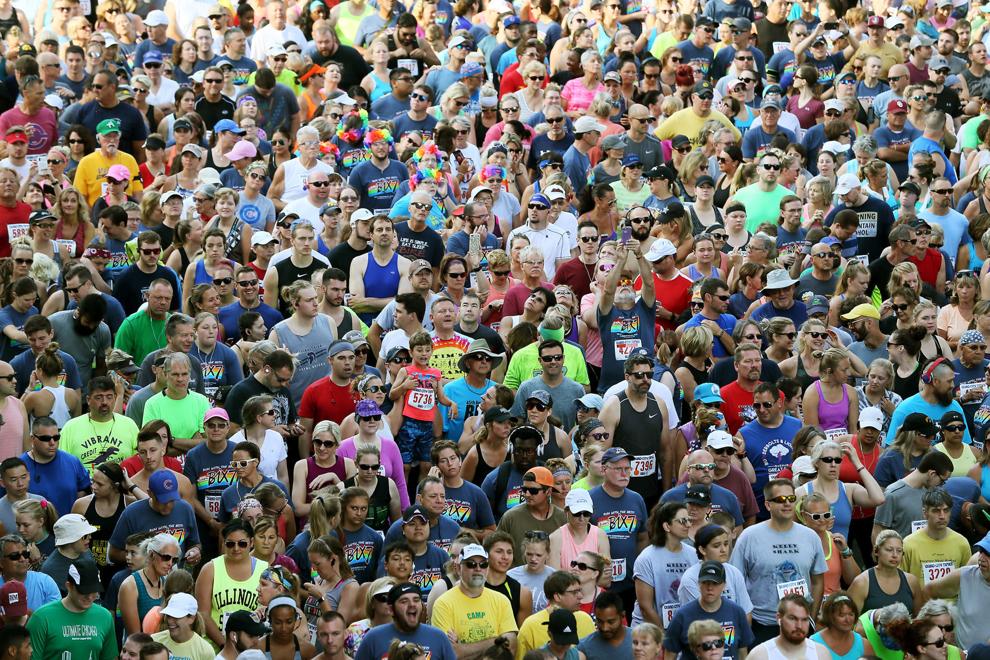 072819-BIX7-KS-035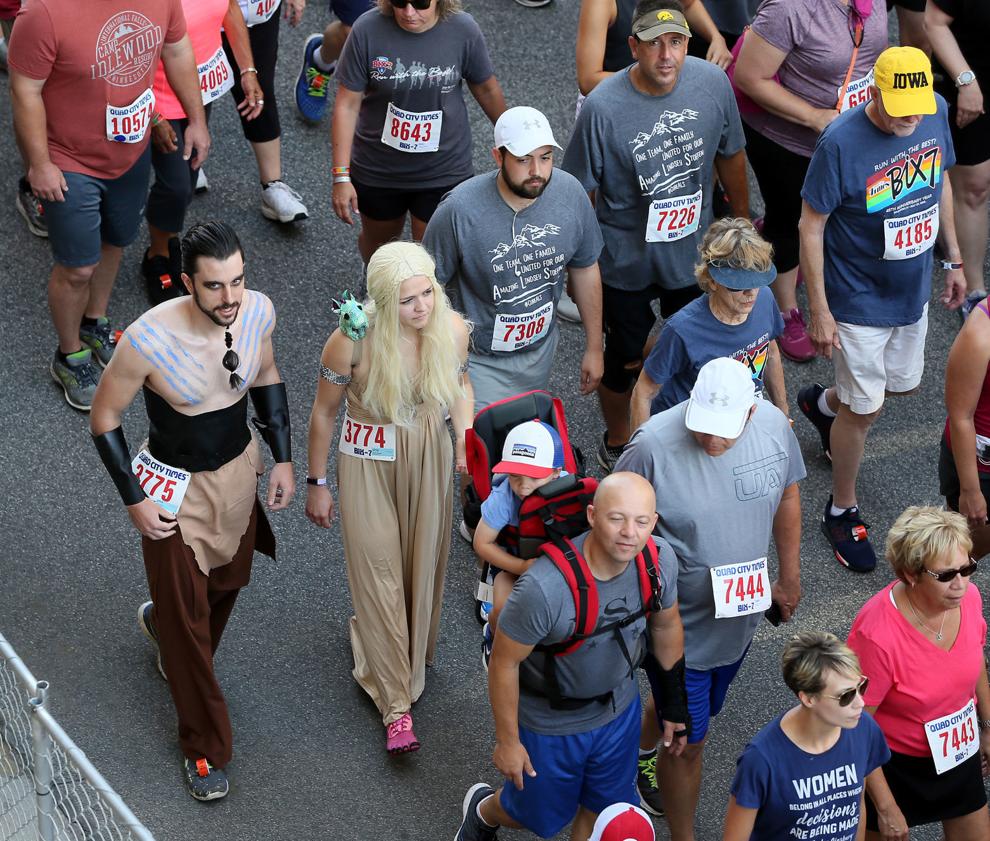 072819-BIX7-KS-036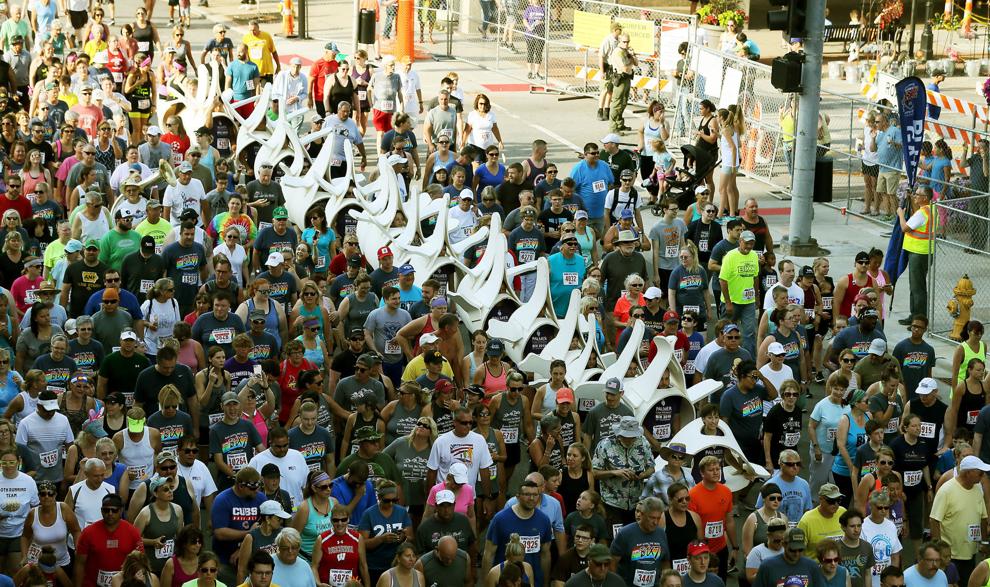 072819-BIX7-KS-037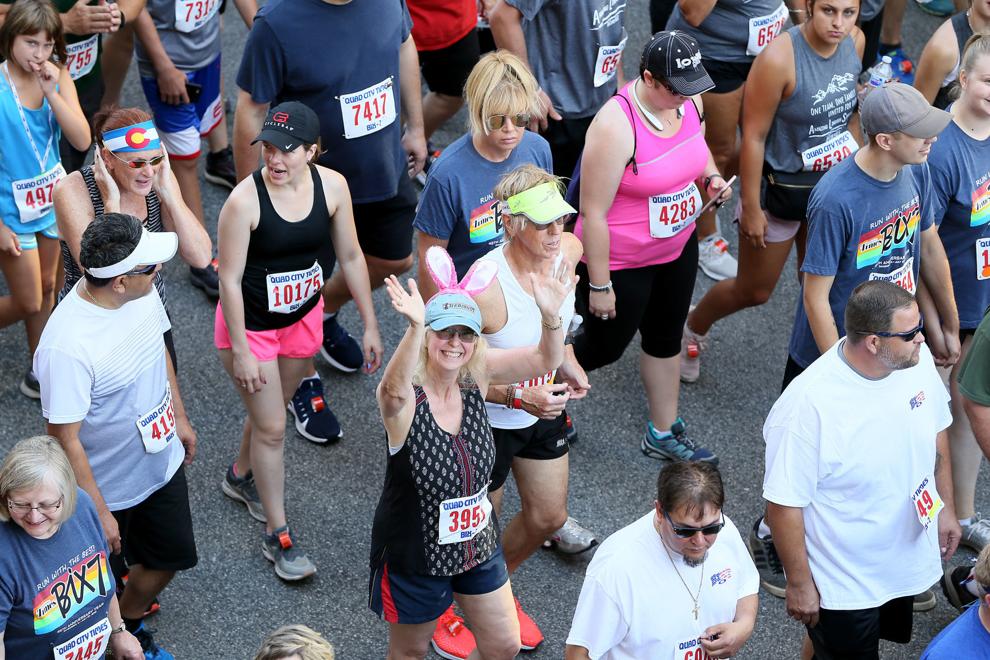 072819-BIX7-KS-038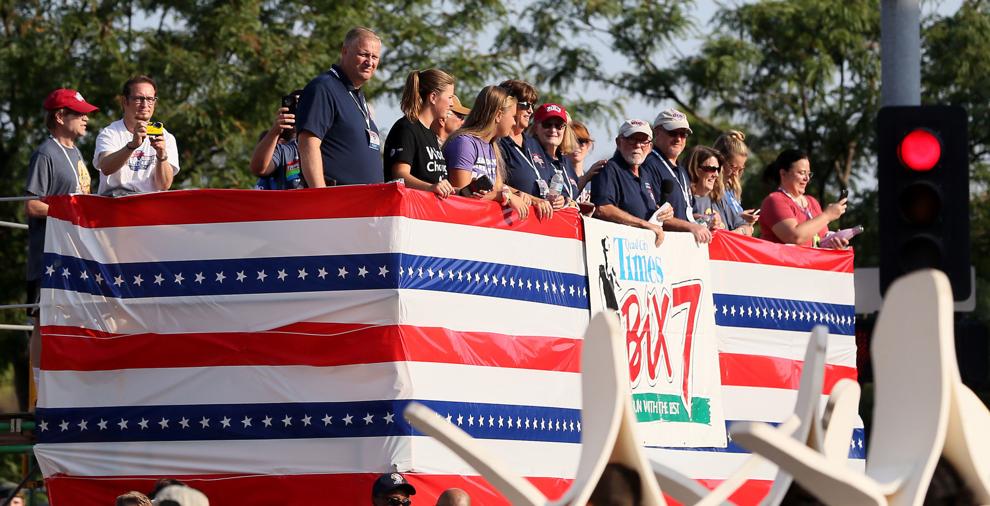 072819-BIX7-KS-039