Stepping outside early this muggy morning we knew: it was going to be a hot, humid Bix day.
The third hottest in the Quad-City Times Bix 7 history, actually.
With more than 9,000 people lining up to the starting line in what was likely the biggest event since COVID-19 made massive crowds a danger, one thing was clear: the Bix was back.
I wrote about my training routine ahead of the 7 mile race. Being a DeWitt native, my family and I loved running (walking) the Bix every year. My uncle often traveled from Houston to visit us, and made a trip of the de facto homecoming weekend. So, when vaccinations ramped up and it became clear the road race would come back this year, I started running to be in the best shape I could be by July 24.
Running a good time, accomplishing a goal, seeing the elite runners, that's all part of the atmosphere. But what I, personally, missed was how it all fit together: how everyone cheers on everyone, the constant stream of booming live and boombox music, the crowds of neon: greens, yellows, pinks, oranges, dogs wanting to meet the runners, the Palmer crew carrying a giant sections of the human spine, the creative signs ("worst parade ever" was my favorite), the Jello shots tent, the Kirkwood water slide, the "Bix press" weightlifters inviting runners to lift colorful weights, and the flavored ice sticks. And, yes, I did do/try pretty much every stop and "do this!" thing on the course. It lengthened my race time, but I had a blast.
Everyone has their own reasons for running or cheering or music-ing on the Bix route. For newcomers, it's a novel experience, for long-timers, it's a tradition, for some it's a homecoming, and for many, running is a way to honor people who aren't here to run it anymore.
Kirk Openchowski, 53, of Bolingbrook, Illinois, ran the race in a purple shirt. On the back in bold white letters read "Forever running with Susan." Susan Walls-Lyons died suddenly while on a shopping trip with her kids in 2011, Openchowski said. He ran cross country with her in high school, and she continued to be an avid runner long after. She had qualified for the 2012 Boston marathon before she died.
Now, he said, her former team comes to the Quad-Cities every year to finish the 7 mile race in her honor.
Ann Sydnor, who lives in Bettendorf and moved from Rock Island, stationed herself on Brady Street and pulled out her phone to record and cheer on a family member running by. She's cheered on cousins, her brother, and friends running in the race for as long as she can remember. One family member dressed up as Little Red Riding Hood and the Big Bad Wolf this year.
And once you run the Bix so many times, you just keep going, said Dennis Griffin, 76, from Davenport. This year, 2021, marked his 41st Bix. Last year his family hosted a party along the empty route for his milestone 40th Bix, which he ran virtually with thousands of other runners during the pandemic.
As for my story, this year I almost ran as Ben Savage, from Saint Charles, Illinois.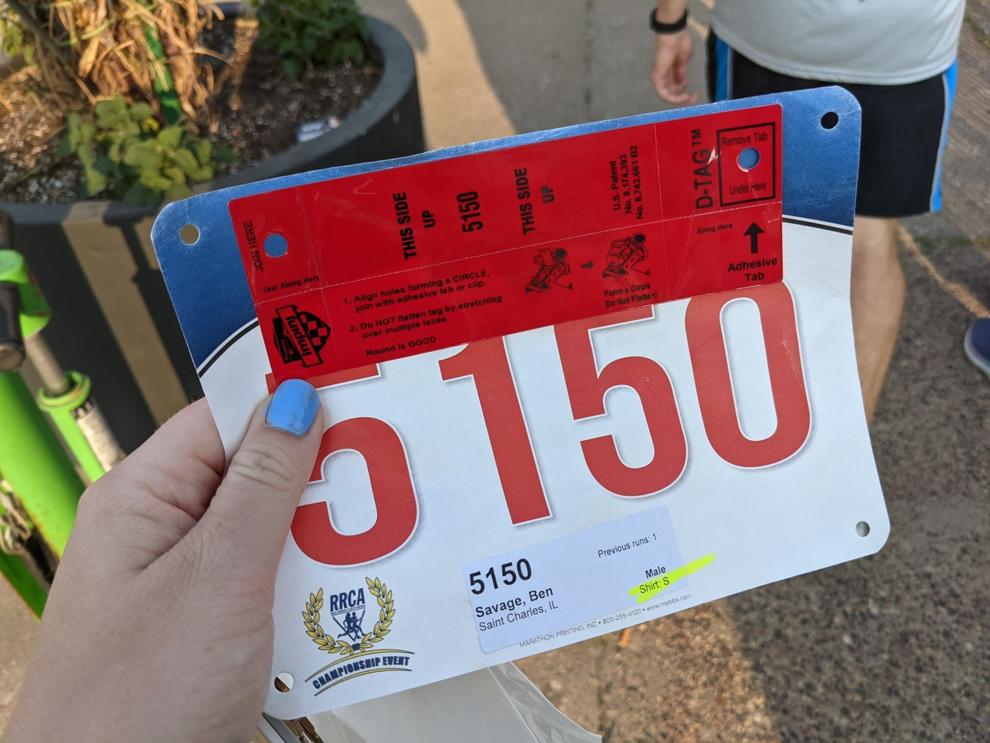 If you're reading this Ben, are you, or are you related to, actor Ben Savage, known as lead character Cory Matthews on 90s sitcom "Boy Meets World?" Ben Savage, the actor, was born in Chicago, according to Wikipedia.
Regardless, I sincerely apologize Ben. My partner and I accidentally picked up your packet (wrong number, I think) and didn't double check it until we hopped in the car on the swampy morning of Bix. Thankfully, registration was still open until 7:30 a.m., so I could at least not impersonate Ben Savage and muddy up his time, which I'm sure would have been much better than mine.
Despite the hot humid confusing start to our Bix race, we lined up with the masses, held our hands over our hearts for the national anthem, and zoom! Took off. Translation: the elite runners took off (so fast). We crossed the starting line a few minutes later.
And a few interviews, bench presses, sprinklers, Jell-O shots, pep bands, and sweaty footfalls later, the finish line thankfully greeted us.