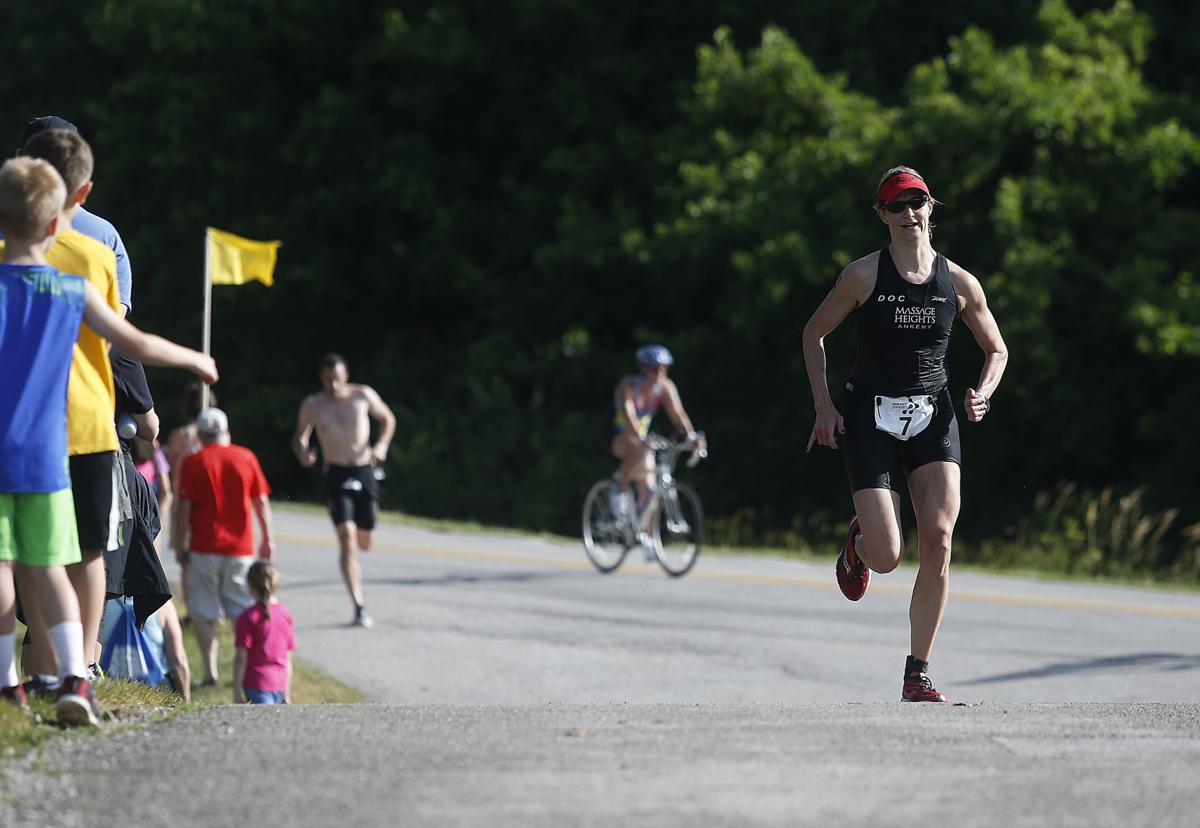 With most big triathlons and summer-time races, all the awards go to the first people to cross the finish line.
The Quad-Cities Triathlon is going to change that when it is held for the 19th time Saturday at West Lake Park. It's going to introduce a new award for someone who had to overcome steep odds or big obstacles just to reach the starting line.
It will be called the Perseverance Award and it's the brainchild of longtime triathlete Christina McNamara-Schmidt, who serves as the event's sponsorship chair.
McNamara-Schmidt knows better than anyone that triathlons attract courageous people and somehow elicit even more strength and courage from those people than they ever knew they possessed.
These events are loaded with folks such as the event's long-time director, Eric Sarno, who had a stroke a few years ago but still is overseeing the triathlon. McNamara-Schmidt said Sarno is exactly the sort of person she wants to honor each year.
"He's a perfect example of someone who has totally persevered and gotten through a lot of challenges," she said.
You can include McNamara-Schmidt in that category, too. Part of her reason for wanting to initiate this award is the ongoing fight she's facing.
Once a highly accomplished triathlete, she has been unable to compete for the past year and may still be a year away from getting back into any sort of race, if she ever can.
McNamara-Schmidt, a 41-year-old Bettendorf resident, began experiencing discomfort in her hamstrings in 2015. However, that didn't keep her from completing Ironman triathlons in Louisville and Wisconsin in the fall of 2016 and making a run at the Wisconsin event again last year with hopes of qualifying for the Kona Ironman World Championships in Hawaii.
But her hamstrings were growing more and more painful. After posting a personal best in an event in Cedar Rapids a little more than a year ago, it became unbearable. She tried all sorts of different treatments, some of which provided temporary relief, but the pain always returned with renewed intensity.
"So I pulled the plug," she said, referring to her Kona quest. "I ended up having hamstring repair surgery."
That was in November. After that, she developed what she describes as "a very rare sort of staph infection."
"They actually found it at Mayo, but the procedure they wanted to do would have left me orthopedically and athletically not able to do anything," McNamara-Schmidt said. "They wanted to take my hamstrings down and take the anchors out."
Instead, she ended up at the Hospital for Special Surgery in New York, where surgeons removed diseased tendons and bones, and alleviated pressure on her sciatic nerve.
She's on the road to recovery now, although she still may face another surgery on her hip next month. It pains her that she will have to be a spectator for her hometown triathlon for the second year in a row.
"I never thought I would be at the starting line volunteering again this year, but it is what it is," she said.
In the meantime, she has come up with this award as a way to recognize others who have endured similar hardships in a quest to keep competing.
The first recipient has been selected from among nominees submitted through the triathlon's website and will be announced at the 10 a.m. awards ceremony Saturday. The winner will receive a gift basket including a $150 gift certificate for shoes from Fleet Feet.
McNamara-Schmidt will present the award herself. She's hoping next year to be out among the competitors, however.
"My goal is to complete, not just compete in, the Quad-Cities Tri in 2019," she said.
The local event is fairly tame compared to Ironmans, which involve a 2.4-mile swim, a 112-mile bike ride and a marathon. The Quad-Cities Triathlon only requires competitors to swim 600 yards, bicycle 15 miles, then run 3.1 miles.