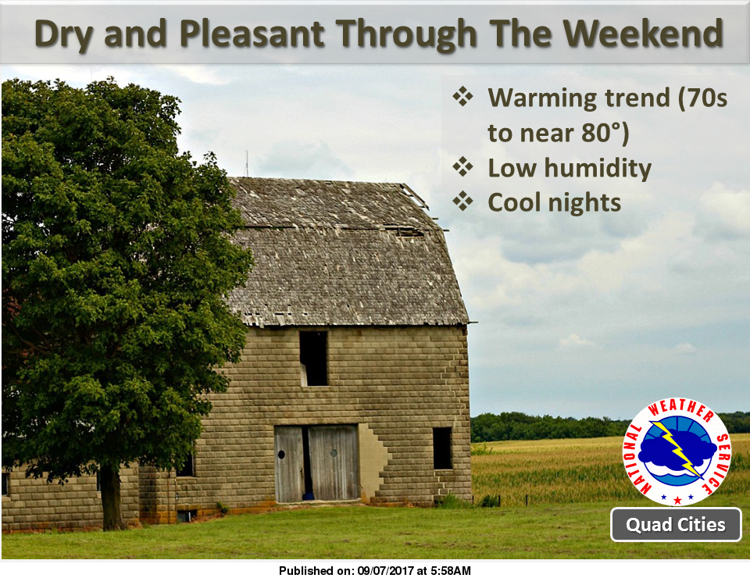 Here's the afternoon forecast from the National Weather Service. It will be partly sunny with a high near 71 degrees. West winds will be between 5 to 15 mph.
Tonight will be mostly cloudy with a low around 50 degrees.
• Rock Island native Madison Keys faces CoCo Vandeweghe at 7:15 p.m. tonight in the semifinals of the U.S. Open. The winner will play in the championship round this weekend.
• Ever wonder what the Davenport riverfront looked like in the 1930s before the interceptor sewer and seawall were built? Check out these photos.
• It's family day at the Hawkeye 10@10. As the Iowa-Iowa State game nears, it's all about players who find themselves on both sides of the rivalry and more. Your daily dose of Iowa news and notes is back to work today as Cy-Hawk week begins, delivered at 10 a.m. each weekday at Hawkmania.com, your home for all things Iowa Read more.
Hospital visit ends with $100,000 lottery win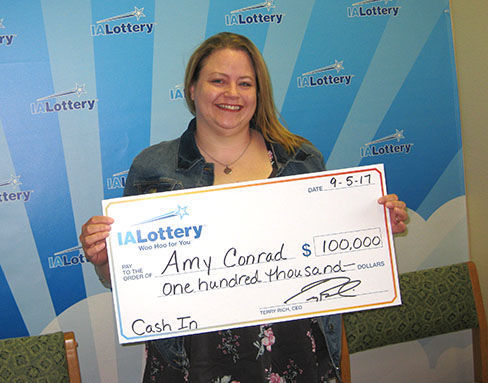 A Davenport woman has claimed a $100,000 prize in an Iowa Lottery scratch game after stopping on the way home from a trip to the hospital.
Amy Conrad, 31, won the fifth of eight top prizes of $100,000 in the "Cash In" game, the lottery said in a news release. She claimed the prize Tuesday at the lottery's regional office in Cedar Rapids.
She told lottery employees that one of her sons had accidentally kicked sand into her other son's eyes on Sunday, so she took him to the hospital to be checked out. Her son was fine, and on their way home, they stopped at Casey's General Store, 3700 W. Locust St., Davenport.
"To make up for all the pain he had to go through, we stopped at Casey's," Conrad told lottery employees. "For some reason, I just decided, 'Hey, you're lucky today. You're not going blind. Pick a number between one and 16.'"
The numbers corresponded to the 16 different scratch games that Casey's had for sale.
"He picked a number, they didn't have it," she said. "He picked another number, and that was the ticket I bought and that we won on."
Conrad said she will use the money to pay bills and for a family vacation. Cash In is a $10 scratch game.