Waste Commission Of Scott County
11555 110th Ave
Davenport
,
IA
52804
Last Updated: April 13, 2015
| | |
| --- | --- |
| Sunday | Closed |
| Monday | |
| Tuesday | |
| Wednesday | |
| Thursday | |
| Friday | |
| Saturday | Closed |
About Waste Commission Of Scott County
More than 30 years ago, Waste Commission of Scott County was formed to make sound solid waste management decisions regarding landfilling, source reduction, material reuse, recycling, composting and energy recovery. As an inter-governmental agency, our members include 17 communities and Scott County that share our mission to provide environmentally sound and economically feasible solid waste management.
Accepts:

Cash

Check

Discover

MasterCard

Visa
Tags:
waste commission of scott county, recycle, recycling, medication disposal, electronic waste, mercury disposal, scott county landfill, scott county recycling center, scott county waste, scott county recycling, bettendorf recycling, davenport recycling, computer recycling, paint disposal, tv disposal, hazardous waste, hazardous material, environmental education, litter, illegal dumping, clean ups, event recycling, environment , recycling center tours, environmental grants, quad city recycling, quad city environmental,

Waste Commission of Scott County
is a 28E, inter-governmental agency that was established in 1972 and reorganized in 1990. Our members include 17 communities and Scott County.
The Waste Commission of Scott County offers several public education and resource opportunities.
Residential | Business & Industry | Outreach
Watch our videos online
Learn more about our recycling centers County
Learn how our landfill was built
Learn about our hazardous material program
Learn what happens to your garbage
Learn about our electronic recycling program
Residential Services
Waste Commission of Scott County offers a variety of services, programs and resources to residents of Scott County, Iowa and Rock Island County, Illinois. Rock Island County Waste Management Agency contracts with the Commission to provide free disposal services for household hazardous material and electronic waste (e-waste) for residents of Rock Island County. For more information about other waste-related services in Rock Island County, Illinois, visit www.ricwma.org.
The Commission provides programs for proper disposal and/or recycling of: municipal solid waste, construction and demolition material, asphalt shingles, electronic-waste, appliances, scrap metal, tires, pesticide containers, medical sharps, household hazardous materials, compact fluorescent lights (CFLs) and more.
The Commission does not provide any residential collection services for waste or recyclables. Those services are provided by the city or a private contractor.
Business & Industry Services
Waste Commission of Scott County has several programs and resources to assist business and industry in the Quad City area.
Electronic Waste
The Commission's Electronic Demanufacturing Facility recycles e-waste such as computers, monitors, copy machines and more and shreds hard drives for data security.
Hazardous Material
The Commission's Conditionally Exempt Small Quantity Generator program helps businesses properly dispose of hazardous materials.
Recycling
The Commission and the Scott County Health Department offer five drop-off recycling locations throughout Scott County for the paper products, cardboard and recyclable containers small businesses may generate. The Commission does not provide collection services, but we can refer you to hauling companies and provide additional resources for implementing a recycling program.
Resources
The Commission continually updates its list of resources to help businesses go green. From starting a recycling program to scheduling a waste audit to discovering ways employees can get involved in environmental activities in the community, we've got you covered.
Special Waste
The Commission accepts special waste from businesses, which requires additional or specific handling for proper disposal. This includes hazardous waste, potentially infectious medical waste, industrial process waste and pollution control waste.
Outreach
Waste Commission of Scott County has made public education a priority.
Tours
We provide tours of all Commission facilities, including the Scott Area Landfill, Scott Area Recycling Center, Electronic Demanufacturing Facility and Household Hazardous Material Facilities free of charge. Click here to request a tour.
Grant Program
The Commission recently instituted a grant program for Educational Institutions, Member Communities and Local Non-Profits. We accept applications on an ongoing basis and fund projects, programs, events, curriculum, etc. related to solid waste and the environment. Funding derives from user fees.
Educational Resources
In addition to providing tours and funding for Educational Institutions, the Commission also houses an Environmental Education Library full of resources for further learning on topics related to solid waste and our environment. We are always adding to our library. If you have found a resource helpful that we do not currently have in our library, let us know and we will try to add it per your suggestion.
iLivehere®
Waste Commission launched iLivehere on Earth Day, 2008 as our environmental outreach program. We created it to empower you with information, activities and resources for becoming a better steward of our environment. Through our iLivehere program, we provide cleanup supplies, such as bags, gloves, litter tongs and safety vests free of charge to local groups organizing cleanups. Groups that would like to care for an area on an ongoing basis are encouraged to participate in our MAKE it YOURS program.
Event Recycling
The Commission also provides event recycling containers free of charge through our iLivehere program. Think of all the bottles and cans that are generated from a festival or large event! Many of those are thrown in garbage cans and taken to a landfill if no recycling bins are available. You can Recycle at Your Next Event.
Facilities
Waste Commission of Scott County operates four facilities, which offer several environmental protection programs and services to residents of Scott and Rock Island County. Although we are an inter-governmental agency, we are not funded by tax dollars. Our facilities operate solely through tipping fees, the fees charged for processing materials.
The four facilities Waste Commission operates include:
Scott Area Landfill
11555 110th Avenue
(County Road Y-48, Buffalo)
Davenport, IA 52804
563-381-1300
Open 7:30 a.m.-3:30 p.m. M-F and 8-noon Saturday.
In June, July and August the Landfill is open Mondays until 6 p.m.
Scott Area Recycling Center
5640 Carey Avenue
Davenport, IA 52807
563-386-9575
Open 7:30 a.m.-4:00 p.m. Monday-Friday.
Household Hazardous Material Facilities
11555 110th Avenue
Davenport, IA 52804
and
5640 Carey Avenue
Davenport, IA 52807
563-381-1300
Open by appointment only. Make an appointment online.
Electronic Demanufacturing Facility
1048 East 59th Street
Davenport, IA 52807
563-823-0119
Open 7:30 a.m.-4:00 p.m. Monday-Friday.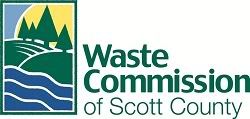 Is this your business?
Promote your business through our innovative Marketplace system! It's free to sign up!