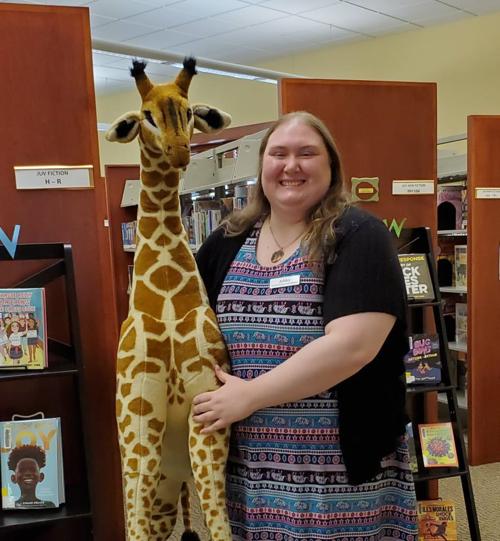 Changes are coming to LeClaire Community Library!
We recently welcomed a new Youth Services Coordinator, Ashe Martin, an Augustana grad and a former employee of Silvis Library.
Weekly Storytimes have resumed and will continue outdoors on the Library Plaza each Friday morning at 10:30 a.m., while the weather permits. As a special bonus, Ashe will host "Virtual Storytime LIVE!" on the LeClaire Library Facebook page each Tuesday morning at 10:30 a.m.
In October, our popular "Grab N' Go" take home kit for kids will include materials to make a Sugar Skull Tissue Paper Collage while learning a little about Mexico's Day of the Dead. Available while supplies last.
Ashe is planning a variety of programs inside the library this October. In the new Hands-on Art History program, children ages 6 and up will learn a little art history each month, beginning with a craft based on Edvard Munch's famous painting "The Scream" Oct. 19. Monthly LEGO Club is starting up again on Wednesday, Oct. 13 at 4 p.m. In CreaTEEN Crafts on Oct. 25, teens will create string art with a spooky vibe for Halloween. Lazy Crafternoons is geared towards older children and adults and will start off creating Halloween Luminary Jars on Oct. 18.
Other programs will include re-starting our adult book club, on the last Tuesday of the month. There will also be table-top game clubs for Young Adults and adults, and a very special Doki Doki Anime Club. Attendees can watch Japanese animated films, called 'anime.' This month we will show films of Junjo Ito. Feel free to come in costumes.
For dates and times, please check the LeClaire Library Facebook page, website (leclairelibrary.org) or call 563-289-6007. Some programs will require reservations.
LeClaire Library is offering free online learning resources through our website. Transparent Language is a language-learning tool that offers practice in over a hundred languages. Chinese, French, Italian and Spanish are available in special KidSpeak courses for children. HelpNow from Brainfuse is a homework assistance and tutoring service. Patrons of all ages can access one-to-one tutoring, intensive writing assistance, test preparation, collaborative learning and self-study tools, and much more.