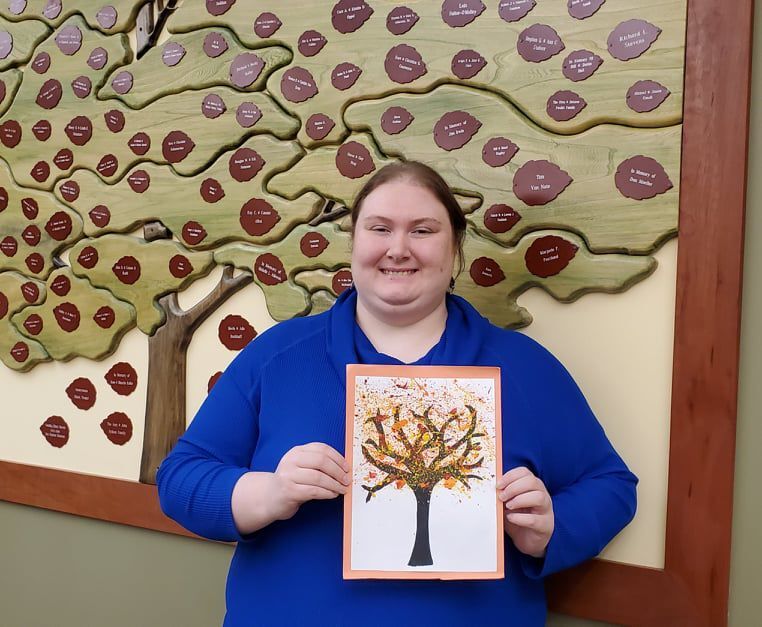 LeClaire Community Library's new Youth Services Coordinator, Ashe Martin, is using her Augustana Art History major in our new monthly program, Hands-On Art History.
Each month a new artist or art movement is featured with an interactive craft. You not only get to learn a little art history, but you get to put that knowledge to use in each unique hands-on craft that you can take home. Each craft is adaptable to your age or skill level. No wonder this program is quickly gaining popularity with all ages.
In October, Ashe began with a scream of a craft, featuring Edvard Munch's The Scream. Everyone got to make a personalized picture with their best scream face. November's program was a fun mess with a Jackson Pollock inspired Splatter Paint Tree.
The next Hands-On Art History program is at 4 p.m., Monday, Dec. 13, where you'll learn a little about Georges Seurat and pointillism, a technique of painting in which small, distinct dots of color are applied in patterns to form an image. Then you will create your own Seurat-inspired Winter Landscape.
In the coming months, look for programs featuring Japanese print artist Hokusai, Rembrandt, James McNeill Whistler, and Vincent Van Gogh.
Other monthly programs include Crafts Around the World, with a new take-home kit each month highlighting traditions from around the world. In December you can make a Christmas pickle ornament, a tradition that comes to us from Germany.
Full STEAM Ahead is a monthly program which focuses on Science, Technology, Engineering, Art and Math. This month kids created clouds in a jar, and next month will be "Santa Science."
Lazy Crafternoons in December will create upcycled Holiday Tree Book Art. There will be some surprise activities throughout December for any child who wants to be an elf-in-training.
This month we will also begin our TechConnect series to help our patrons access the online resources LeClaire Library offers. On Nov. 29 we will learn to download e-books and e-audiobooks.
Later TechConnect programs will feature online homework help, resume help, and foreign language learning resources accessible through our website.
Be sure to check our Facebook page and our website at leclairelibrary.org for more information. From tabletop gaming groups to cool science experiments to even learning about other cultures through crafts, there are lots of fun and new programs on LeClaire Library's schedule.