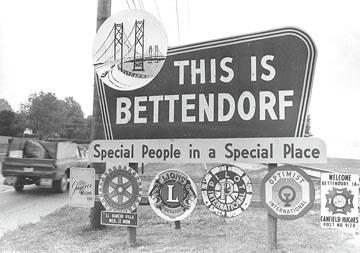 Bettendorf touts itself as a "Premier City" these days, but it's mottos, both official and unofficial, throughout the city's 104-year history:
"Iowa's Most Exciting City"
Harry Ryder, editor of the Bettendorf News 1961-72, captured the essence of the rapidly growing city with "Bettendorf, Iowa's Most Exciting City," which stuck until 1975. He described the paper as a "relatively independent newspaper."
In the early 1900s Davenporters looked indulgently at Bettendorf's incorporation as a city. Conventional wisdom predicted that Bettendorf would one day become known as a bedroom community (or suburb) of Davenport. Happily for Bettendorf, that prediction failed to come true.
The Bettendorf Bulldogs established a football championship dynasty beginning in 1960 when the UPI named the team the Iowa State Champs, or mythical state champs. The Bulldog team, led by Head Coach Merrit Parsons, won 26 games without a loss that season.
The Bulldogs claimed the Iowa 4A State Football Championship in 1981, 1987, 1988, 1991, 1992, 2004 and 2007.
The Pleasant Valley Spartans took home the trophy and 4A championship in 1985.
"Birthplace of the Monocoupe Airplane"
Take a pile of scrap, an oil drum or two and a downed bi-wing airplane and what do you have? Most people would shrug and say nothing. But Don Luscombe, a flier who wanted to keep his hair tidy, had other ideas He sketched out an idea for an enclosed cockpit airplane at Bettendorf' Wallace Airfield, and the idea for the Monocoupe airplane was launched in 1926. Fliers, including aviator Charles Lindbergh, caught the enthusiasm for the midget-sized two-seater with its high overhead wing. Later models were used for establishing new speed records.
"The Home of (Wholesale) Sliced Bread"
The Micro Machine Co., owned by Joseph Bettendorf, put its stamp on bread slicers and made it possible for home makers to enjoy the convenience of sliced bread, wrapped up to stay fresh.
"Save the Memorial Bridge"
In 2002-03 members of the grassroots Save the Memorial Bridge Committee expressed their concerns at saving the twin Interstate 74 suspension bridges that connect Bettendorf to Moline.
"Industry, the Backbone of Bettendorf"
The 1961 Bettendorf News heralded giant J.I. Case plant and other companies such as Bettendorf Bakery Equipment, Donohoo Steel Treating Co. and Iowana Farms Milk Co. that provided industrial taxes and jobs for the city for several decades.
Remember the Big Bettendorf Bonanza "Ridiculous Days" offered by merchants in downtown Bettendorf. A 1963 advertisement in the Bettendorf News stressed "the bargains, fun, costumes and sidewalk selling all designed to give customers quality merchandise at ridiculously low prices.
A few of the merchants included National Food Store, Bettendorf News, Par-Four Green Room, K & K Hardware and Lindquist Ford, Inc.
Mayor Gus Sehmann and slogans
Gus Sehmann (1934-40) oversaw municipal operations during the financially strapped years of the Great Depression. He devised a motto of "A Smile on Every Face" as one-third of Bettendorf school children relied on local relief and church groups for a noon meal, and teachers wondered if they would get their next paycheck. Residents grumbled over his decision to purchase Devils Glen Park in 1937, and dubbed the decision as "Sehmann's Folly."
Bettendorf's first City Council sat down at Pillon's Saloon, a local gathering place, in 1903 and winnowed out ordinances to guide residents' behavior.
Residents were not permitted to "loiter or congregate around stairways, doorway, window or in front of any business or dwelling house, church or street corner."